Secondhand Gems: Sneaky Sleepers For $25,000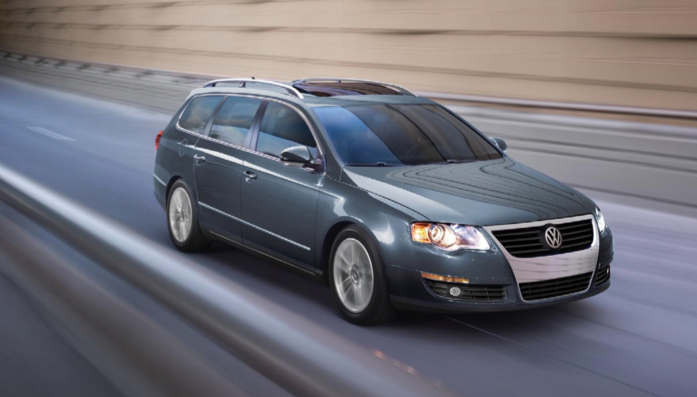 Unsuspecting speed. It's as American as a Kid Rock concert and more fun than a super-sized waterslide. Drop a big motor in a pedestrian machine, then go humiliate the local horsepower bully with your grandma's Sunday cruiser. To anyone who has never enjoyed this sort of automotive hilarity, go buy an Oldsmobile 98 Regency and a 250 shot of giggle gas. Beating the guy in the flashy muscle car isn't even the best part; it's when you meet at the next light and say, "Didn't you know? All Oldsmobile 98s are this fast."
Fun, yes, but that poor Oldsmobile would have the longevity of a papier-mâché fireplace poker. What we need are factory sleepers: cars that live daily librarian lifestyles but secretly enjoy raving and roller derby. The very definition of sleeper has evolved over the years, and with today's automotive performance standards perched considerably higher than those of even 10 years ago, one could argue that the line between sneaky performance and the status quo is blurred to the point of nonexistence.
Hard to see, perhaps, but not nonexistent. To make our case, we found three nearly new vehicles with enough punch to deliver above average performance while protecting their Clark Kent image. To maximize the sleeper effect, we've opted to exclude clearly defined performance models like the Audi S4, and we've also nixed high-end manufacturers like BMW or Mercedes-Benz, since those cars tend to get attention whether they're fast or slow. None of the vehicles in this list have fewer than four doors, they can all be had for less than $25,000, and they'll likely be familiar to Winding Road regulars. That's because other versions of these models have been here before, but it's quite amazing how a simple change of clothes can affect their character. And to address the obvious, no, they aren't the quickest machines on the road. But they are quick enough to send more than a few would-be racers home in tears on a given Saturday night, and the best part is they'll never see it coming.
2008 Volkswagen Passat Wagon VR6 4-Motion
It was just a few issues ago in which we mentioned the sedan version of this car. If you recall that piece, we heaped praise on the sedan's ability to rip 60 miles per hour in roughly six seconds flat when utilizing the 280 ponies from the 3.6-liter VeeDub V-6. The only way to get that meaty mill in the wagon is to go with the 4-motion all-wheel-drive setup. That adds some superb all-weather traction, but it also adds a weight penalty upwards of 400 pounds, which knocks a few tenths off the sedan's 0-60 time.
That's still enough gusto to humble many late-model sport compacts, and dedicated performance machines in the 10 to 15-year-old range (many of which still prowl the streets in younger hands) would have a hard time passing the Passat's five doors. We'll freely admit that the lighter, quicker sedan would make the more logical sleeper choice here, and it's sedate enough in style to make the cut. But let's be honest; getting whipped by a stock VW station wagon has an outrageousness to it that we find devilishly irresistible. We recommend keeping a few grocery bags in back, just to accentuate the experience.
When the skinny pedal isn't planted, the Passat VR6 wagon is an exquisite machine with underpinnings that, while not necessarily enthused about taking corners, aren't completely opposed to the notion. It's a bit on the noisy side, but accommodations are quite luxurious for a brand that's not supposed to be part of the aristocracy. And the more we drive wagons (especially all-wheel-drive wagons), the more we wonder why people feel sport utilities and crossovers make for ultimate family vehicles. Okay, we'll be eating those words a little bit later, but unless you absolutely need seating for seven, it's hard to imagine an SUV situation the Passat wagon can't handle. Depreciation has taken these once pricey VR6 models down to about $25,000, which isn't at all bad considering the Passat's refinement, bevy of options, interior space, and athletic punch. If we were to choose a luxurious all-arounder for our sneaky fun, this would be the machine
2008 Nissan Altima 3.5 SE
270 horsepower driving the front wheels through a six-speed manual gearbox can be a handful, especially in a mid-size, 3400-pound sedan like the Altima. Earlier models with the stick (like the 2006 Altima SE-R we penned about back in Issue 55) were in fact rather bonkers in the torque steer department. Still, we loved the SE-R, proclaiming it a front-wheel-drive hero thanks to nimble handling, plenty of snort, and a sexy monochromatic suit that ensured it didn't look like every other Altima on the road.
This one, however, does look like every other Altima. And since a majority of them are sporting four cylinder engines and CVT transmissions, ripping on the V-6 in full gallop is made even better by the car's widespread rental queen reputation. Actually, the term "Trojan Horse" makes more sense than sleeper—everyone is familiar with the look, but a full- throttle assault is the last thing anyone will expect. We would only take the 3.5SE with the six-speed manual, and with a honed launch technique, quarter-mile times run in the low 14-second range. Translated into the real world, the Altima 3.5 humiliates the Honda Civic Si, matches the Dodge Charger R/T, and tails uncomfortably close to expensive muscle machines like the previous-generation Audi S4.
The Altima is also blessed with a great track record for reliability, and though it's no dedicated corner carver, it offers enough bite, confidence, and feedback at the limit to keep moderate auto enthusiasts entertained. This holds especially true for the six-speed, which admittedly will be harder to find (only one on eBay Motors as of this writing) but absolutely worth the effort. A somewhat drab interior might be a bit of a takeaway for some, but the Altima's comfortable seating, welcome array of luxury items, and electroshock performance make up the difference. Factor in a price range of just $18,000 for examples with average miles, and it's the definitive budget buy on this list.
2008 Subaru Forester 2.5XT Limited
The crossover that we make an exception for is also one of our favorite used tailgaters from Issue 60. In that context, we commented on the 2007 model's reasonable price and the fact that it could easily dispense kegs while decisively laying waste to quarter-mile stretches of asphalt. If we were to get all technical, we might say the Forester is actually the quickest sleeper on this list, but when it comes down to a couple tenths in the real world, that can be attributable to something as simple as a 15-degree temperature difference. For all intents and purposes, this all-wheel-drive sport utility vehicle matches the V-6 Altima, and with a 2.5-liter turbocharged powerplant borrowed from the rally-bred WRX STI, making the Forester even faster is ridiculously simple and inexpensive to boot.
We also nod to the 2008 model because it's the last call for the boxy body, which grew on us over the years. It also fits comfortably under our $25,000 cap, with many examples actually sliding under $20,000. More importantly for our purposes, it's also the last year for the five-speed manual transmission, and that's the real secret behind this super sleeper. Turbocharged though it may be, with just 224 ponies it has a distinct power disadvantage to the other machines on the list, and the Subie's smart five-speed makes the most of the boxer's power. Thing is—and it's almost a cliché to say this—the Forester doesn't really feel like any CUV on the road. It shares its platform with the WRX, so the wobbly, top-heavy feel that's usually a part of the "utility" experience isn't there. Instead, driver and passengers enjoy an Impreza-like ride with a little extra ground clearance, a bit more body roll, and a vastly larger interior that also happens to be rather upscale for a Subaru.
Enough of the frilly stuff already. Drop the Forester's clutch at 4000 revs and it sucks everyone into their seats as the all-wheel-drive system delivers a no-slip launch. First gear passes so quick that it's easy to hit the rev limiter, and with the turbo doing its boost thing, 60 disappears in less than six seconds. Another shift keeps all five passengers and their camping gear hustling forward with surprising haste, eventually passing the quarter-mile mark in approximately 14 seconds. If you're doing this on the street, shame on you. But if you're at the drag strip, it means you just left behind a Nissan 350Z and a Porsche Boxster, and you likely destroyed the ego of the poor kid racing his 2004 Mustang GT automatic for the first time. Of course, you may also have left behind a steady trail of transmission fluid with such an aggressive launch, but it's still way more reliable than an Oldsmobile 98 on nitrous. For secondhand shoppers seeking a daily-driven sleeper that can be made even more outrageous for a minimal invest- ment, look no further than the Forester.
Everybody would like to dance with the little red Corvette, but there's no denying the fun that can be had with these unsuspecting party crashers. They may look like quiet, unassuming houseguests, but then again, it's the quiet types who usually scream the loudest.