Secondhand Gems: Quarter-Mile Heroes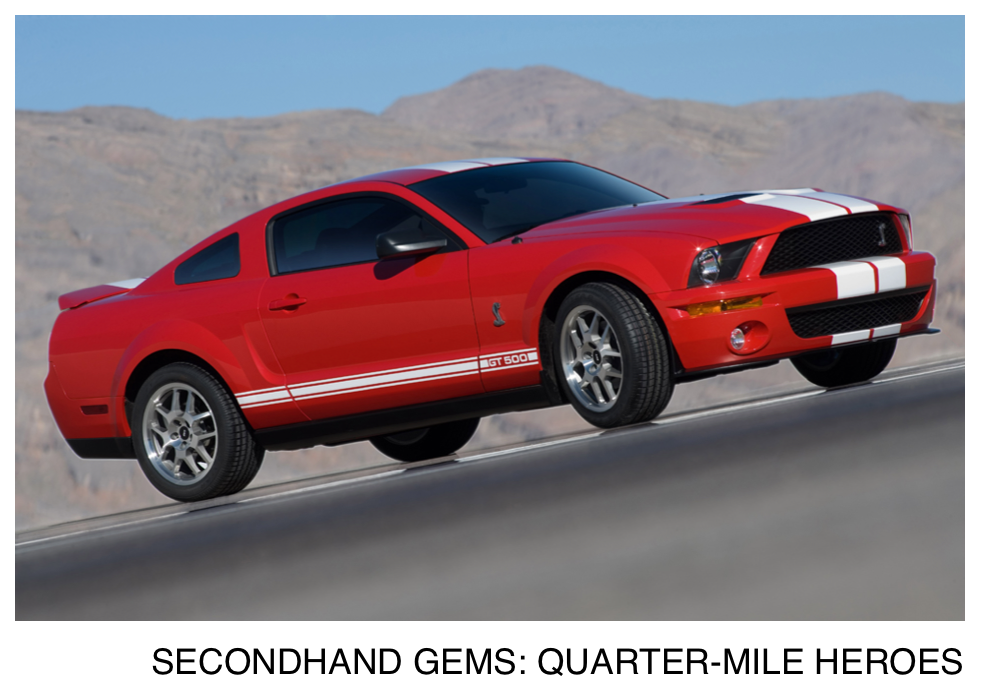 What diabolical scheme is this? At last check this magazine was called Winding Road—emphasis on the winding bit. And yet here we are, devoting an entire segment of the issue to drag cars.
The thing is, even we recognize that drag racing is a motoring activity undertaken by every licensed driver—whether they realize it or not. Straight-line speed contests have been a staple of human existence ever since the first Homo sapiens unwittingly ticked off a saber-toothed tiger. And now we sprint between traffic lights in horseless carriages, or line up next to Harrison Ford on Paradise Road in Milner's yellow '32 Ford. What's more, drag racing is about the easiest and cheapest competitive motor sport to get involved with.
It can also become an extremely costly venture if you don't have the right car, because drag racing is hard on a vehicle's powertrain. Race often enough and you will break something, and that's the reason why, for this installment of Gems, we're going to trend a bit older in our vehicle selections. This will almost certainly be a second or possibly even a third vehicle, perhaps something to drive on nice summer days with semi-regular track visits, or it'll become a street-legal nine-second monster. One thing that's universal among drag racers is the burning desire to always go just a little bit faster, so we'll want to pick a machine with a strong performance aftermarket. Consistency is the key to winning in bracket racing, and for that drag racers typically prefer an automatic transmission, though a stout manual won't be overruled.
Lastly, we're going to look for vehicles with simple running gear, and that means rear-wheel drive with a solid rear axle.
Yes, there are many cars of all driveline types that can be enjoyable drag racing machines. But the bottom line is that all-wheel drive systems add weight and considerable repair expense when they break, and at a sanctioned drag strip they just don't offer any real starting-line advantage. Front-wheel drive, aside from spinning like crazy when all the weight transfers to the back at launch, isn't well suited to handle big power thanks to the all-in-front packaging, which makes it nearly impossible to install big, beefy components. As for the solid rear axle, well, there's a reason why trucks don't run independent rear suspensions. If you're going to be regularly slamming 400 or more pound-feet of torque to the rear wheels on aggressive launches, a solid axle is better suited to take the punch while being more resistant to the dreaded wheel hop.
Now that you've received the Winding Road primer on driving in a straight line, let's talk about some cars we'd like to have in our racing shed.
2004 Ford SVT F-150 Lightning
Few vehicle types are as polarizing in the automotive world as muscle trucks. People either love them or hate them, and well, we love them—from a drag racing standpoint anyway. The Lightning isn't the fastest of the muscle trucks, a fact that Mopar fans will gladly share with anyone who mentions the subject. The Dodge Ram SRT-10 in stock form is a mid-13-second truck whereas the Ford generally runs a few tenths slower, but we still choose the Ford for a few key reasons. First and foremost, ever priced out parts for an 8.3-liter Viper V-10? Secondly, the Lightning is considerably lighter than the lightest SRT-10, and Ford didn't burden the truck with twenty-two-inch horsepower-soaking rims at each corner.
It's the Lightning's accessible aftermarket and ease of modification that seals the deal for us. Its 5.4-liter supercharged V-8 is already a stout motor with 380 horsepower on tap, but a basic pulley swap, a fresh tune, and a good set of slicks will have this truck running 12s for well under a grand. And it can do that while still being a reliable, streetable machine that also happens to have a 5000-pound towing capacity. Going faster isn't a problem for the serious speed freaks, as the performance market for the Lightning is rife with products that are reasonably priced. And when parts eventually break, wrenching on the truck isn't much different than a standard F-Series. It uses an off-the-shelf 4R100 four-speed automatic transmission from the heavy-duty trucks, a 9.5-inch rear end, and a 3:73 final drive. Simple, sturdy, and very effective at getting power to the ground.
The biggest drawback to the Lightning will be finding one, because only about 3800 were built in 2004. Technically speaking, you could step all the way back to 1999 to get pretty much the same truck, but the first two years did have slightly less horsepower, and there was a minor issue with engines ejecting spark plugs. They've also become somewhat valuable to collectors, and that's keeping prices surprisingly high for a seven-year-old, two-wheel-drive pickup truck. Expect to pay at least $15,000 for a nice truck with less than 60,000 miles, but the good news is that, unless your Lightning gets pulverized, it probably won't lose much of that value over the years.
2002 Pontiac Firebird Trans Am
Ah yes, the vaunted F-body. This fourth-generation 'Bird would of course be the very last to grace a General Motors assembly line, and for that, we offer a moment of silence. We always felt the Pontiac had more stage presence than its stablemate Camaro, and though this era of GM is synonymous with tacky plastic exterior trim and even uglier interiors, we still like the nostril-flaring Trans Am for what it is—a badass muscle car. For the full effect we suggest sourcing a car with T-tops, and if your budget permits, the WS-6 performance package that delivers even more exterior aggression, with extra horsepower to boot.
And it's most decidedly at home on a drag strip. Packing an all-aluminum, 5.7-liter LS1 V-8, the Trans Am boasts 305 horsepower and 310 pound-feet of twist, or 325 ponies for the WS-6. That may not sound terribly impressive by today's standards, but remember that we're talking about a machine not toting 400 pounds of oversized wheels, 300 pounds of wiring for reverse cameras or onboard navigation systems, and not carrying 200 pounds of airbags stowed in every section of the interior. The Trans Am weighs in around 3400 pounds, and whether you opt for the four-speed automatic or six-speed manual, expect stock quarter-mile times in the mid-13s. Like the Lightning, there exists no shortage of aftermarket goodies for the T/A despite being nearly a decade old. But where the Ford's 5.4-liter engine is basically a standard F-Series mill with a blower, the fabulous LS1 was designed to be a racing engine from the get-go. Racing slicks, freer flowing exhaust and a tune will have you in the 12s. High-flow heads, a big cam and more fuel will bring you shockingly close to 11s, and we haven't even started talking about forced induction yet.
The engine is shoehorned pretty snug under the hood, which can make wrenching a bit of a nightmare, but as with the Lightning, many of the other components are fairly common items. The four-speed automatic is a 4L60E, used on everything from Chevy trucks to the GM B-body sedans from the 1990s. The six-speed manual is a tried-and-true Tremec T56. And with the sheer amount of go-fast goodies available, the Trans Am can fill any role. Build a mild, 12-second daily driver or go completely mental and create an 8-second monster; either way you'll need to set aside at least $13,000 for a decent Trans Am or $20,000 for a WS-6, because that's what it will take to put one of these rides in your garage. It seems these machines have some collector value as well.
2007 Ford Mustang Shelby GT500
We've often looked past Ford's apex-predator pony car because, well, the GT500 just isn't much of a handler. As recently as Issue 72, we were praising the Roush 427R for its better overall package, and we also threw a nod to the standard Mustang GT in Issue 68 as a great tuner car. In fact, the GT's rich performance aftermarket makes it as good a drag racing candidate as anything else on this list, so consider it an honorary fourth member of the quarter-mile club. But we have to be completely honest; when the subject of drag racing came up for a Gems feature, the Shelby was the very first car that came to mind. That right there says something about how much fun this car is on a drag strip.
You likely already know the GT500's curriculum vitae—5.4-liter, supercharged V-8 with 500 horsepower and 500 pound-feet of twist, six-speed manual transmission, racing stripes, sinister styling, and of course the Shelby name. It's important to note that the Shelby's blown 5.4-liter is a completely different animal from the Lightning's engine of equal displacement but more pedestrian design. The Shelby spins with double overhead cams, 32-valve heads, and a beefier bottom end, which is why Ford offers a warrantable 100-horsepower supercharger upgrade through their racing group. The Shelby will turn a high 12-second quarter-mile time in stock trim, mid-12s with just a pair of slicks and a fearless clutch drop, low-12s with the aforementioned supercharger upgrade, and that's just the tip of the iceberg for GT500 upgrades. And for the attention lovers, it still attracts a crowd despite being a four-year-old design. Few cars flaunt themselves as well as the GT500.
Now, there is a bit of a price penalty for sticking with a much newer, higher horsepower machine that bears the name of an automotive racing legend. Still, considering these cars were once selling for $60,000 after dealer markups, finding them all day long on eBay Motors for $30,000 isn't too bad. Repair costs are also going to be a bit higher because the Shelby's mechanical bits are generally relegated to just the Shelby. There's also the lack of an automatic transmission that will make it more challenging to compete in bracket racing, but considering the cool factor of the Shelby and the audacious delight of power shifting this car down the strip, we can live with the manual. It's not as rare as the Lightning, or as inexpensive as the Trans Am, but it blends the old-school performance feel with modern motoring in a way few other cars can match.
Drag racing isn't sophisticated or technologically demanding. It doesn't require a large investment, nor does it take years of practice to master. It's primal and instinctual—survival of the fittest in a rather basic form—and it's best experienced by machines that speak the same language. And for that, we think these machines pretty much speak for themselves.