Secondhand Gems: Germany Vs. Japan $40K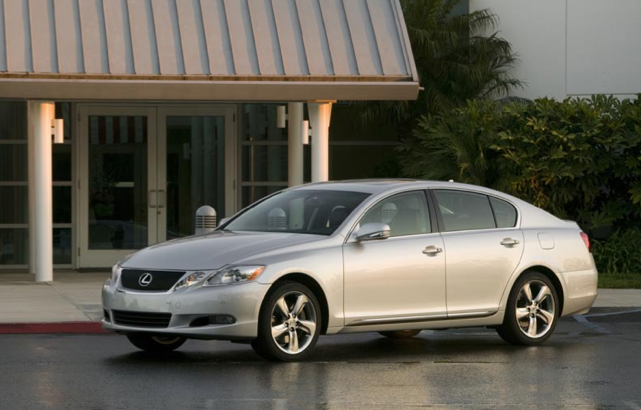 Behold the titans of modern automotive excellence. As much as we love our baseball and apple pie, it would be irresponsible at best to suggest that German and Japanese automakers haven't been driving the auto industry for the last three decades. That's not to say the rest of the world doesn't offer some fabulous automobiles, but considering the American portion of that apple pie has been steadily shrinking for years, we know we're not alone in our fondness for foreign machinery.
With so many outstanding offerings from Japan and Germany, narrowing the field was something of a quandary. The word "German" actually stems from the Latin term "sedanus surpremus," so having comfortable, four-door offerings was an absolute necessity. Japanese manufacturers have a reputation for being tech-happy, so having the availability of features like factory navigation and all-wheel drive systems was of equal importance.
From a value standpoint, catching vehicles fresh off a two-year lease offers a great combination of price versus pre-owned use, and at a $40,000 price point, eBay Motors is surprisingly rife with some tantalizing rides. That's why we're dishing out our fattest Gems comparo to date—six vehicles total, three from each respective country. All have enough pomp and circumstance to impress while dishing up at least a mildly entertaining drive, but in this higher-end segment, have the Japanese finally caught up to the Germans in refinement?
2008 Lexus GS350 AWD
Let's not beat around the bush here. Japanese DNA surges throughout the GS350, but this car also speaks fluent German. In fact, Lexus graduated from German finishing school some time ago, so we'll just dispense with the magazine modus operandi of teasing the reader and answer the pivotal question right now. Yes, the Japanese—or at least the Japanese working at Lexus—share the podium with Germany when it comes to refinement, and the GS350's exquisite interior is a clear example of how far the Far East has come. Even the GS350's north-south architecture echoes the likes of BMW and Mercedes-Benz, which have traditionally shied away from anything sending power to just the front wheels. For the sake of this comparison, the all-wheel drive system employed on the GS350 serves the car well, and with a 303-horsepower V-6 pulling the sedan's 3800-pound mass, low 14-second quarter-mile passes are entirely possible.
As good as the Lexus is, we'd elect to pilot something with a bit more personality. Clicking off 0-60 passes in near silence is fun for a while, and the GS350's threshold for cornering grip is rather impressive, but this car's first, best mission is delivering occupants in rich, isolated comfort. If your pursuit of perfection outweighs the pursuit of passion, however, it doesn't get much better than the GS350.
2009 Acura RL SH-AWD
Here's the wildcard in a group of 2008 model year vehicles. The RL is such a sweetheart of a handler that we had to include it, but in meeting our price point, shoppers can actually step up to last year's model while staying within $40,000. For that money, the RL delivers a warm, rich interior that's chock full of luxury, but where the Lexus completely separates itself from parent Toyota, we can't help but sense a bit of Honda in the Acura's layout. Nor does the RL offer quite the same plethora of luxury gizmos as other cars in this class, and though its interior accommodations are comfortable, they aren't quite as spacious.
What the RL does do, however, is consistently reward driver and passengers with well sorted, enthusiastic handling that finds near-perfect balance of control and comfort. Credit Acura's Super Handling All-Wheel Drive system, which turns this front-drive based sedan into a vehicle that puts many traditional rear-drive sport sedans to shame. The RL's 3.7-liter V-6 offers up 300 horsepower, but hauling close to 4100 pounds and working through a five-speed automatic does exact a performance penalty. High 14-second quarter-mile runs are all the RL can muster, and while it's not slow, every other car on this list leaves the Acura behind. For the opportunity to move up a model year, however, the Acura's shortcomings could well be a non-issue.
2008 Audi A6 4.2 Quattro
Germany's first foray in our Axis battle follows much the same path as the Lexus. Audi's interiors have always ranked among our favorites, and the A6's combination of prestige tinged with a dash of sport creates an environment no auto enthusiast would ever want to leave. The myriad controls, knobs, and buttons are the epitome of German design and efficiency, and while learning the Audi's systems aren't necessarily intuitive, mastering the various functions is easier here than with other notable German competitors.
The Audi's 4.2-liter V-8 delivers a full 350 horsepower, making it the number two engine of the group in terms of power. At over 4200 pounds, however, it needs every bit of that grunt, and it's still not enough to claim many victories in this company. Mid-to-high 14-second quarter-mile times place it just ahead of the Acura, though unlike the RL, the Audi's ride is clearly biased towards comfort. Opting for an Audi S6 would rectify the situation, but it slots well above the $40,000 mark, and we struggle to justify such a price jump when the A6 delivers enough poise to be enjoyable for most. This is especially true when 2008 A6 values dip all the way down to the mid-$30,000 range, making it one of the more affordable cars of this group.
2008 BMW 535xi
Nothing says fun like a turbocharger. The 535xi gets two, bolted to a 3.0-liter inline six-cylinder that could well be the embodiment of classic German motoring. That formula should sound familiar, as it's the same 300-horsepower, biturbo six that motivated the smaller, last-gen 335i to M3-like acceleration. The larger and heavier 535xi is a bit slower, nabbing 60 in only 5.5 seconds while en route to a 14-flat quarter mile. And despite toting upwards of two tons, the Bimmer manages to deliver plenty of the trademark Bavarian cornering balance we all know and love.
Like the Audi, BMW interiors never fail to impress. Seating positions are seemingly custom-tailored, fit, finish, and materials are superb, and the lack of road noise rivals the Lexus. Also like the Audi, the BMW's array of controls come with a certain level of frustration, especially when trying to deactivate the lane-departure warning system so the steering wheel stops vibrating on roads with missing or sporadic markings. The hit-or-miss exterior styling also ranks more towards our miss list, but now we're just being picky. In a list of entertaining luxury rides, the 535xi would make a great companion for just about any adventure.
2008 Infiniti M45x
Those of us in northern latitudes celebrated en masse when Infiniti announced an all-wheel drive version of its awesome M45. Of all the cars on this list, the M is arguably the best at combining dynamic handling with a compliant ride, providing executive racers the excitement they seek while maintaining a Clark Kent image to impress affluent clients. Steering response is sharp, cornering forces are well-managed, and the new-for-2008 all-wheel drive system has the ability to funnel all power to the rear wheels when needed, helping this 4000-pound sedan to feel quite light on its feet. The M45's 325-horsepower V-8 also helps, powering the sedan to 60 in less than six seconds. Having such a delectable V-8 soundtrack doesn't hurt, either.
The M45 is equally impressive inside, delivering supportive front and rear seating accommodations with plenty of head and legroom. As with Lexus, the Infiniti graduates itself convincingly from the halls of Nissan, delivering a luxurious cabin on par with the likes of BMW and Audi. The M45x also features a similar palette of luxury equipment, ranging from active cruise and lane departure systems, to a 14-speaker Bose stereo. The near-horizontal control panel on the center stack takes some getting used to, and the interface is a bit of frustrating engineering that the Japanese could do without. Driving the M45x, however, tends to eliminate the trivial quips. This car looks great, drives great, and for about $40,000 with average miles on the clock, it's a great secondhand purchase as well.
2008 Mercedes-Benz E550
The M45 is a fantastic machine, as are all the cars on this list. In the end, however, there's something to be said for owning a Benz. That's not to say we'd give the nod simply because of a name. Aside from having gracefully stimulating good looks, unflappable construction, solid handling characteristics, and techno-gadgetry galore, the 4100-pound Benz also delivers a comparo-topping 382-horsepower V-8. As such, the mid-sized Merc cooks to 60 in a comparo-best five seconds flat, with quarter-mile times somewhere in the mid-13s. Not only does the E550 slay its direct competition, it also humbles more than a few sports cars and dedicated sport sedans, and this isn't even the AMG model.
On the handling front, the E550 isn't quite as involving as the Infiniti, choosing instead to follow a path that favors isolation over involvement. The suspension remains composed during cornering, but communication between driver and asphalt is muted at best. Steering is similarly numb but nonetheless capable, and though the Benz sports 245/40-series tires on eighteen-inch wheels, their all-season design limits grip. Still, it's not as lifeless as the Lexus or weighted like the Audi; it makes for good times when not performing stately sedan duties, and prodigious V-8 thrust never hurts the fun factor.
The E550's interior is both commanding and attractive, every bit an equal to its German and Japanese competition. It's a comfortable cruiser that can play ball when asked, it delivers the all the luxury expected at this level, and, yes, being able to say "let's take the Benz" when someone asks about a trip across town is a glorious thing. Now that E550 prices are hovering near the $40,000 mark, this car's combination of panache and performance is a win in every sense of the word.
30 years ago, the concept of Japanese luxury cars going toe to toe with the Germans would've resulted in a spit take. Asian automakers never had a problem building good cars, but likes of Lexus, Acura, and Infiniti prove that too much of a good thing is, well, a very good thing.