Secondhand Gems: Cool $35K Crossovers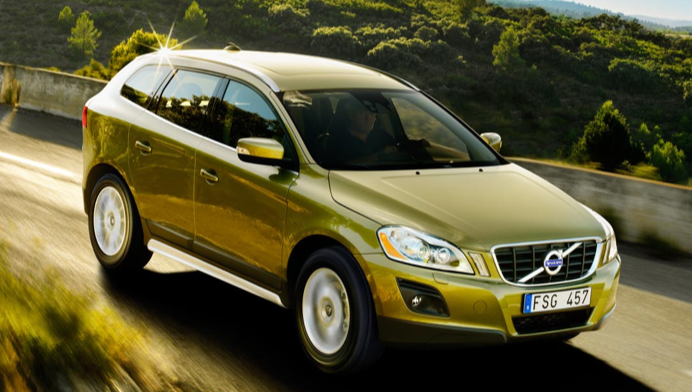 You're not as young as you used to be. You may not be old, or even middle age, but whereas you once terrorized streets in a pimped out MkIV Golf GTI or atomized countless sets of rubber in a Camaro Z28, you now prowl the aisles of Home Depot looking for the proper shade of cranberry seat cushion for your seven-piece bistro patio set. That is, unless you're packing the cooler with soda for the weekly little league game, or loading up the 2.2 kids, the dog, and four suitcases full of stuff for two days with the grandparents.
It sneaks up on the best of us, but one day you discover that the impromptu road trips and late-night motorized antics in empty parking lots are suddenly things of the past. The perfect solution here is to have two vehicles—the reliable family conveyance and the hooligan machine. You'll get to that point one day, but if you're anything like the vast majority of everyone, you're still ascending the corporate ladder. That means you can afford exactly one machine: one vehicle to care for the family while also caring for your soul. You're far too hip to jump on board the status-quo SUV train, you suspect minivans are the spawns of Satan. You might love station wagons,but the three models they sell in the US are either too small, too expensive, or both.
What you are seeking, then, is a crossover. And you're not alone; the automotive market is rife with varying degrees of sedan/wagon/minivan/SUV combinations, from dealership lots to the online pages of eBay Motors. More and more people are discovering that they don't want to give up all semblance of driving enjoyment, and to fill that niche manufacturers have been working overtime on developing the perfect do-all machine. So, if you're the average young-ish shopper with a young-ish family and a career that's going places, you likely have around $35,000 to spend on something that can handle Home Depot errands during the day, then return to their empty parking lot at night for some specialized asphalt restriping.
To assist you in this endeavor, we have three nearly new crossovers to consider, all of which strike a reasonably good balance between the family responsibility we admire, and the adolescent tomfoolery we love.
2010 Volvo XC60 T6 AWD
Volvo has long been the epitome of safe transportation. That's great for taking care of the family, but many fun-to-drive shoppers don't look any further than that, and that's too bad, because Volvo has been making some pretty cool cars as of late. The XC60 T6 takes all those airbags, laser activated safety systems and über crash ratings and pairs them with a surprisingly stable chassis that hustles corners like a pool shark at the local pub. You think you've got him all figured out as a loser, but then he pockets a double bank shot around the eight ball and smiles in a way to let you know you just got punked.
At least with the XC60 you'll be the one smiling, and here's at least part of the reason why. Its optional 3.0 turbocharged I-6 engine develops 281 horsepower and 295 pound-feet of twist, all served up with whipped cream and a cherry on top. It's not terrifically quick—0-60 happens in roughly seven seconds—but that's still enough gusto to give this 4100-pound crossover some dash when the mood strikes, and with peak torque available in a broad stretch of the rev range, the smooth power delivery is simply delicious. An equally smooth six-speed automatic converts that power to forward momentum, which is then shuffled via Haldex all-wheel drive to where it can do the most good.
That might be enough to proclaim the XC60 as having some enthusiast potential, but it's the suspension tuning that really separates this Volvo from its XC70 and XC90 siblings, and possibly even the manufacturer's own sport sedan offerings. It strikes a very harmonious balance between sport and comfort, never too jarring but at the same time stout enough to hold some g-load in tight cornering. It's no go-kart, but considering the XC60's heft and not-insignificant ground clearance, the limited body roll and controlled motions make for a machine that feels confident and comfortable in aggressive driving, but can still be an effective off-roader. The mushy steering could be better, and a 25-percent horsepower boost would surely deliver 50 percent more excitement. The spicier XC60 R-Design delivers some of that excitement (albeit without a power increase), but the rarity and $40,000 price of entry make it a bit impractical for our hip, hypothetical family. Fortunately, the XC60 T6 already delivers plenty of fun with its safety sensibilities, and it all comes wrapped in an attractive, affluent design that impresses the masses both inside and out.
2010 Ford Flex SEL AWD EcoBoost
The Flex holds some rather notable distinctions for this particular comparison. At nearly 5000 pounds, it's easily the heaviest machine on this list. It's also the only true seven-passenger crossover of the bunch, and its 355-horsepower 3.5-liter EcoBoost V-6 with a never-end-
ing buffet of torque delivers the most power, complete with the hardest kick in the behind when the accelerator is punched. It can tote the most cargo, pull the biggest trailer, and it arguably gets the most attention over its styling, be it positive or negative. In other words, the Flex is a big, trendy, all-American machine, but that doesn't automatically make it a Secondhand Gem.
We chose the EcoBoost Flex because we flat out enjoy driving this thing. It's terrifically quick; the twin-turbo 3.5 has right-now responses to throttle input thanks to its crazy torque curve, and by curve we mean absolute straight line that goes from just off idle to just short of redline. This 2.5-ton, seven-passenger ocean liner will damn near turn a high 13-second quarter-mile time under full burn, and it'll do it with all the panache of a nicely appointed interior swathed in
leather and luxury gadgets like DVD entertainment systems, heated seats, an active park system, and Ford's much loved SYNC system. If this all sounds suspiciously like some high-end performance SUVs from Germany or Japan, you'd be right.
But the EcoBoost Flex also sits just a bit lower, rides a bit firmer, and turns a bit crisper than the naturally aspirated version. The suspension tweaks don't amount to much, but they are enough to subtly change the vehicle's dynamics. It doesn't beg to be tossed around corners, but it will still bite into them with its twenty-inchers protesting only mildly, staying relatively flat before giving up to understeer when the driver forgets there aren't one but two additional rows of seats bringing up the rear. It doesn't communicate like a purebred sports car; its first, best mission is still clearly serving the needs of the family, but there is still just enough feedback to keep an enthusiast driver interested. To that end, hustling around in the Flex isn't so much a delight as it is an accomplishment. If your name happens to be Brady and you desire a cool family machine to haul all eight kids to school, take the housekeeper to the meat market, then haul tail back home for a nooner with the better half, the EcoBoost Flex is for you.
2009 Infiniti FX35
The FX35 is based on the G37 sedan, which, as most people probably know, is the same FM platform used for the Nissan 370Z. With DNA like that it probably goes without saying that the FX35 is the most athletic crossover here, but we'll say it anyway. Of the available crossovers in the $35,000 range, the FX35 is the machine of choice for those desiring a family vehicle with no small amount of sports car infusion. Its double wishbone front suspension and independent multilink rear support the Infiniti's 4100-pound curb weight admirably, quelling excessive movement and body roll while communicating its actions faithfully to the driver in a very un-SUV-like manner.
Unlike the Flex, there's a sense that the Infiniti would like to corner hard, and there's certainly less apprehension behind the wheel doing it. After stints in the other crossovers, it becomes abundantly clear that the FX35 is decidedly the most car-like of the bunch, and that holds especially true if the optional all wheel drive is nixed for the standard rear-wheel-drive setup. After all, nothing brings back the glory days of youth like a tire smoking power slide, and with
Infiniti's venerable 3.5-liter V-6 tuned to 303 horsepower, smoking tires isn't a problem.
Of course, you'll have a veritable firing squad of electronic nannies trying to ruin your fun. The Japanese love their tech toys, and the FX35 can be optioned to the brink of self-automation. Lane departure warnings and corrections will keep the vehicle on the road, active cruise control will maintain proper following distances with other cars, the Intelligent Brake System scans traffic ahead and applies the brakes if it thinks you're about to hit someone, and these are all in addition to more traditional safety systems like stability control and anti-lock brakes. Depending on the option packages, there are deluxe navigation systems available, parking systems, rain-sensing wipers, killer stereos, and all the luxuries one would expect from a luxury manufacturer like Infiniti. And with the new-for-2009 seven-speed automatic dishing up the ratios, the FX35 is every bit as luxurious as it is fun to drive.
There is a downside to having a family vehicle that's more oriented towards performance—it's less family friendly. Despite its voluptuous stature, the FX35 is strictly a five-passenger machine, and a cramped one at that. It's not rated to tow anything more than 2000 pounds, and compared to the planetarium-sized interior volume of the Flex, the Infiniti would be hard-pressed to tote a family of five and their luggage for a week's vacation. It's also thirsty like a performance machine, garnering an EPA combined rating of 19 mpg, nearly identical to the much larger and more powerful Flex. Still, there's no denying that the FX35 is definitively a driver's crossover, and for smaller families who don't want to follow the sport sedan scene, it's an outstanding choice for $35,000.
Call them crossover SUVs, station wagons, crossover utility vehicles, or special activity vehicles. Just don't call them boring old family machines, because those days are now in the past. Maybe you're not so old after all.