Secondhand Gems: All-Wheel Drive And 30-mpg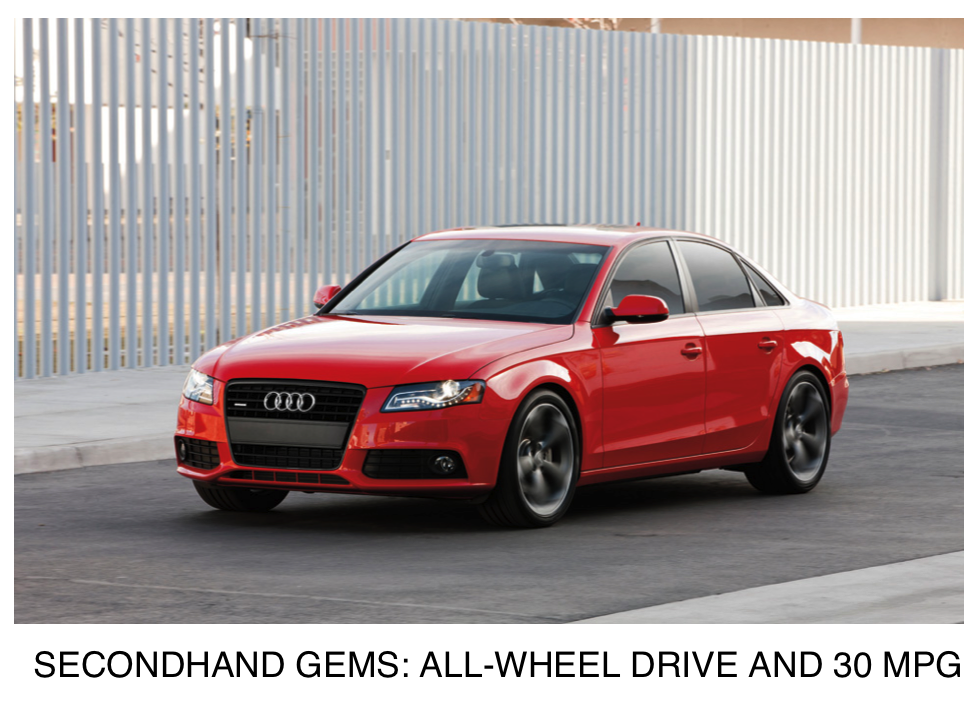 Ladies and gentlemen, we have before us something of a quandary.
In the modern motoring world of pricy gasoline and pricier diesel, sourcing a vehicle that can turn 30 miles per gallon or greater on the highway isn't hard. And we're not talking about anemic little econoboxes with bodies made from tin foil–these days being frugal can mean a handsomely optioned mid-sizer like a Nissan Altima, or a sporty 300-plus-horsepower speed machine like a V-6 Mustang.
Nor is it hard to find a machine that sends power to all four wheels, and when we say machine we mean anything that's not a pickup truck. Whereas once upon a time such propulsion was relegated to a scant offering of models that could be counted on one hand, today virtually every major manufacturer offers an all- wheel-drive something-or-other, be it a big sedan, a would-be rally racer, or a practical crossover.
In a perfect world, we could have gobs of horsepower with infinite all-wheel-drive grip in a machine that uses no gas at all and emits only daisies from the exhaust pipes. Sadly, the world we live in forces drivers to choose between all-wheel-drive security and fuel-sipping efficiency. What's that? You want some measure of performance as well? It's time to face an unpleasant truth–despite the advances in automotive technology that have raised engine efficiencies and brought all-wheel drive to mainstream motoring, there are precious few vehicles that accomplish both and fewer still that we consider gem-worthy.
Considering how buying habits have drastically shifted towards fuel economy in recent years, we're surprised to find so few frugal all-wheel-drive candidates, but after an exhaustive search we do have three choices that offer all the above, plus some measure of driving pleasure. To make it happen we needed to go modern, as in barely a year old. That means all three of these vehicles can likely still be purchased new, but the 2011 model year is old enough to have a modest supply available in the used market. And heck, one of our gems can be had for less than $20,000.
2011 Audi A4 Quattro
The Audi doesn't sell for under 20 grand. A no-option model with high miles might slide under $30,000. Realistically, expect to pay around 35 smackers for a typical A4 that has some cool gadgets and a balance of its factory warranty remaining. For that kind of dough, there are other rides available with comparable spaciousness, similar refinement, and considerably more go, but even with two-wheel drive they struggle to match the Audi's EPA-rated 31 mpg highway-the best rating on this list.
So what kind of 2011 A4 does one get for $35,000? Aside from all-wheel drive and some aggressively sexy sheet metal, a 2.0-liter turbocharged four-pot that makes a not-so-impressive-sounding 211 horsepower. That's offset by the little engine's substantial 258 pound-feet of twist at a mere 1500 revs, and the result is a powerband that isn't just adequate for daily driver duties, but capable of delivering some legitimate driving fun. The torque is apparent in virtually any gear, and it's ample enough to push driver and passengers snugly against the seatbacks with a simple smoosh of the throttle. Audi's superb six-speed manual is definitely the transmission of choice here, and not just because it's a sweetheart of a box. Aside from boosting the fun-to-drive quotient, it's also required to hit our target fuel mileage. Go with the eight- (yes eight) speed automatic, and official ratings drop into the high 20s, which demotes this exceptional machine to on par with other, less expensive all-wheel-drive competitors.
The feel behind the wheel is one of a bit more motion and isolation as compared to its German siblings, but it doesn't ride quite as harshly either. There's also a bit less feedback in the steering, but the A4 is still a very capable sport sedan, and since we're not talking about a dedicated performance machine like the S4, we feel this is a proper compromise in this package. The A4 is also properly luxurious for its price tag-the seats are awash in leather, the cabin is rich in texture and design, and even the base model (which is still called Premium) packs power everything, stability control, and seventeen-inch alloys. Go for the Prestige model and you'll get everything from heated seats and navigation to advanced control settings for the steering, suspension, and powertrain.
Such options will raise the price closer to $40,000, and, admittedly, secondhand 2011 A4s with manual gearboxes are still a bit hard to find, but for a comfortable, capable sedan that basically offers a little bit of everything, it's well worth the search.
2011 Nissan Juke AWD
A few months back, we held a comparison between this vehicle and the 2011 Mini Cooper S Countryman All4. We were, in a word, flabbergasted at just how close the comparison was, and to give credit where credit is due, the Mini darn near took the victory in this comparison as well. Darn near, but despite having racing stripes and a slightly better EPA highway mileage rating (31 versus 30 for the Nissan) the Mini once again misses the party. But enthusiasts love Mini Coopers; how in the world could a funny-looking upstart from Nissan possibly lose out to the Mini in a magazine that claims to embrace the love of driving? We answer, again, in a (sort of) word: funner.
Yes, the Juke is simply funner–okay, more fun–to drive than the Countryman. Even burdened with a dreaded CVT instead of a normal automatic or manual transmission, the Juke still delivers the soul and spirit that enthusiasts seek. And if we're honest, the CVT isn't that bad in this application. It helps to keep the Juke's 1.6-liter turbocharged four-cylinder chugging in the sweet spot, making the most of its available 188 ponies and 177 pound-feet of pull. That gives this funky crossover a little bit of smoke off the line, and though it won't set any speed records, it will reach 60 in about seven seconds. There's even a manual mode on the CVT to let the driver shift gears, though technically there are no gears to shift. Nevertheless, it's a satisfying if somewhat pointless feature that yields complete transmission control to the driver's input. We suspect most people will be just fine letting the tranny do its thing.
The big surprise with the Juke is how it dispatches corners. This little crossover is much more in touch with its hot hatchback DNA than anything else. A big part of that is attributable to Nissan's torque-vectoring, all-wheel-drive system, which has the ability to send different power levels to different wheels for cornering assistance. With the engine on boil and the Juke's computer shuffling power like a Vegas blackjack dealer, this crazy-looking crossover feels sure-footed and eager to shake its moneymaker on the dance floor. By comparison, the Countryman also knows how to dance, but it would rather sip Dos Equis at the bar or play darts in the corner, anything to avoid getting all sweaty. That's why we dig the Nissan over the Mini.
There's also the price point and availability in the used market, both of which fall heavily in the Nissan's favor. A fully-optioned Juke with heated leather seats, navigation, and the too-cool interchangeable climate control/vehicle control settings in the center stack will only set you back about $23,000. As for the polarizing styling, it must be catching on, because the Juke has become more popular than free bacon. Admittedly it's a bit cramped inside, and the interior appointments do have a touch of bargain Nissan flavor, but if ever there was an example of not judging a book by its cover, the Nissan Juke is it.
2011 Suzuki SX4 Crossover
The company better known for motorcycles has a secret agent in the compact segment. That's because the 2011 Suzuki SX4 Crossover offers affable performance in a vehicle that's also roomy and comfortable, well-optioned, fuel efficient, and crazy inexpensive.
Brand new and soaking wet with options, the SX4 Crossover sells for just under $20,000. Slightly used models are averaging about $17,500, and forgoing the technology package can bump prices down into the $16,000 range. For all-wheel drive, airbags galore, and other high-end features like stability control and heated seats, that's not a bad price. Scratch that–it's an amazing price.
But what exactly does affable performance entail? For starters, it means a bona fide manual transmission with six-speeds on tap, corralling a 2.0-liter naturally aspirated four-cylinder making 150 horsepower. It also means a fully independent suspension with four-wheel disc brakes and sixteen-inch alloys wearing 60-series rubber. To be more specific, the engine is weak on torque but it doesn't mind revving through the power band. Ride and handling are biased towards comfort but a sporting edge is felt when pushed. Steering is a bit light and rubbery but still communicative. Shifting the six-speed can be a touch notchy at times but the action is comfortably firm and precise.
By doing nothing exceptionally well in the performance department, the SX4 Crossover actually succeeds in doing everything reasonably well, certainly well enough to keep the daily commute interesting. It's a second slower to 60 than the Nissan, but it feels faster when exercising the powerband and shifting the cogs.
It hangs on in corners just enough to not be an underwear-wetting experience, and its four-wheel disc brakes offer little argument when used repeatedly. Add it all up, and you find the Suzuki is very much a machine of compromise, but in a good way.
Value for money is where the SX4 takes no prisoners (while still not holding a candle to free bacon). As new, this is the cheapest all-wheel-drive vehicle sold in America, yet it also offers options like navigation and Bluetooth connectivity. Occupants ride in a nicely appointed cabin that–while not remotely on par with the likes of Audi–is at least comparable to the Nissan and several steps up from bargain basement.
Exterior styling takes a conservatively attractive approach that still offers a bit of excitement. Its all-wheel-drive system can operate full time, part time, or be shut of completely for better fuel economy, which peaks at an EPA-rated 30 mpg highway. And since the Suzuki's mill doesn't use a hair dryer for more power, it's good to run on regular unleaded where the others need premium.
Cost-conscious shoppers seeking an even better deal can step back to the 2010 model year, as that's when Suzuki upgraded the SX4 line with the 150-horsepower engine and six-speed manual. The secret may be getting out, however-there are plenty of SX4's listed at eBay Motors, but only a scant few are the Crossover. Attractive styling, well-optioned, fun to drive, good on gas, and all-weather capable with all-wheel drive–the Suzuki SX4 Crossover is a great example of how an inexpensive vehicle doesn't have to be cheap.
Sure, you could strap into a Subaru WRX STI or perhaps a Chrysler 300C SRT8 and hypermile it like crazy, but that would be like buying a 60-inch 3D TV to watch episodes of I Love Lucy. If you want all-wheel-drive grip and a featherweight fuel bill, just review and relax. We've got this quandary solved.