Secondhand Gems: 400 Horsepower For $35,000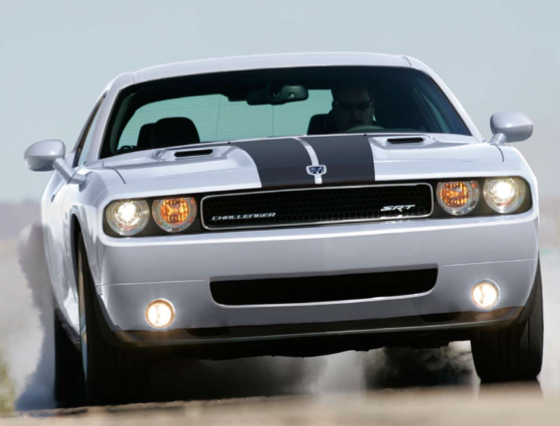 Once upon a time, the streets of Detroit were hosts to corporate gang warfare. The time of which we speak is of course the 1960s, when gas was cheap and big engines making bigger horsepower thumped beneath the hoods of machines with names like Chevelle, Road Runner, and Torino.
It's rumored that in those days, Big Three engineers would unofficially frequent Woodward Avenue in manufacturer test mules and prototypes, running stoplight to stoplight in real world shakedowns to see just how their muscle cars were stacking up against the muscle cars from cross-town rivals.
And those were the white collar guys with thick glasses and pocket protectors; start talking Ford versus Chevy versus Dodge amongst the blue collar crowd and occasionally a drag race would break out during the fist fight. That's because all three manufacturers made some damn good cars back then—good enough, in fact, to become legends, forever instilling the virulent brand loyalty that still exists with millions of muscle car fans today.
Perhaps you're a child of the '60s with a few years until retirement and some wild oats to sow, or you could be a YouTube entrepreneur with just enough disposable income to have a cool new domestic muscle machine. You're in luck, because $35,000 will put you into brand new primetime players from each of Detroit's teams—the Ford Mustang GT, Chevy Camaro SS, and Dodge Challenger R/T. Sure, they all share retro good looks and they pound the pavement with around 400-ish horsepower, but before you sign on the dotted line, you should know that there are some tantalizing American muscle alternatives to consider. And since we're acutely aware of just how deep the bonds of brand loyalty can be for this segment, we have nifty Secondhand Gems choices for each Detroit manufacturer. Let the fist fights begin.
2009 Dodge Challenger SRT8
The Mopar devotees were beyond thirsty for a retro muscle machine ever since Dodge released the neat-but-not-retro Charger back in 2006. When the Challenger SRT8 finally hit the streets in 2007 (as a 2008 model) it seemed all was finally right in the world, with one small exception: it only sported a five-speed automatic transmission. Yeah we know, slushboxes were fairly common in the old muscle car days, but that didn't stop us from wanting a third pedal to better feather the Challenger's prolific torque. That's exactly what the world received for 2009, and it came with six forward speeds selected manually by the driver through a cool pistol-grip shifter. Steve McQueen may have driven a Mustang in Bullitt, but we imagine he was smiling broadly from beyond the grave at the sight of that stalk in the center console. We certainly were.
The Tremec six-speed makes the SRT8 a very lively machine indeed—considerably more so than the automatic version which, while meaty and muscular, just wasn't a very involving machine. The action through the pistol grip is a touch heavy and very mechanical; you won't mistake the gear changes with those from a Honda S2000, but then again the S2000 doesn't have to manage 420 pound-feet of twist from an engine with three times the displacement. In such an application, having a gearbox with a bit of effort is a good thing; it makes you feel like you could power shift it all day long with nary a complaint, or simply utilize first gear and the 425-horsepower Hemi to create fog banks of expensive tire smoke. It is a muscle car after all, and in this respect it's very much like the machines of old.
It's also a bit on the heavy side and not a stellar handling machine, somewhat similar to the machines of old. It's not a complete fail by any means—40 years of evolution has certainly worked to the SRT8's benefit, but it's still a bit too vague with a bit too much roll, especially when compared to the other two machines on this list. It feels large and heavy, and though it bites corners with more grip than most people would dare exploit on public roads, it's best suited as a boulevard cruiser or even a grand tourer, because that slightly soft suspension soaks up bumps quite admirably, and the accommodations are pretty comfortable as long as you're not a backseat passenger. In other words, the Challenger SRT8 is very much a traditional muscle car, and as far as we're concerned, it best represents the Detroit iron from whence it came. It has a big pushrod engine, big power, big noise, and sinister looks, and with many 2009 models pricing at or below $35,000, it's a very tempting choice over a new Challenger R/T.
2010 Roush 427R Mustang
Technically this could be considered a tuner car, but the Ford/Roush connection isn't the typical manufacturer/tuner relationship. Whereas tuner machines are usually a year or two to market following new model introductions, the 427R came right along with the Mustang's new-for-2010 styling. Blue Oval fanatics might be wondering why we side with the Roush as our gem instead of the almighty GT500. Step back to 2008 and you can probably land a Shelby for around $35K, but the simple answer is that the Roush is the better car on nearly every front.
We'll start with the suspension, which for the 427R is worlds better than the way-too-spongy GT500. Stiffer springs and shocks accompany stronger anti-roll bars to all but eliminate body roll, and though the 427R does thrash a bit over rough pavement, the tradeoff in control and driver feedback is well worth it. That last bit is very important—we like how the Roush can dance, but the way it chats you up while doing so makes it much more enjoyable to drive, as compared to other cars with more grip but less pillow talk.
The Roush gets Roushcharged via a Roots blower to make 435 horsepower and 400 pound-feet of torque. That places it a few ponies ahead of the new Mustang GT, and in terms of acceleration it turns low-13-second quarter-mile passes, trailing the much more powerful GT500 by just a couple tenths. It's a vigorously entertaining machine to pilot, especially when taking advantage of the power and suspension tuning to expertly hold endles sessions of smoky opposite-lock excitement. That will get expensive with the optional twenty-inch rubber, but with the Roush's extrovert striping and styling cues, it seems only natural to engage in such antics. And we haven't even mentioned the amazing exhaust note this car generates.
Tuner cars can be difficult to track down secondhand, but eBay Motors currently lists all kinds of 427Rs in the $35,000 to $40,000 range, creating the ideal circumstance for purchasing your new muscle car, then taking a road trip to bring it home. Unless the GT500's bigger gun is an absolute necessity, the Roush is our choice for a Blue Oval street fighter.
2008 Chevrolet Corvette
Aha! You were probably expecting to see a Camaro right about now, but honestly if you're a die-hard Chevy lover, there isn't much else out there in four-seat pony car performance that will top a new Camaro SS, at least at $35,000. Tuners like Lingenfelter and Hennessey offer several performance packages for the new 'Maro that deliver some frightening power, but by the time all the pennies are counted, you'll be far beyond the cost of an SS.
And that leads us to the other GM performance legend—the one that endured the past 40 years without a hiatus to become one of the greatest sports cars in the world. There are those who would argue that we're unfairly dropping in a world class sports car amongst some traditional American muscle machines, but the last time we checked, the Corvette was both American and quite muscular. And to be completely honest, we'd take a slightly used Vette over a new Camaro pretty much any day of the week. That's not because the Camaro is bad; the Corvette is just that good.
Now at this price range, we'll have to stay pretty frugal with the base model Corvette coupe, but even then, we're still talking a 6.2-liter V-8 delivering 430 horsepower, or 436 if you find one with the optional exhaust upgrade. So equipped, the lighter Corvette positively blitzes the Roush and SRT8—and everything else from Detroit short of its Z06/ZR1 brothers and the Dodge Viper—in straight-line performance. 0-60 happens in barely four seconds with quarter mile times in the mid-12-second range, all enroute to a top speed of approximately 190 miles per hour. The Corvette similarly dominates in the handling department with or without the optional Z51 suspension package, and unlike the iterations of old, it's not terrible to drive every day. In short, this car returns world class performance that can embarrass supercars costing three times the price—all for the same coin as a new Camaro SS. So we say again, the Corvette is just that good.
Yes, you'll give up a back seat, but trust us when we say nobody will want to sit in the back of a Camaro anyway. The front seats are comfortable and supportive, driver feedback is excellent in nearly all respects, and 2008 marks the year GM took the Corvette's interior appointments a bit more seriously, so it feels a bit more upscale than in years past. There's even a bit of retro in the C6's styling, harking back to the curvaceous third-generation Vettes, which debuted in—you guessed it—the late 1960s.
But can a 2008 Corvette really be had for $35,000? We're not stretching the budget on this one; credit the Z06 and ZR1 for keeping the attention of enthusiasts and collectors, because while they're holding value pretty well, the base models have slipped. Unless you live in Nome, Alaska, the odds are in your favor of finding a nice, low-mile 2008 Corvette at our $35K price point that's relatively nearby.
We love the whole Ford versus Chevy versus Dodge debate, and we can't begin to express how cool it is to once again have some bonafide performance machines from all three American manufacturers to really be proud of. Are we looking at some legends in the making? Time will tell, but in the meantime, go ahead and have a smoke—it's on us.