Secondhand Gems: $30K Sport Sedans; USA vs. Germany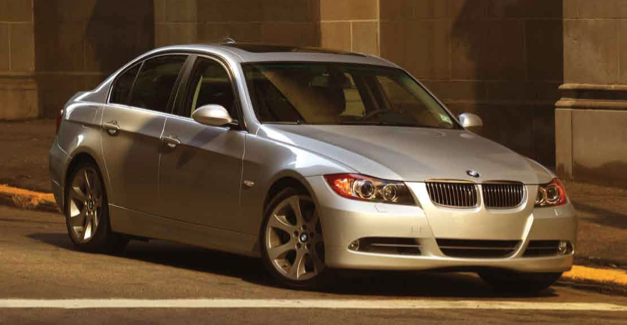 Achtung! It's time for a quick history lesson. 1915: Germany sinks the RMS Lusitania, ultimately drawing the United States into World War I. 1939: Germany invades Poland, igniting World War II. 1968: German automaker BMW sends the 2002 to U.S. shores. 1970: German automaker Audi enters the U.S. market for the first time.
Provided you are indeed smarter than a fifth grader, you'll recognize that at least two of these events ended well for the red, white, and blue. As for the other two, well let's just play devil's advocate and say they're still works in progress. After all, the Allies have a history of coming on strong down the stretch, and recent years have shown that Germany's domination in the sport sedan segment isn't completely bulletproof. Case in point is our monthly foray into the nearly new segment, focusing this time on $30,000 sport sedans from Uncle Sam and the Fatherland.
Browsing eBay Motors with a $30,000 price cap will return all kinds of tantalizing temptations, though we've narrowed our selections for this comparison down to four. All these rides have plenty to offer in terms of practicality, capability, and performance, and most should still be young enough to fall under existing factory warranties. We'd be happy harboring any of these four-door soldiers, but as in all things relating to war, there can be only one winner.
2007 Dodge Charger SRT8
If there's ever a stereotype buster in the automotive ranks, it's the Charger SRT8. It looks like a muscle car, sounds like a muscle car, and drinks fuel like a muscle car, so then it must drive like a muscle car, right? There's no denying that the Charger SRT8 embodies everything found in traditional muscle cars, right down to the comparo-leading 425 horsepower, 6.1-liter Hemi V-8 turning the rear-driven rubber into so much atomic dust.
It even has a muscle car name, but before you take another sip of that latte, you should know that this straight-line scorcher comes equipped with massive 14.1-inch brakes and a buttoned-down, four-wheel independent suspension setup. The SRT8 also packs a pair of aggressively bolstered front seats, which come in handy when the Charger rips through slalom courses with gusto.
Oh yes, this is one Charger that Bo and Luke won't have to continually wrestle in opposite lock just to take a mild corner, and despite being the largest car in this particular comparison, the Charger SRT8 exhibits enough poise and grip to officially call it a sport sedan. Of course, having a big V-8 with enough low-end meat to polish asphalt also makes it a muscle car, but there's one other muscle car trait that holds the Charger back—a lack of refinement. The ride is particularly harsh save for the smoothest of roads, the steering isn't at all communicative, and while Chrysler interiors of late have been a vast improvement from the "good" old days, the SRT8 lacks the sophistication of most other vehicles in this price category. Still, if your primary goal for spending $30,000 is a rip-snorting car with family-sized space, good moves, and a dose of attitude, it's hard to go wrong with the SRT8.
2007 Audi S4
Few cars in this category produce the same kind of aura as the S4. From its humble, turbocharged beginnings to the biturbo era and on to the 4.2-liter V-8 of this B7 series, the S4 has always been about stealth, speed, and luxurious accommodations. Indeed, spending 30 grand on something as thrust-happy as the S4 would be money well spent—340 horsepower funneled through a six-speed box of either manual or Tiptronic automatic configuration is plenty entertaining, especially for a sedan that's classified as a compact.
Audi also knows how to work serious mojo on the handling front, delivering more athleticism than the Charger without deleterious side effects like a compressed spine. Nor does Audi have any trouble impressing the masses with interior design.
So why isn't the S4 our top pick? For starters, it's nearly as portly as the much larger Charger SRT8, thanks to its standard Quattro all-wheel drive system. Yes, all-wheel drive provides numerous advantages and exceptional all-weather capability, but it also adds mass and that makes the S4 feel much larger than it really is, provided you feel anything at all. Sometimes too much refinement can be a bad thing, like when you're trying to sell a car that's supposed to elicit an emotional response. Whether it's behind the wheel or checking out the rather pedestrian styling in the windows of downtown office buildings, the S4 just isn't as involving as the other contenders.
2007 BMW 335i
First things first—BMW didn't produce an M3 in 2007, and sliding into a 2008 model for $40,000 is a stretch, never mind our $30,000 benchmark. Even a 2006 M3 struggles to meet this price cap, so while it may seem the deck was unfairly stacked against BMW, the fact is a nearly new M3 simply requires a larger investment than the competition in this class.
Fortunately, the E90-series 335i is an amazing performer in and of itself, so despite its lack of a factory-backed performance makeover punctuated by a special badge, it is nearly good enough to sweep this field anyway. Credit the 335i's twin- turbo six-cylinder, making 300 horsepower and 300 pound-feet of torque, for a no-waiting buffet of acceleration. Coupled to a sweet-shifting six-speed manual, this non-M3 still nabs 60 in less than five seconds and trips the quarter in just 13.5 seconds, equaling the E46 M3 and dogging the American V-8s in this lineup.
It also wrinkles corners with nearly the same gusto as the M3, while offering a comfortable ride that can only be described as informative isolation. The 335i shuttles passengers in a rich, serene environment, and provided the driver exercises right-foot restraint, the Bimmer can achieve a comparo-best 29 miles per gallon on the highway.
As good as the 335i is, in the end its excellence kept it from our top position. It's a bit too quiet, a bit too serious, and to be completely honest, a bit lacking in character. It's also a pricey you-know-what when it comes to maintenance, and the 335i does have a slight but troublesome reputation for electrical gremlins. That's not a problem for cars still under a factory warranty, but once that's over, many aftermarket or factory-certified programs can be finicky when it comes to annoying electrical issues. There's nothing like a $1500 repair bill for a couple faulty sensors to zap the fun out of the otherwise stirring BMW ownership experience.
2007 Cadillac CTS-V
The Longest Day, a book written in 1959 and later turned into a movie, tells the story of D-Day; the Allied invasion of Normandy in 1944. The CTS-V's triumph in this comparison may also be referred to by that title, as it was by no means an easy path to victory. We like the BMW—love it in fact—and at any given point this particular battle could've gone either way. But we also love the CTS-V; we love how it sounds, how it handles, how it strives to be more than the sum of its General Motors parts bin.
It wasn't so long ago that Cadillac was the epitome of bingo nights and AARP conventions the nation over, and then a curious thing happened. GM's ultimate retirement division delivered an oddly sculptured, mid-sized sedan that offered rear-wheel drive and a manual transmission. Curious, indeed. But then in 2004 it went bonkers with the Corvette-powered CTS-V, a car that purportedly lapped the Nürburgring quicker than BMW's M-series cars of the day. To say nobody saw that coming could qualify as the understatement of the century, which, admittedly, was only a few years old when the V came out, but you get the point.
Those early years were tough for the V, especially with regards to the rear differential that had a tendency to whine like a puppy before committing hara-kiri. GM upgraded the notoriously weak differential and rear half shafts in 2006, though occasional reports of wicked wheel-hop and diff failure on the later models still crop up. Other nagging issues such as unidentifiable clunks and rattles also plagued the up and coming sports sedan, though GM was able to iron out some of the quality issues by the end of the first generation's run in 2007. It's still not a perfect car, but as far a performance vehicles are concerned, the 2007 CTS-V isn't any worse than the competition.
And what a performance vehicle it is. Nail a good launch, and the CTS-V's 6.0-liter Corvette engine will unleash 400 horsepower through a six-speed manual transmission, steam-catapulting the occupants to a 0-60 time in the mid-to-high four second range. Keep the skinny pedal planted, and the quarter mile ticks off just north of thirteen seconds while en route to a top speed somewhere beyond 160 miles per hour, singing a deliciously enticing V-8 tune that's as American as Yankee Doodle Dandy.
The engine soundtrack manages to find the sweet spot in this lineup; louder than the muted BMW and Audi, yet not quite as rambunctious as the Charger. The V also makes fantastic use of its underpinnings, matching the Germans in terms of poise, grip, balance, and comfort. The V does offer a slightly harder edge than the BMW when it comes to aggressive driving, and though it's still not as refined as either the 335i or the S4, it's close enough to give the CTS-V high marks in all categories, not to mention its own, unique character.
And that's ultimately why the CTS-V gets our nod of approval. The SRT8, S4, and 335i are all fabulous cars capable of delivering motoring pleasure, but it's the V's character that triumphs in the end. It offers the distinctive styling we attention seekers crave, a perfectly mixed soundtrack that's not overpowering, a level of performance that's truly world class, and high levels of luxury, comfort and refinement without being all pretentious about it. It's an outstanding performance value with a strong, relatively inexpensive aftermarket, and it has the character to keep delivering a rewarding driving experience long after the initial glow has worn away.