Secondhand Gems: $20K All-Wheel-Drive Sport Sedans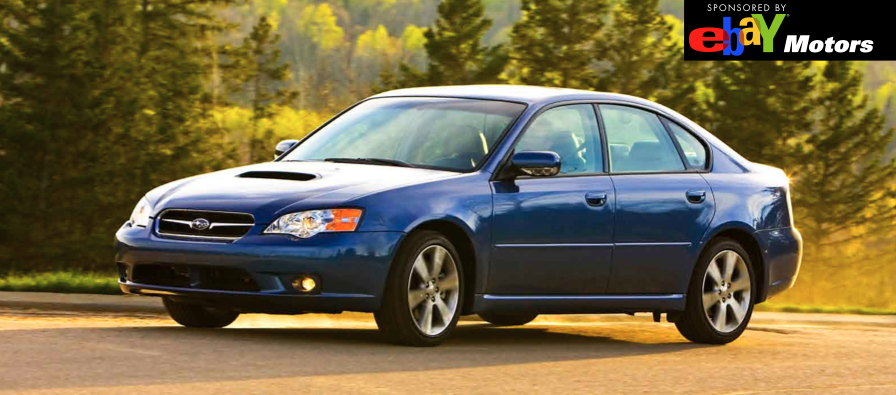 Subaru Legacy GT
Life in the northern latitudes—or nosebleed elevations in the west and southwest—gets a bit more interesting during the winter months. Sure, you could pilot a rear-wheel-drive performance sleigh through snowy roads, much the same as you could go skydiving with a parachute packed by The Three Stooges. You may convince yourself that nothing bad will happen or that you can handle the consequences. Some people may even derive some excitement from the challenge.
Or, there's always the front-wheel drive option, which generally pulls admirably through the white stuff. But let's be honest; front-wheel drive performance has never been an enthusiast's first choice, save for those that enjoy underlying understeer and hand brake burnouts. In the end, all-wheel drive provides the safety of front-drivers with the sideways antics of rear-drive, making it the clear choice for anyone seeking all-season fun in a single vehicle.
That's why we like the fourth-generation Subaru Legacy GT—it's exciting to drive, it's packed with guilt-free performance, and it's safe enough to satisfy your mother-in-law. And with all-wheel drive, it doesn't turn into an axe murderer when the snow starts to fly. Just the opposite, in fact; it gets even better.
Subaru initially offered a turbo Legacy when the car first appeared back in the early 1990s, but the hair dryer disappeared until the completely revamped fourth-generation car hit showroom floors in 2004. Aside from a much-improved level of fit, finish, and materials, the Legacy GT also offered up a boosted 250-horsepower, 2.5-liter boxer four-cylinder, borrowed from the rally-bred WRX STI. Those changes took the Legacy from a lost-in-the-crowd Japanese sedan to a practical luxury performance machine with gusto—the option of a five-speed manual transmission didn't hurt the enthusiast vote either. Drop the clutch on a mildly aggressive launch and the Legacy will grab a low fourteen-second quarter mile, and continue pulling hard well into triple-digit territory. Sedate styling helps this Q-ship fly under police radar nets, and though the interior isn't quite up to higher-end luxury standards, electro-luminescent gauges and intuitive controls make for a pleasant passenger compartment.
Complaints against the Legacy are few and far between. Most folks point to the softer suspension setup as a drawback, which favors comfort over performance. It may not have the crisp moves of a true sports sedan, but it's no Lincoln Town Car either, and the 2.5GT Spec B edition offers up retuned STI suspension bits for those needing a bit more wiggle in their walk. Other common complaints usually revolve around interior rattles or heavy clutches and stiff shifters, but considering the complexities of an all-wheel drive platform—never mind a turbocharged all-wheel drive platform—such minor infractions are just that—minor. In reality, this all-season performer is about as reliable as they come.
Subaru produced the fourth-generation Legacy from 2005 through 2008, and a quick glance through the pages of eBay Motors suggests the GT models hold value fairly well. Fortunately, these cars were blessed with a comparatively low MSRP when kept light on options, so discriminating shoppers can step all the way up to 2007 and still find Legacy GTs at or below our $20,000 threshold.
Also Try
Looking at the competition, one realizes that it's damn tough to match the Legacy's price-per-performance factor without giving up age and mileage. Nothing recent from Germany comes close; figure on dropping back to 2005 if you want a BMW 330xi in the $20,000 range, while the Audi S4 requires yet another year—if not two—to meet the Legacy on price. The 2006 Infiniti G35x is a worthy competitor, matching the Legacy in price and performance while offering a more luxurious atmosphere. The 2006 Mazdaspeed6 is also worthy of consideration, especially since a few notable examples on eBay Motors have clocked in well under the $20,000 mark without sacrificing much in the way of higher mileage. And then there's the Volvo S60R, offering sedan enthusiasts 300 horsepower, a six-speed manual transmission, all-wheel drive, and enough safety equipment to keep Mr. Magoo out of trouble. It doesn't hurt that the car is so damn sexy, and though a 2007 S60R will likely price out just above twenty grand, having such a gutsy sedan that's well within the realm of its factory warranty is hard to ignore.
When it comes to four doors, all-wheel drive, and enough fun factor to be entertaining, there are plenty of $20,000 options. If, however, you're kind of quirky like we are, the Subie's boxer growl, rally heritage, and track record of all-wheel drive excellence are more than enough to satisfy our year-round performance itch.