Reflections On Crewing On A 24-Hour Endurance Race Team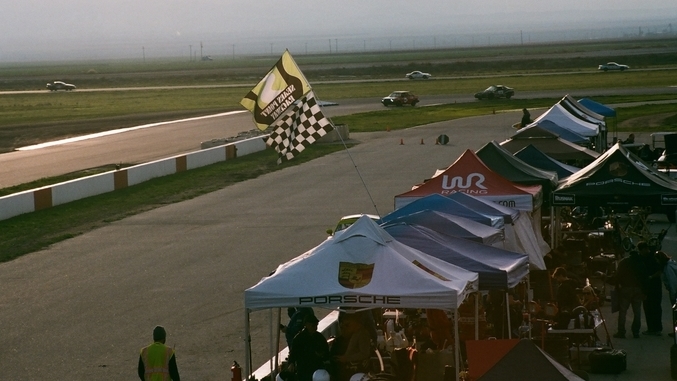 "Wow man, it sounds great, as if you had just swapped it in!" I said with a smirk to my buddy James after he fired up his race-ready NA8 Miata on a cold February morning at Willow Springs International Raceway's Big Willow track. "Thanks" he replied with a blunt, un-enthusiastic tone. That's because he had literally just swapped the engine 2 nights prior. My smart aleck remark was maybe a tad too soon. The beautiful cage was expertly crafted by Alex Renderos of Renderos Racing just 5 days prior. James and some of the other team members had done an immense amount of prep over the past couple of weeks, and it all worked out great as the car was running very well. This was all for an upcoming, epic event: My teammates and I were shaking down the Miata and training for the following weekend's 2019 Lucky Dog Racing League 24-Hour Doggone Enduro at Buttonwillow Raceway.
Fast forward to a little over a week later under a warm, sunny sky at Buttonwillow Raceway around noon. Our team, Team 22, was holding up a trophy with Randy Pobst because we had achieved 3rd in class out of 9 cars. How did we get there? Check out the following short take-aways I learned from my first enduro race weekend. Despite the immense amount of work, I'm already fiending for another chance to crew.
Make Sure The Team Is As Stacked As Possible
Pretty much everyone on the team except for me was a seasoned Miata enthusiast; everyone in some way or another had experience wrenching on and tracking Miatas. Three of my teammates had extensive NASA 25 Hour experience: Sonny Watanasirisuk of 949 Racing, as well as Michael Hom, and Manny Hernandez all crewed for 949 Racing when they ran it. Sean Hopkins, co-owner of Tri-Point Engineering, was one of the main techs on the team. Three teammates were also regular racers in 949 Racing's Supermiata Series. Everyone knew how to at least wrench on cars, which fortunately didn't end up being fully utilized (I'm way too slow of a wrench anyway).
Treat It Like an Easy-Going Track Day
The 6 drivers taking part in the race all had a sizeable chunk of HPDE experience, some of whom were seasoned wheel-to-wheel racers. While everyone knew the best way to get around Buttonwillow was to grab curbs, jump the exit at Bus Stop, brake late, turn in hard at Sunrise, etc., this does not lend well to car longevity and consumables. Especially on NA Miatas with their inconveniently-weak hubs. While fuel consumption wasn't the absolute-biggest concern (we had plenty to last the 2ish-hour stints), drivers were told to keep the revs low, stay off the curbs, and take it easy on the brakes. The engine was drinking a little bit of oil during testing; this was largely-remedied during the race by keeping the revs under 6,000 RPMs. The brakes were never changed, and we could have run the entire race on one set of Maxxis Victra VR-1 200 treadwear tires in 205/50/15. Though, we were glad to throw stickers on mid-morning with a few hours remaining: fresh rubber meant we were able to turn up the heat in the final hours.
Smooth and Methodical Instead of Fast
We had mandatory 5-minute pitstops every 2 hours and could potentially incur severe 5-minute penalties for having too many people over the wall at once, spill fuel on the ground, not shutting off the car before proceeding to do any work, and several other hazardous scenarios. 5 minute penalties are nearly impossible to make up for when you do the math. We practiced repeatedly at Willow Springs how to smoothly and methodically perform a pitstop: what the exact process would be, what hand signs to give, when to un-cap and re-cap fuel jugs, how to refuel, how to position the fuel pad so no spilled fuel touched the ground, and much more.
While the beginning of the actual race was a tad shaky, we never received a penalty, and by the 12th hour we were quite comfortable (but not too comfortable) with our newly-hard-earned skills. Going a minute or two over the scheduled 5-minute pitstop is much easier to work with than a draconian 5-minute penalty.
Strategic, Not Aggressive
By keeping a close eye on what was happening on track, we were actually able to save a lot of time by pitting during yellow flags, even if they were ahead of schedule. Sonny Watanasirisuk, our crew chief, kept a very close eye on lap times and brilliantly coached drivers through stints over the radio, especially when it got dark outside (Buttonwillow gets especially dark at night).
For the Love of God, Try to Get Some Sleep
I was having such a great time with the team that when I went to rest in my teammate's trailer, I could barely sleep a wink. We had an entire 24 hours to get through, and I slept maybe 80 minutes during all of my breaks combined, plus 5 hours of sleep the night before. While I was in good spirits the entire time, I was absolutely exhausted at the very end and should have gone to greater lengths to get more sleep in. The following Monday at work was not fun at all. This was probably the only thing I could say I need to work on. I could've done a better job at belting in the drivers, but considering the cramped interior of a caged NA Miata and my 6'3" stature, that would've required some serious orthopedic surgery.
If the Team is in Good Shape, Go for a Little Walk
We were blessed with no mechanical issues during the entire race, just a scheduled front hub and wheel/tire change in the early morning. This ties in a little bit with making sure to rest, but I found it important to get up and walk around as well. Not just to get some air and stretch my legs, but to also converse with other teams and soak in the entire experience.
The Lucky Dog Enduro was truly an amazing weekend and I can confidently say that I am now addicted to endurance racing. I look forward to not only the next time I get to run with the same group of guys, but also when I can pass along what I've learned to another crew member, or come in handy on another team. I'm sure this list will gradually expand as I take part in more races with Lucky Dog, NASA, ChampCar, LeMons, and hopefully more. I, for one, am quite happy that endurance racing keep getting more and more popular.