Racecar Profile: Wolf GB08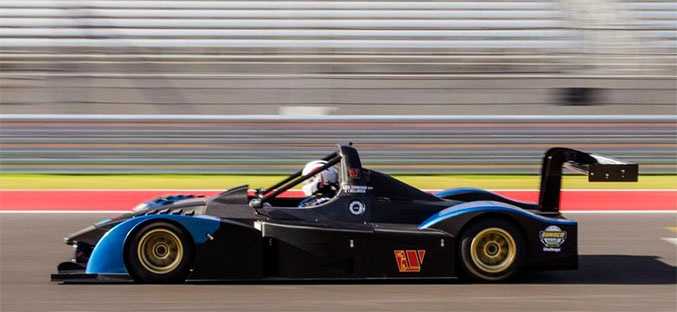 The Wolf GB08 is a two seat sports racer with a wide range of motorsport applications, including SCCA and NASA sprint car, HSR Group 7, and endurance racing. Utilizing an FIA safety-certified carbon fiber chassis and crash box, the GB08's composite work is manufactured by the same company that makes chassis and bodywork for Pagani and Dallara IndyCars. Designed for durability as well as incredible performance, the GB08 can be had with a variety of different engines ranging from 255 to 430 horsepower.
The GB08 has seen great success in the FIA sports prototype racing over the past few years and has a proven track record of wins and finishes in various endurance races, including the 24 Hours of Zolder in Belgium, the Gulf 12 Hours at the Yas Marina circuit and various other European race series. It comes as little surprise given the Wolf's light weight, advanced suspension design, and very effective aero kit, the latter of which is capable of creating more than 1800 pounds of downforce at 153 mph.
In 2012, Motorsports Southwest in Austin, Texas made the trek to Europe to assess which car from the Group CN class to import to North America, determining that the Wolf GB08 was the obvious choice. As such, the GB08 is now available domestically to North American buyers directly through
Motorsports Southwest
. Here's a rundown of the car's specifications, options, and applicability:
Specifications
Dimensions

Length: 186.22 inches

Width: 68.9 inches

Price

~ $160,000 (K20), ~ $225,000 (V8)

Weight

Approx. 1200lb (depending on customer specs)

Engine Options

Honda Mugen 2.0 liter K20 (255hp); K2X (330hp); 3.0-liter RPE V8 (430hp)

Transmission

SADEV SLR75 six-speed sequential

Exhaust

Equal length header(s), low restriction muffler(s)

Chassis

FIA-certified carbon fiber tub

Suspension

Push rod with overlapping triangles front and rear, Oram double adjustable dampers

Brakes

Brembo 4-piston floating rotors

Wheels/Tires

OZ one piece wheels / Cooper race slicks

Safety

FIA-certified carbon fiber crashbox, OMP electric fire system
Options
SADEV SLR82 gearbox
Ohlins dampers
Monoshock or triple front damper package
AIM or Universal CANBus data
12" OZ rear wheels
Full carbon fiber body
Services Offered
Trackside support
Car setup and tuning
Fractional ownership program
Eligible Classes
SCCA: P1 (Spec Line J with K20 engine)
NASA: Super Unlimited
HSR: Group 7
Italian Prototype Series
Supercar Lights
Estimated Cost to Run Per Hour
under $500/hr (K20 engine), under $800/hr (RPE V8)
Availability/Timing
Immediate delivery of vehicles in inventory, custom specifications add 2-4 weeks, out of inventory vehicles add 2-3 weeks (freight shipping)
Source/Contact
Motorsports Southwest
www.motorsports-sw.com
(512) 261-1462