Miata Challenge Project: Racing On A Budget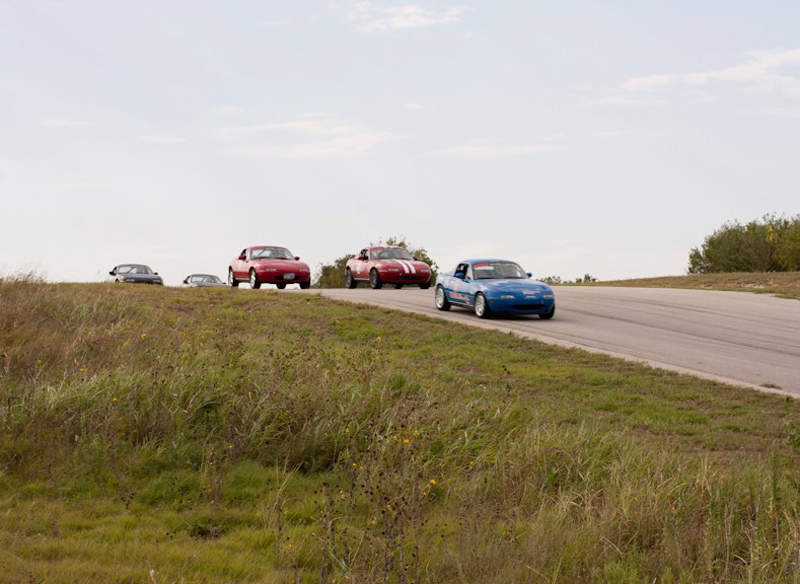 We're joining a new racing series in order to answer a question many of you may have: what does it really cost to go racing? Proponents of activities like sailing or horse racing or skiing will all tell you to be sure you understand the costs before you get in too deep. Or, as the adage goes, "a sailboat is a hole in the water into which one pours money." That's funny, but it doesn't really do much to tell you whether you can afford the sport. We'll try to give you an idea over the course of the next few issues.
As background for our experiment, here's what we're up to. A group of drivers got together and decided to create a race series that met their needs. So, in part, following this gets you a peek into the creation of a series outside of SCCA, NASA etc. As a first point, the series you choose and the racing class you choose will have an effect on cost. It is pretty obvious that Ferrari Challenge, which requires new $280,000 Ferraris will cost more than Spec Miata, for which used cars are available under $10,000.
"The Miata is a nearly ideal amateur racing vehicle."
Why Miata?
Speaking of Miatas, this series is based around that car. If you are coming to racing from street cars, you may be tempted to think of cars based on reputation and street cred. That's fine, but as a racer you will quickly find that your perspective changes. The experienced racers who designed the Miata Challenge picked the Miata for straightforward racing reasons. Miata donor cars are readily available and cheap. The parts required to turn a Miata into a race car are readily available and relatively cheap too. Miatas are very reliable in a track environment. And lots of race shops around the country support Miatas. In summary, there is a reasonable argument to be made that the Miata is a nearly ideal amateur racing vehicle.
On top of that, the folks who created the series didn't want it to be a dead end. To keep costs down, the series is designed to be "Spec Miata Minus" with the intent of seeing what the cost of essentially the most basic racecar is. But, since the series uses Miatas, participants have the option of upgrading their cars to full Spec Miata trim. If they do so, they can then participate in the most popular racing class in the US.
So, let's get started building a car.
The Miata makes a great racer partly because of its affordability.
Donor Car: $2600
The rules for Miata Challenge require a first generation (called NA in Miata circles) with the 1.6L engine. So that means 1990-1993 cars, because Mazda switched to a 1.8L engine in 1994. We bought a1991 Miata that we found for $2600 with a hard top. We've heard about lower prices, and we've certainly seen higher, so we're guessing this is typical if you don't spend you life driving to look at Craigslist entries. Because repairs are expensive, we'd advise paying a little bit more for a car with a strong engine and transmission. On the other hand, interior condition is irrelevant because you'll be removing the interior and discarding it. Exterior bumps and dings are irrelevant too, and this may help you find a more cost-effective car.
"Your parts supplier is really critical when you are doing some of the work yourself."
You may be thinking that you can go racing in a car you drive to the track. While this probably isn't impossible, we'd advise against that thought. There are several reasons. First, to race in any wheel-to-wheel series we know of, you need a roll cage. On the street, you won't be wearing a helmet (it is illegal to do so) but those roll bars will be very close to your precious noggin. In an accident, having your head bash into your roll cage is not good. Really not good. Secondly, to reduce weight so that you are competitive, you will be removing all creature comforts – carpet, passenger seat, sound deadening, heater, A/C, console, etc. Ingress and egress is a pain because of the roll cage. The seat belts take much more work because you will be using a 6 point harness. In short, your race car would be tough to use for anything but transport to the track.
Finding the right supplier for parts is part of the game.
Sourcing Parts
There are many ways to get your car built. At one extreme, if you are very handy and have plenty of time, you can do pretty much everything yourself. At the other extreme, you can go to a race car builder and have him do everything. In between is the option to do some of the work your self and have experts do the hard stuff or the items with which you don't have experience. We chose the latter route to save money while avoiding disaster.
Our experience is that your parts supplier is really critical when you are doing some of the work yourself. We chose Pegasus Auto Racing Supplies. Pegasus has telephone support that really helps, both in choosing parts on the front end and during installation on the back end. Frankly, in racing you are picking bits because they work, not because they are cool and knowing which is which requires experience, which Pegasus has. Not only that, but Pegasus is reliable. Their website clearly lists what they do and don't have in stock, so if you need a part tomorrow, you'll get it. We have often been surprised with other suppliers to find that a part was backordered. And finally, Pegasus had almost everything we needed. Some companies are strong on safety gear, but not on data for example.
Some people choose to do the labor themselves, but there are real advantages to hiring a professional.
Roll Cage: $1100 plus labor
The roll cage you use will depend on the series rules. In our case, we called Pegasus who suggested an Autopower 83010-K Spec Miata cage. This is a proven cage that meets SCCA requirements. While that sounds like a simple statement, there is a lot to it. If you will be installing the cage yourself, you want one that you know will fit and work. DIY, unless you've done this before, is a recipe for anger, frustration and missed deadlines. We also prefer a design that has been tried and tested by others, since your safety, after all, is at issue. Autopower is a major player in racing cages, with real engineers and decades of experience. In the end, trying to save $200 on your cage is a false economy, and we're not sure you find a cage for less than this one anyway.
"Pegasus suggested an Autopower 83010-K Spec Miata cage."
Cage Installation: $2126
The quality of your cage is significantly based on the quality of the welding done by you or your installer. We don't weld every day or even every month, so we went to experts for this. We had them strip the car, prepare the surfaces for welding and install our cage. We watched the process each day after work and can attest that a lot more effort than you might think is involved in getting all the unnecessary parts out of the car. The cage is harder than you might think too. For example, the dashboard must be removed, trimmed for the cage penetrations, the cage installed and then the dash replaced.
Next: In part 2, we'll install the driver's cockpit and get the chassis ready to run.
Sources:
Pegasus Auto Racing Supplies
1-800-688-6946