Mental Practice: The Art Of Racing In The Rain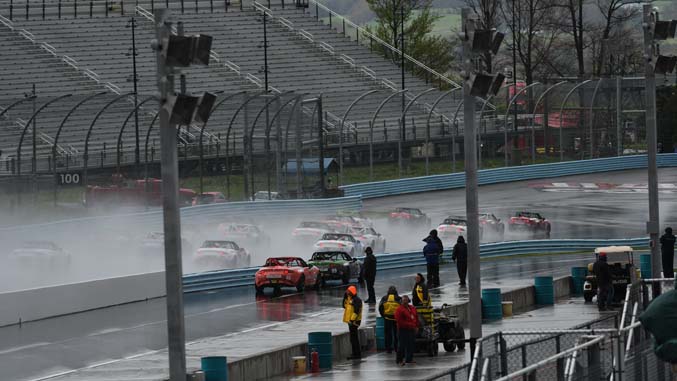 With the onset of winter, many of our readers are thinking more about snow than rain. But soon enough the 2017 season will start, first in Florida, Texas and California and then moving northwards. And with that opening of racing tracks from January on comes…rain. April showers may bring May flowers in New York, but rain actually begins with the racing season, more or less. It's just that the idea doesn't rhyme, so the 17th century poem didn't include the bit about racing (we assume that's the reason).
Anyway, while you have some time off, we suggest studying the art of racing in the rain. First, while you are curled up next to the fireplace, you could read (or re-read) the now-classic novel The Art of Racing In The Rain. While there are a few good ideas in there about driving in the rain, the far more important element is that the book appeals to all readers. If you haven't done so already, we strongly suggest giving a copy of the book to your significant other, who may gain some sense of why racing is so important to you and others. And you both may be reminded that racing, like life, is really about relationships.
We also suggest watching some rain racing videos. You could do worse than to start with this one of Michael Cooper in Pirelli World Challenge GTS at Circuit of the Americas:

Max is not exactly driving against "average" or "inexperienced" drivers. There is no doubt that Max is a very talented driver, and he puts on an excellent show, but we think don't that it helps for drivers to listen too closely to the accolades and imagine that rain racing is something magical and the domain of Senna and Prost. In that spirit, one thing worth contemplating is what the rain line really is (and why). The other thing worth contemplating is that rain driving is partly about car control and comfort running up to the edge of adhesion or a little beyond and then being able to bring the car back. Check out this video of WRR driver Mark Drennan in the Battery Tender Global MX-5 Cup series at Watkins Glen for some examples:

Watch particularly how Mark handles the heel and ankle of the boot (turns 8 and 9). Mark, as you may notice, won this race.
It has been implied that the really good dry racers are fast in the rain, where equipment is equalized. True enough. But we think there is also a case to be made that rain racing is great practice for the car control skills you need to be adept at in the dry.
For information on testing and coaching days with Mark Drennan contact Luciana D'Andretta (
[email protected]
).