Learning Curve: The Miracle Lap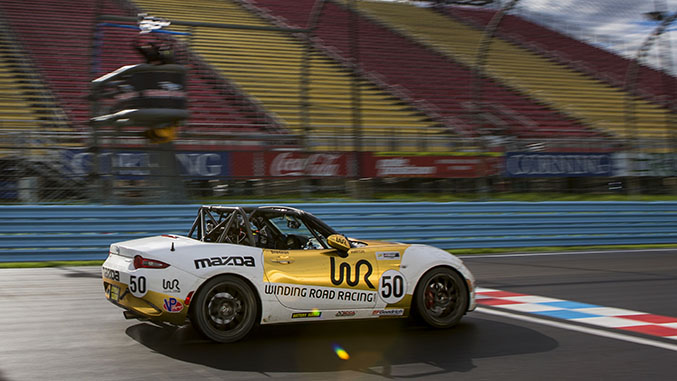 After a lifelong quest to push yourself beyond a miracle lap to the maturity and consistency that is required for a championship season or endurance race, you may find yourself in a series where your life depends on qualifying. Racing always seems to have the most ironic tension between long range planning and being in the moment.



To achieve Pole Position in a series as competitive as the Battery Tender Global Mazda MX-5 Cup presented by BFGoodrich Tires it will absolutely require a miracle lap; drivers are separated by hundredths of a second. When your grid position for both races is determined by one qualifying session in a flock of 50 other fast drivers you will need the stars to align at the precise moment that you request a miracle lap… or in my case, two. In our Global Mazda MX-5 Cup series, qualifying is a fleeting fifteen minutes with only two short practice sessions under our belt to find the right set up for the track and weather conditions.
This means we often only have four or five hot laps to get two fast laps accomplished, claiming the fastest lap for race-one and the next for race-two grid positions. No pressure right? What could go wrong? So when the stakes are high at tracks like Watkins Glen, there is no room for mystery or voodoo magic, everything must be intentional and planned, leaving the driver to lose just as much sleep over the qualifying strategy as the entire race. Here are some simple ways to break it down:



Before Grid



· Obviously, you need to be as intimate as possible with the track. Use the sim, walk the track, watch videos and take every opportunity to drive the track prior to the event, hopefully in an endurance environment for maximum seat time.



· Car setup is critical – the car must inspire confidence and suit your driving strategy. The driver and crew must be done sorting the car before qualifying or it will be impossible to focus on the human elements.



· Tire pressure is often raised to help attain ideal operating temps and pressures during lap two or three for shorter sessions.



Grid Position



· Know the rules. How is your grid created? Many club scenes are first come first serve and it's not uncommon to see racers line up near grid 30 minutes prior to qualifying and benefit greatly from an unobstructed track.



· Global MX-5 Cup uses practice times to set grid for qualifying, therefore making practice two into a pre-qual circumstance. Even when this isn't the normal protocol, it is not uncommon to be defaulted to practice times in extraordinary circumstances such as lengthy full course yellows or unexpected session endings. Make sure you aren't caught off-guard.



· Be prepared to pit if you are unhappy with the grid position. Find clear track or connect with a friend or teammate.
Using All Of Your Resources
Draft whenever possible. It's not unusual to see a one second lap time improvement from a proper draft partner in a high speed circuit.


Use the entire track. At a track like Watkins Glen you can be sure that if you aren't willing to risk hitting your mirror on the outside wall of turn 11 that the racer who beats you surely was willing to take that risk. Qualifying is not the time to be conservative and leave a few inches at track out. Save that mentality for the race.


Drive 100% but not 101%. Be aware of how easily you are getting to the apex. If you find that you are nailing your points every time with no drama then it is likely that you are at 90% or less. If you are not sliding to the tracks edge on the exit then you are leaving speed on the table. However if you start missing apexes then you have crossed over and you are now losing time.


Use a predictive lap timer to help create a flyer. The great thing about having data is being able to change your strategy in real-time. Remember that the last turn affects the fastest lap twice! When you find that you have missed a critical apex and the predictive timer indicates that this lap will no longer be "the one", take the opportunity to exploit the last turn by maximizing exit speed by any means necessary to set your next lap up for success.


Most importantly, qualifying is a team sport. Outstanding qualifying times require a great engineer, mechanic, coach and driver. It also requires partnerships with teammates and trusted competitors to forward your collective success with cooperation through drafting and on-track qualifying courtesy.
Long since gone are the days of strapping on the leather helmet after a couple pre-race cocktails and landing on pole. Racing has become a thinking man's sport and I am actively trying to catch up, literally and figuratively. Good luck in your next qualifying session and please stop by Road America during the June Sprints to help Winding Road Racing Team TFB succeed in Wisconsin.