Learning Curve: Insane MX-5 Cup Weekend At Watkins Glen International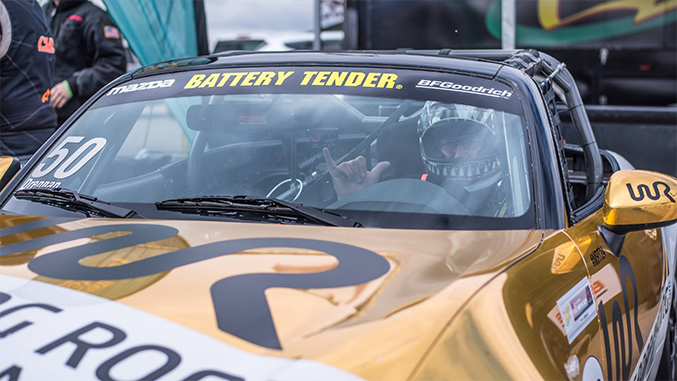 There are plenty of reasons to try "pro" racing. For me, a big reason was the challenge of racing against a large field with many very talented drivers. The attraction of Battery Tender Global Mazda MX-5 Cup was that I got to test myself in a spec car, which I hoped would limit the frustration of being beaten by inferior drivers who have better cars.
Rounds 3 and 4 of the 2016 Global MX-5 Cup mostly delivered on this, but with a few added issues. The big thing I noticed in both races is how important patience is. We often think we have to seize the day when a opportunity presents itself, and that is sometimes true. But just as often, we need to measure ourselves against the next driver, position in the field and time remaining. That assessment can dictate more or less patience and should really be the factor we consider.
The thrill of victory!
Here is a wet & wild in-car video of my first professional win (and the team's "sweet" celebration) at Watkins Glen last weekend in Round 3 of the Global Mazda MX-5 Cup. I actually demonstrate some patience here. I work my way up through the field from 12th position (the grid was based on points because of different dry/wet conditions for the two qualifying groups) and make my pass for the lead
Everyone told us how great the BF Goodrich racing rain tires were, but honestly they might be even better than that! Thanks to Winding Road Team TFB, inaugural winner of the "Most Professional Team" award, for your amazing support! on the last lap.
And the agony of defeat…
Sunday's race was dry, but sadly filled with impacts and wrecking/spinning cars, including a really ugly incident before the start/finish line on the opening lap. It will be interesting to see what SCCA Pro does to dampen some of the excess aggression that a few drivers are showing.
Once again, I worked my way though the field (starting 9th, based on lap times in the rain race of Round 3). But, like too many others, I got crunched while attempting a pass for the lead with 2 laps to go. I should have been more patient, since I had plenty of time left for my final pass.
Fortunately, both of us were okay and sorry about our parts in the racing incident. Still, no fun throwing away a solid performance and shot at another win. Very expensive lessons learned that I'll be taking with me to our next event at Road America in June.
All that said, the video is pretty epic from a spectator standpoint – crashes behind me, crashes/spins in front of me (luckily I don't get collected), a mini Dukes of Hazard moment, lots of passing/battling, and then… I crash.
Uhhh, enjoy!
PS – my apology to Drake Kemper in the #99 for cutting him off exiting T6 late in the race. While not intended, still not cool on my part. Sorry Drake!