Keepers: Mazda Miata MX-5—Shopping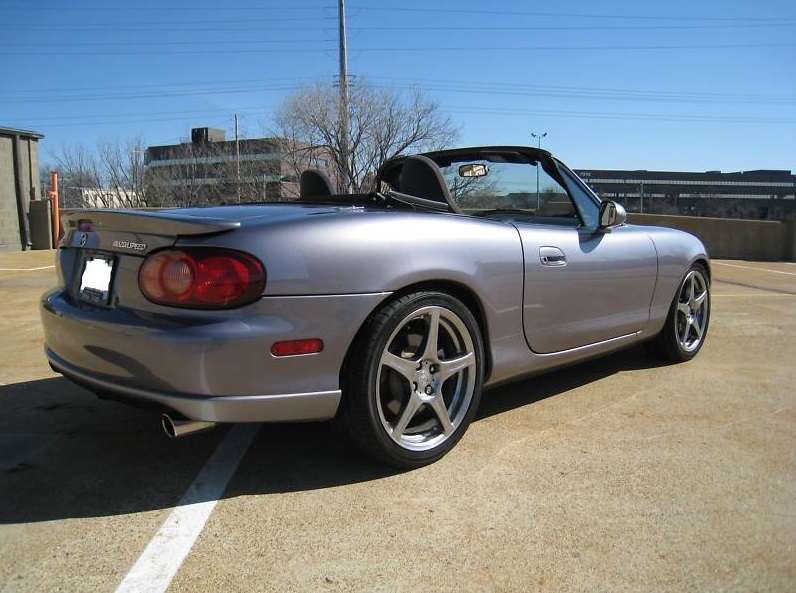 The nice thing about the Mazda Miata is that no matter which flavor you go for, they all pretty much have that same elemental feel to them. In our first Miata piece we mentioned focusing on the second generation cars—they preserve that first generation featherweight feel while offering extra horsepower, tweaked handling, and a handsome list of available equipment akin to the current generation Miata. Yes, there's something to be said for the character of the original car, and we know many Miata purists consider luxury items and safety systems to be automotive heresy, but the reality is the second generation Miata is just a damn fine automobile, and of the three generations on the market, it's the one we would did pick.
So what do you need to know about the second generation Miata? It hit the streets as a 1999 model, making 140 horsepower funneled through an automatic or five-speed manual transmission. Though Miatas could be as spartan as a bread truck, power everything, deluxe sound systems, and rich leather interiors could be had throughout the second gen lifespan. A glass rear window replaced the craptastic plastic fixture of old, the popup headlights were swapped in favor of fixed units, and beefier equipment all around made for a bigger-stronger-faster Miata. A limited-edition 10th anniversary Miata was also offered, which included special badging and appearance enhancements as well as a six-speed manual transmission and Bilstein shocks. 2001 saw minor aesthetic and performance changes to the car, most notably a horsepower bump to 143 ponies (originally listed as 155, but revised after the changes in SAE horsepower ratings) and the six-speed manual transmission, which became an option across the line. The turbocharged Mazdaspeed Miata appeared in 2004, offering 178 horsepower and 0-60 times under seven seconds. The boosted Miata returned for 2005, sharing the stage with its naturally aspirated siblings at the end of the second generation's run.
Mechanically speaking, the Miata is a trooper. Rattles and excessive road noise are some of the more common complaints, but there are a few areas of note on the mechanical end. Clutch chatter is an issue with the revised Miatas from 2001 through 2003; Mazda has a TSB on the problem but that doesn't guarantee a factory replacement. Early cars also had some engine bearing issues, though most should have been repaired by Mazda. If you should happen upon a 1999 or 2000 Miata with low miles, however, pay close attention to any debris in the oil. For all Miatas, a fairly extensive engine service awaits owners at 60,000 miles, which includes a timing belt swap among other things. Fortunately, the Miata's mill is a non-interference engine, so if the service work hasn't been done, a broken belt won't leave you with a sporty two-seat paperweight.
Finding a second generation Miata in decent condition with average miles will likely be a $5000 to $8000 investment, depending on age and options. That doesn't include the horsepower-happy Mazdaspeed editions from 2004 and 2005, which generally pull around $10,000. Dip down in mileage like this 2004 Mazdaspeed Miata on eBay (pictured in the gallery above), and prices can go even higher. Still, we struggle to think of another two-seater in this age and price range that can deliver such a satisfying straight line surge, nimble corner carving, and top down pleasure.
The only thing better than dancing across back roads in a Miata is dancing across back roads with a bunch of Miatas. We'll enter the Mazda Miata enthusiast community in our next installment of Keepers, coming soon.