IndyCar at COTA: Observations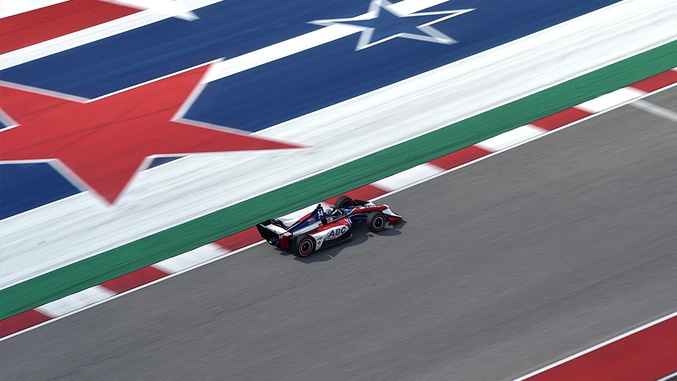 Some racers may not care and a few may be unaware, but it is March Madness time in the U.S. This annual college basketball competition provides an interesting backdrop to auto racing because March Madness generally serves up some decent excitement — excitement that is thrilling enough to entice casual fans to sit in bars or visit friends and watch when they otherwise don't really follow the lengthy regular season.
Since some of us drinkers of the road racing Kool-Aid would like more folks to sample road racing, I contemplated what we can learn from the NCAA as I watched UCF-Duke and IndyCar at Circuit of The Americas on the same day. My observations:
IndyCar at COTA seems like a natural match: America's open-wheel series at America's mega-track. Glad to see it.
COTA, confounding the initial haters, continues to race well. A wide track with long straights and tight turns yields interesting results most of the time.
Basketball and pro road racing both have events that are too long. The excitement is concentrated toward the end and the preliminaries take too long. At least the start of races is interesting.
IndyCar adds to this problem with the confusion of tire strategy and pit stops. In the NCAA, if you tune in with 15 minutes to go on the clock, you have a pretty good idea of where things stand: you look at the score. In IndyCar, you have much less idea because Rahal may be on a black stint while Rossi is on reds, with blacks still to come. Further, Rossi may not have taken his last pit stop but Rahal just did. For total nerds, this is probably a good thing, but for marginal fans it is confusing.
March Madness has a bracket system which means a) more games and b) more chances for mid-pack teams to stay in it and keep fans excited. IndyCar uses a playoff system for qualifying but skips this for the race. This seems like an inferior use of track time if we want excitement. In the same time that we have 4 rounds of quali and one long race, we could have one quali and 3 or more shorter races. The first two races could involve fewer cars each so that your favorite team/driver has a better chance of making it to the finals. The dirt track guys get this, but we can't be bothered?
It was great to see a new generation (i.e. Herta and O'Ward) do well. I miss Robert Wickens, though, who as a newcomer added a lot to every race. Let's hope at least one of these new guys has some personality — and/or let's get Jordan Taylor into IndyCar. An NCAA weakness is that one-and-done or two-and-done players are pretty common which makes it hard to connect. IndyCar careers can be a decade or more, but we need real personalities behind the wheel.
As a summary, I think IndyCar is doing a pretty good job. We've come a long way from the IRL disaster. But good is not great, and great should be what we're aiming at.