HPDE Drivers: The Low-Cost Coaching Tool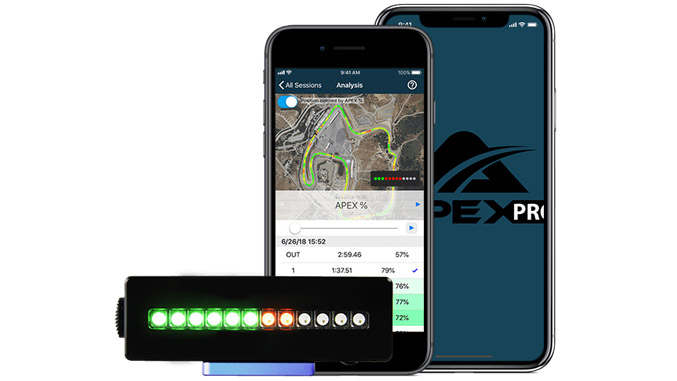 While NASA and some track day operators often offer free coaching as you begin HPDE (High-Performance Driver Education), eventually you move up to more advanced run groups and you're on your own. You can then hire a professional coach, but this generally costs $750-$1250 per day. Having a private coach is great, but unfortunately, it is cost prohibitive for many drivers most of the time.
Given that many drivers simply choose to have no coach and then sometimes get stuck on a learning plateau, we've been investigating a learning aid that many drivers really like: the Apex Pro, a.k.a. "that box that makes the data acquistion process simpler and more effective". If you haven't heard of the Apex Pro, it is a simple device that helps drivers learn to drive the car at the limit of the tire's grip. Whether you are a track day driver, autocrosser, or racer, that is a valuable skill to have. It is a Grip Gauge that shows you where extra grip is being left on the table. A human coach will still be invaluable, but the Apex Pro is quite complimentary in reality.
Here is a short video covering what the lights do:
And here's a quick video explaining what's in that magic box and how it can help you:
For our last installment, here's a little more info, from APEX Pro, on just how this little, low-cost device could possibly know that limit of your car.
To order your very own Apex Pro ($449): APEX Pro Digital Driving Coach
Not convinced? Need to know more?
If you want to know about how the Apex Pro works on track, read our coverage of using it on a track day here: Diving Into Corners and Data: Reviewing The APEX Pro Digital Driving Coach In The Real World
If you want a more comprehensive technical overview of the APEX Pro, here's an informal, long video of Andrew going over some of the underlying technology: