Holiday Wish Book: Global Mazda MX-5 Cup Racer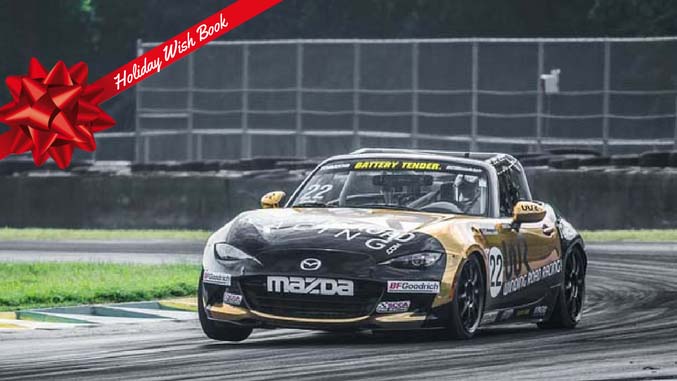 If you really enjoy racing, this car is the ticket to some intense competition. For 2017, the Global MX-5 Cup racer will run in Pirelli World Challenge TCA as well as the Battery Tender Global MX-5 Cup sanctioned by IndyCar. The Global MX-5 Cup series offers some of the best racing action in the country, and we ranked it #1 for pure on-track action among the 2016 pro series. We expect the advent of the MX-5 Cup cars in Pirelli World Challenge will ensure plenty of excitement in that series as well.
All this and more means we've selected the Mazda Global MX-5 Cup spec racer for our 2017 Holiday Wish List. The car itself is based on the 4th generation (ND) Mazda MX-5. All the cars are built by Long Road Racing, to ensure equality across the field. The top and interiors are removed. A race ECU is added and engines and transmissions are sealed. All cars get a racing suspension, with 2-way adjustable dampers. A full roll cage is installed, along with a fire suppression system, transponder and kill switches. Each race shop running the car then adds a seat, harnesses, radio and cool shirt system to suit the driver. For MX-5 Cup, the car runs with an open top on BFG slicks. For Pirelli World Challenge, the base car is the same, but a composite top is used, the car runs on Pirelli slicks and a Motec Balance of Performance data system is added. The car can easily be converted back and forth between series.
While pro racing is more expensive (longer hauls, more exacting preparation), the MX-5 Cup car provides a way to access the less expensive end of the spectrum. For example, a new MX-5 engine is $4000, whereas a Porsche GT3 Cup engine is $45,000. A new MX-5 Cup car costs $65,000 ready to run. Used 2016 cars in 2017 trim are priced below $45,000.
Over the new few weeks, we'll be putting together our dream holiday wish list. From race cars to apparel, we've compiled our
Holiday Wish Book
that would even make Rudolph jealous.
For information on Winding Road Racing's 2017 Pirelli World Challenge and Global MX-5 Cup services contact Todd Therkildsen (
[email protected]
).
For information on purchasing or renting MX-5 Cup cars, contact Tom Martin (
[email protected]
).
For information on test days in an MX-5 Cup car, contact Luciana D'Andretta (
[email protected]
).