Graphed: Formula 1 Driver Fatalities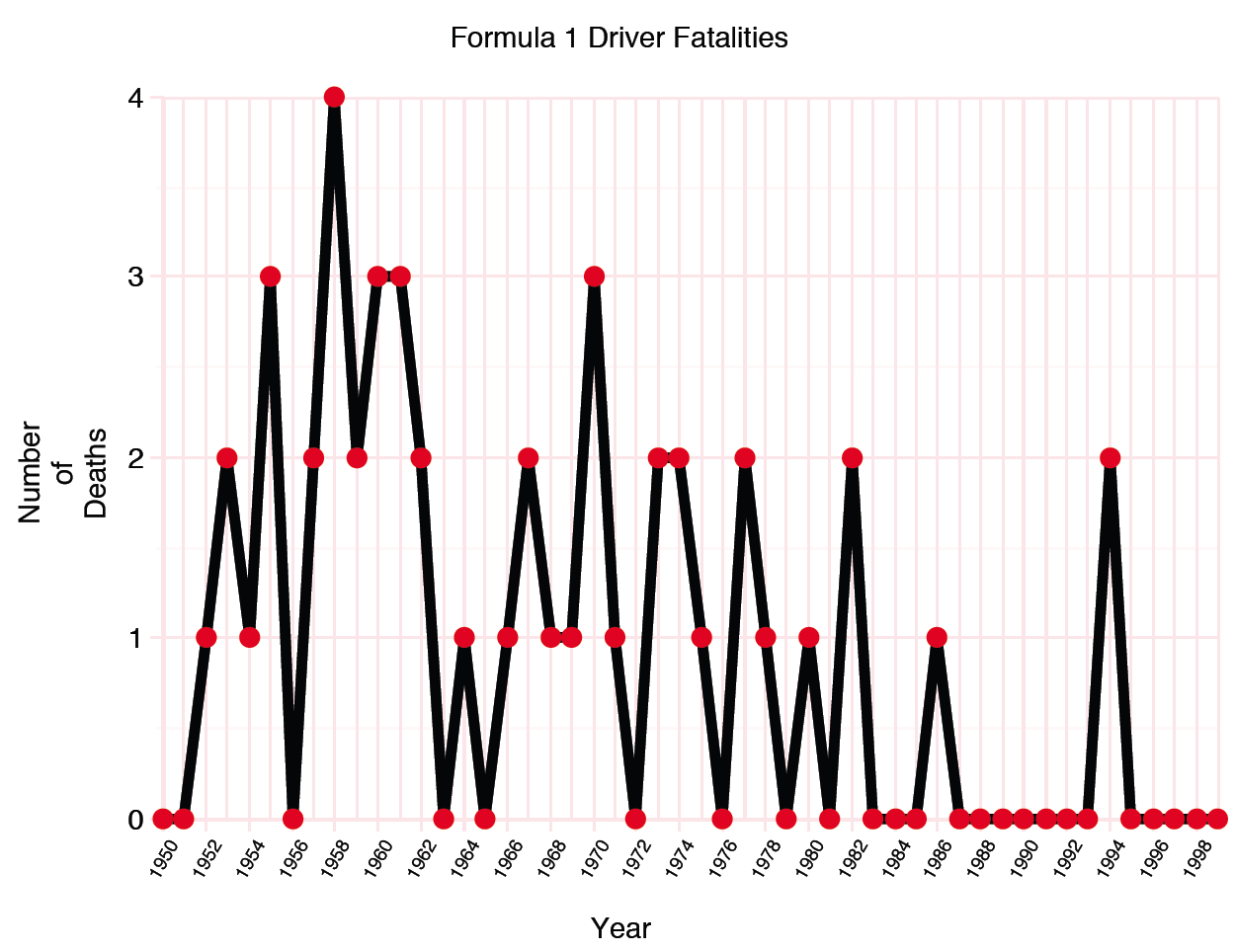 Racing is a dangerous sport, and our beloved Formula 1 is no exception, as we were reminded with Felipe Massa's frightening injury in July of 2009. Thankfully, safety has come a long way throughout motorsports history, and gone are the days when deadly accidents were a regular part of racing. We put together this graph to illustrate the fatal history of one of the world's favorite racing series, Formula 1.
Fortunately, we haven't seen a driver fatality in Formula 1 since Ayrton Senna at the 1994 San Marino Grand Prix (preceded the day before in qualifying by the death of Roland Ratzenberger). But Formula 1 has a dangerous past, with 45 drivers having been killed since 1952, including races, qualifying, testing, and non-championship events.
What this graph doesn't show are the fatalities of crew, spectators, and other unfortunate individuals. For Instance, during the 1961 Italian Grand Prix, Wolfgang von Trips was on course to become champion. His Ferrari went airborne after a collision, killing von Trips and 15 spectators.
The most deadly venue for Formula 1 has been the Indianapolis Motor Speedway, which has claimed the lives of seven Formula 1 pilots, all Americans, and all during the 1950s.
Scroll down for the complete list of Formula 1 driver fatalities by year.
1952
Cameron Earl
1953
Chet Miller
Charles de Tornaco
1954
Onofre Marimón
1955
Mario Alborghetti
Manny Ayulo
Bill Vukovich
1957
Eugenio Castellotti
Keith Andrews
1958
Pat O'Connor
Luigi Musso
Peter Collins
Stuart Lewis-Evans
1959
Jerry Unser
Bob Cortner
1960
Harry Schell
Chris Bristow
Alan Stacey
1961
Shane Summers
Giulio Cabianca
Wolfgang von Trips
1962
Ricardo Rodríguez
Gary Hocking
1964
Carel Godin
1966
John Taylor
1967
Lorenzo Bandini
Bob Anderson
1968
Jo Schlesser
1969
Gerhard Mitter
1970
Martin Brain
Piers Courage
Jochen Rindt
1971
Jo Siffert
1973
Roger Williamson
François Cevert
1974
Peter Revson
Helmuth Koinigg
1975
Mark Donohue
1977
Tom Pryce
Brian McGuire
1978
Ronnie Peterson
1980
Patrick Depailler

1982
Gilles Villeneuve
Riccardo Paletti
1986
Elio de Angelis
1994
Roland Ratzenberger
Ayrton Senna