Gear Spotlight: All the Essentials to Get Ready to Go Racing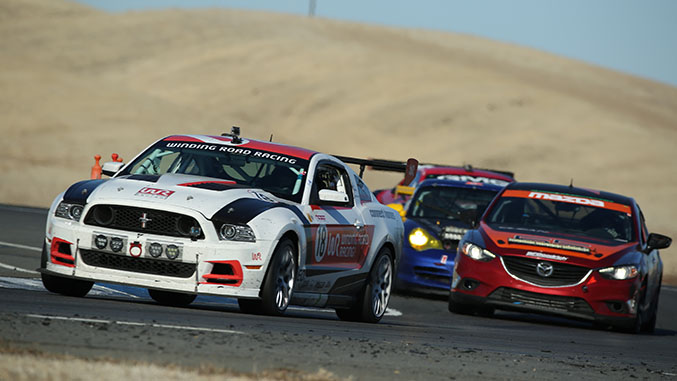 For many, half the battle of making the jump from racing fan to racing participant involves cobbling together the requisite gear. With these bundles we've taken the guesswork out of that task, offering bespoke packages based on experience level and the type of track driving you'll be doing. Of course, it never hurts to have some guidance along the way, so we're also highlighting some of our favorite books on race driving technique too:
And for experienced racers who're looking to step up their gear game, here's a few of our top picks from the
Winding Road Racing store
:
Stilo ST4 Formula Composite Auto Racing Helmet
– Made from autoclave-molded Kevlar and a fiberglass composite, the ST4 Formula features noise attenuating earmuffs, an M6 nut integrated into helmet shell for interfacing with Head and Neck Restraints, and comes with a 3mm clear visor for the absolute best in protection. Choose from two separate shell sizes for this helmet for an optimal fit – one shell size for extra small to medium, and one for large and extra large.
Alpinestars GP Tech Auto Racing Suit 2014
– Featuring dual layer Nomex construction for lightweight safety performance, the GP Tech suit has been developed with a slightly more relaxed fit to better adapt to any body shape. An adjustable collar and ribbed wrist and ankle cuffs provide a snug, comfortable fit. Available in four colors, this suit complies with FIA 8856-2000 and SFI 3.2 A/5 homologation standards.
Alpinestars Tech 1ZX Glove 2014
– Utilizing an innovative Nomex construction for minimal seam stitching to eliminate material overlap, along with pre-curved fingers and strategically placed Pittards® leather patches, the Tech 1ZX gloves offer the ultimate in feel, comfort and grip. These gloves are certified to FIA 8856-2000 and SFI 3.3 Level 5 homologation standards.
Alpinestars Tech 1Z Formula 1 Racing Shoe 2014
– Designed and developed with input from Formula 1 racers, the Tech 1Z shoe is made with top-shelf materials, including a supple and light weight kangaroo leather upper construction that quickly conforms to the shape of your foot and an ergonomic, molded fireproof polypropylene heel that provides support and stability inside the shoe. Beyond the high grade materials, the Tech 1Z racing shoe utilizes smart design throughout. Features like the exclusive Kevlar speed lacing system, which is derived from Alpinestars MotoGP technology, make it easier to tighten and secure the lace while still wearing your racing gloves, while the single large Velcro ankle strap offers bolstered stability and the strategically placed perforated zones that provide exceptional ventilation. Simply put, the Tech 1Z is a racing shoe without compromises.
Winding Road Racing Contingency Sponsorship Program
– Our objective, as always, is to support amateur road racing in the United States – and we also would like to introduce our brand to as many racers as possible. Display the Winding Road Racing decals as explained
here
and when you accomplish certain results, we pay
you
in the form of store credits. Get all the details on the Winding Road Racing Contingency Sponsorship Program
right here
.
Fast Lines by Pete Lyons
– Containing a collection of 55 of Pete's
Fast Lines
columns from Vintage Racecar Magazine, this book looks at cars and racers from Formula 1, Can-Am, Indycar, and endurance racing, largely from comprised from the 1960s and 1970s era of motorsport. Lyons also includes commentary from contemporary events like Sebring, Goodwood, and the Monterey Historics.
Going Faster! Mastering the Art of Race Driving
– The perfect resource for all drivers from novice to expert,
Going Faster!
is a complete racer's reference that reveals the fundamentals of fast driving. Encapsulating the collective racing wisdom that Skip Barber Racing School instructors have accumulated over the past 25 years, this book offers competition-proven methods that will give you the know-how to work up the track and stay at the front.
Race to Win by Derek Daly
– Drawing upon his experience as a former F1 driver, broadcast television announcer, and motivational speaker, Daly explains the seven essential skills of the complete champion. Now in its second edition,
Race to Win
has been revised and updated to include examples and insight on current drivers such as Sebastian Vettel, Lewis Hamilton and Fernando Alonso, along with legends like Michael Schumacher, Mario Andretti, Ayrton Senna and Jimmie Johnson. Beyond that, the knowledge in this book applies to every individual with the desire to develop themselves into a champion – be it in racing, business, or life.
The Technique of Motor Racing by Piero Taruffi
– Trained as both a racing driver and an industrial engineer, Taruffi provides a unique perspective on the art and science of motor racing. In a career that spanned over 25 years and was crowned by his victory in the 1957 Mille Miglia, Taruffi expounds on his experiences driving for the works teams of Ferrari, Maserati, Alfa Romeo, Mercedes-Benz, and others. First published in 1959, The Technique of Motor Racing has been often referred to as the standard by which other driving texts are measured.
The Racing Driver by Denis Jenkinson
– Considered a timeless classic among enthusiasts,
The Racing Driver
is an essential read for sports car aficionados – particularly those interested in vintage and historic racing. Highly valued for its historical perspective and views into the personalities of drivers who today seem larger than life, this book was hailed by
Road & Track
as "the best ever written on contemporary drivers and their racing styles and habits" upon its release in 1959. This release of
The Racing Driver
contains assorted new material, including a new preface by the author himself and a new foreword by Stirling Moss, who won the 1955 Mille Miglia with Jenkinson at his side.