From Track Days To IMSA: Gino Manley Talks About His Road To Pro-Level Racing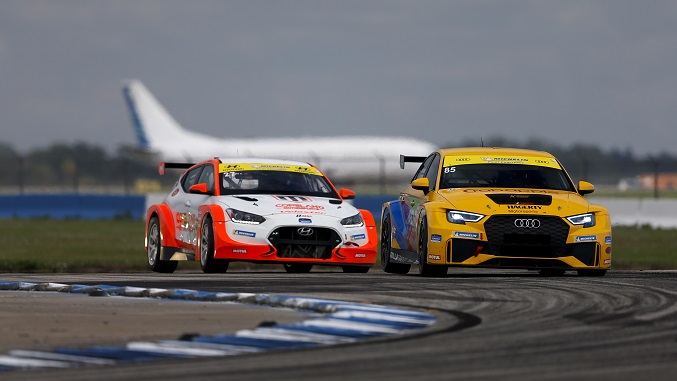 Gino in the AOA Racing Audi TCR car. Photo: Halston Pittman
Gino Manley is a track day and endurance racing junkie based in the Southeast, and through hard work, seat time, and making some solid friendships, he has risen to the ranks of racing in IMSA Michelin Pilot Challenge TCR. He's one of the friendliest guys in grid, and one of his top track weapons of choice is a barely-prepped Mazda2 (if you haven't noticed, we've got a soft spot for these little 100-horsepower beasts). Check out his reflections on his journey of going from track days to IMSA. -Editor
I don't care what anyone says. It doesn't matter if you are a track day guy, amateur racer, or just a car guy in general. We have all asked ourselves the same question: Could I keep up with those guys on TV? Don't deny it.
Perhaps you are the fastest guy at your local track day. Maybe you are fast on your computer. You might even be quick at your local club races. And while these are all good ways of identifying driver skill, the moment you climb into the "Pro" arena, it's all irrelevant.
How do I know? Simple: somehow, for reasons I will never be able to explain, I ended up competing in this very arena. Me! A slightly-chunky car salesman from Florida. Now mind you, I'm not new to motorsports. I've done hundreds of track days, won many amateur enduros, and have driven some of the coolest cars in the world. I like to think I'm a pretty quick amateur driver. But the moment you are exposed to the ability of drivers who have done this since the age of 10, and now do this to make a living, you are beyond impressed.
My foray into the IMSA ranks this year is something I am proud of, and something that nobody will ever be able to take away from me.
You see, I consider myself to be a true grassroots racer. My first wheel-to-wheel race was in ChumpCar (Now ChampCar). I did not grow up racing karts, and I've never been to a fancy racing school. What race craft I do possess was gained from racing in Champ, as well as AER, WRL, and Lucky Dog. At track days, my skills were honed in my track car, which is a real fire-breathing heavyweight I might add: a lime green Mazda2. To be completely honest, that little car is the only reason I've made it this far, but that's a story for another time.
Photo: JZilla Trackdays / Gino Manley Facebook
Racing requires more than just skill. I financially could never afford to do this on my own, as we all know pro racing is expensive. That's the most humbling part of my story. It was the friends and connections I made in the track day and amateur racing community that made it financially possible to even do this. The sponsors you see on my suit are people I've simply met in the hobby; they are friends that wanted to support what I was doing. My home track day group even started a crowdfunding campaign to help send me to my first event. I would never be here without the track day community, and I will never forget them.
So what's it like to make the big jump? Here's the best way I can explain it.
Imagine the fastest guy you have ever followed, whether in an amateur race or even at a track day. You know, that guy you watch and say "damn, he's quick." Multiply that guy by 30 and imagine them being even faster.
Now, imagine the best lap you have ever run, that one lap you are really proud of. That lap that really makes you believe you've got this! Imagine having to run that same lap over and over again for about 2 hours, and remember those 30 really quick guys? If you mess up just one of those laps you'll probably never see them again. Oh and I forgot to mention, those guys play rough and will try to pass you in places you didn't even know existed.
Now let's talk about drivers being athletes. I'm out of shape and I damn well know it. But I really knew it after a 1-hour and 10-min stint at Sebring. Driving a TCR car full-tilt at a place like Sebring is physical. The heat is draining, but the concentration it takes is probably more draining.
Photo: Halston Pittman
A few things that you have to handle as the driver: you have to not just be fast, but consistently fast. You have to manage the car and the tires. You have to report back to the pit crew for fuel readings and handling changes. You have to watch for faster GS traffic every second, as well as flags, spinning cars, and you also have to be ready to jump onto the pit at any second. If you can find the time, it also helps to try and pass the competition in front of you. Did I mention it's also hot?
When the workout is finally over it actually isn't. Let me introduce you to the second workout: the driver change. I hate this part.
It sounds easy right? Jump out, help your buddy into the car, buckle him in and wish him good luck. Now imagine being out of breath. You somehow survived your stint. You are hot, sweat is pouring down your face, helmet still on. You are in a fire suit that's like a winter coat with an Audi logo on it. Now you have to muster the concentration to help him find 5 harness buckles that are never where they are supposed to be, tighten his belts, plug in his radio, make sure the belts are over his HANS device, and put both window nets up. The car is being jacked up and down while this is happening. You can't hear anything except air guns. You have gloves on so you can't really use your hands. And you have to get this all done and done properly in about 40 seconds. Easy right?
There is a reason when you see most professional drivers they are in pretty damn good shape. Let's just say I didn't look my best when I got out of the car.
Make no mistake. Driving at a place like Road Atlanta or Sebring in an IMSA event is life-changing. I will never forget standing by my car while the National Anthem played. I will never forget receiving my first command to start the engine. I will never forget seeing my name and car in the fan guide. I will never forget watching the cheering fans in Green Park from my car on the pace laps. It's true what they say: you can feel the energy from the car!
I am forever fortunate to be able to answer the question for myself: could I keep up with those guys on TV? It's not entirely black-and-white. My team is smaller and does not have the technical resources that some of the bigger teams have. We were also brand-new to the series this past season. But at the end of the day we were there, we were racing door-to-door. My times were mid-pack at best, but so were everyone elses' if they weren't in a Hyundai. We even brought home a respectable P7 at Sebring!
I know I will never be a paid professional. I might not ever make it to the grid at LeMans or race a prototype. But here is what I do know: those pro guys won't just simply drive away from this out-of-shape track day enthusiast.
-Gino Manley