Forgotten Racing Heroes: Jean-Pierre Beltoise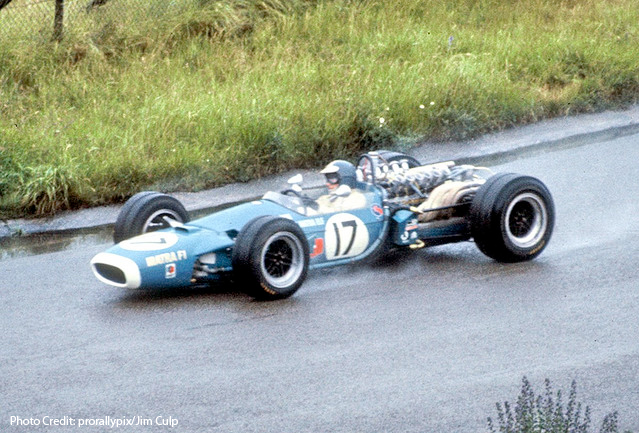 Born in Paris, France in April 1937, Jean-Pierre Beltoise was a born racer. He competed in Formula 1 driving for Matra and BRM teams for a few years; but he also did several different forms of racing throughout his career.
The son of a Paris butcher, Beltoise won 11 national motorcycle titles in a span of three years, and then, in 1963, switched to four-wheeled racing. He competed in the Reims 12-hour sports car endurance race, which resulted in a near-fatal crash, breaking his left arm in 16 places, causing permanent damage to it, and restricting its movement permanently. However, this did not deter Beltoise at all. After a year's recovery he had moved up to Formula 3, where he won the 1965 Reims Formula 3 race, quickly moving on from there to Formula 2.
In 1968, Beltoise joined Formula 1, driving a V-12-engined Matra, and came in second at the Dutch Grand Prix, in pouring rain. The next year he was recruited by Ken Tyrrell to be Jackie Stewart's co-driver with Matra International, where he came in second behind Stewart, but had the fastest lap of the race at the French Grand Prix at Clermont-Ferrand. After the 1969 season, Beltoise moved back to Matra until 1971, where he was involved in a crash that was fatal to Ignazio Giunti. Giunti's Ferrari rammed straight into Beltoise's stopped Matra before bursting into flames, leading to the suspension of his international racing license for six weeks.
After getting his license back the next year, Beltoise joined the Marlboro BRM team and won the team's final Grand Prix win in Monaco, where he started fourth on the grid and set the fastest lap, in spite of torrential rain and new drastic changes that had been made to the circuit. He continued to race with BRM, despite a terrible accident, until his retirement from Formula 1 at the end of the 1974 season.
After this, Beltoise did most of the testing for the Ligier-Matra F1 team in the hope of driving for them, but when Jacques Laffite got to drive instead, he turned to touring car racing. Winning the French title twice with BMW, Beltoise then moved to rallycross with Alpine-Renault and won the French title there as well. In 1981, he moved back to touring car racing with Peugeot and raced with them through the 1980s. After retiring from Formula one, Beltoise also regularly participated in ice racing.
Jean-Pierre Beltoise is married to Formula 1 driver Francois Cevert's sister, and has two sons who are both racing drivers, too. Retired from professional racing, he runs a kart track in Paris and is still very involved in different racing activities.
Check in next week to read about British racing driver Mike Hawthorn.