Forgotten Racing Heroes: Francois Cevert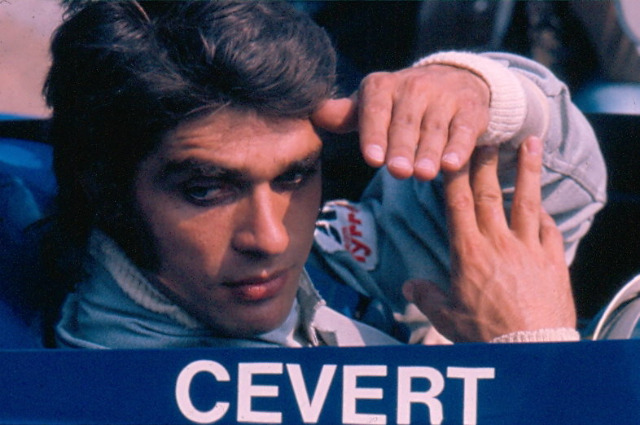 (Photo Edit: Raimund Kommer)
Over the years, out of the many forms of racing there have emerged drivers that have won race after race and championship after championship. Overshadowed by these few stars are a multitude of drivers that few know and remember. Some, had short-lived careers that never allowed them to reach their zenith, and some have simply been lost in the crowd. In this series we will attempt to remember a few drivers who did wonders on the track but were ultimately outshone. One of these little known drivers is Francois Cevert.
Cevert had his Formula 1 career cut short after three years by a fatal accident. Through this brief career he won one race, had 13 podium finishes, and 46 starts. He raced for the Tyrrell team in the early 1970s, with the then world champion Jackie Stewart as his teammate. It was Jackie who noticed Cevert's talent and recommended him to team boss Ken Tyrrell as a replacement for Johnny Servoz-Gavin.
Cevert was born in Paris in 1944, and only became interested in motor racing in his late teens after meeting his elder sister's boyfriend, Jean-Pierre Beltoise, another upcoming Formula 1 driver. Fascinated with the glamour of Beltoise's job, Cevert started karting and at the age of 20, attended a racing school in Montlhery. By 1970 he had driven his debut Grand Prix in the Formula 2 class with team Tecno and mid-way through the season, was offered the position with team Tyrrell in F1.
In the first year itself, Cevert had his first podium finish, coming in second behind Jackie Stewart, after starting seventh on the grid. Cevert clocked in his first fastest lap record at the original Nürburgring circuit. In 1971, he won his first race at the Watkins Glen circuit, where the US Grand Prix was held at the time and took third place in the driver's championship, behind Stewart and Peterson. In 1973, Cevert was at the top of his game, Jackie Stewart was planning to retire at the end of the season, and Tyrrell was going to name Cevert as their number one driver.
Unfortunately, Cevert's crash during qualifying, at the same circuit that he had won at, Watkins Glen, the United States Grand Prix, proved to be fatal. At a fast right-left uphill called "The Esses," while battling for pole position with Peterson, Cevert went wide and hit the curb losing control of the car and crashing into the barriers at over a 100 miles per hour, killing him instantly. Jackie Stewart and Tyrrell pulled out of the last race of the season out of a mark of respect for Cevert, even though it meant that Jackie would miss his one-hundredth and last grand prix of his career.
Through his Formula 1 career, Cevert was Stewart's protégé. He learned how to become a better driver from Stewart, and the two of them became close friends, often taking short holidays together, and constantly in each other's company during work. By 1973 Cevert was able to keep up with Stewart but would not pass him.
In a tribute to Cevert, Ken Tyrrell once said, "I particularly remember at the Nürburgring, where they [Stewart and Cevert] finished first and second, and I remember Jackie coming to me after the race and saying that Francois could have passed him anytime, had he liked. Said Francois was quicker than he was. But being the genuine person that he was, he stayed behind Jackie; because he knew that the following year was going to be his year."
Cevert came in second behind Stewart three times during the 1973 season. Tyrrell and Stewart also praised Cevert's obedience to team decisions and instruction. Applauded as a man who was honing his raw talent and potential, it was believed that Cevert would have been a strong contender for the 1974 driver's championship.
Check in next week to read about Rauno Aaltonen's racing career, the man who is believed to have invented left-foot braking.