Flip This Car Extra: 1991 Subaru Legacy Sport Sedan—Part One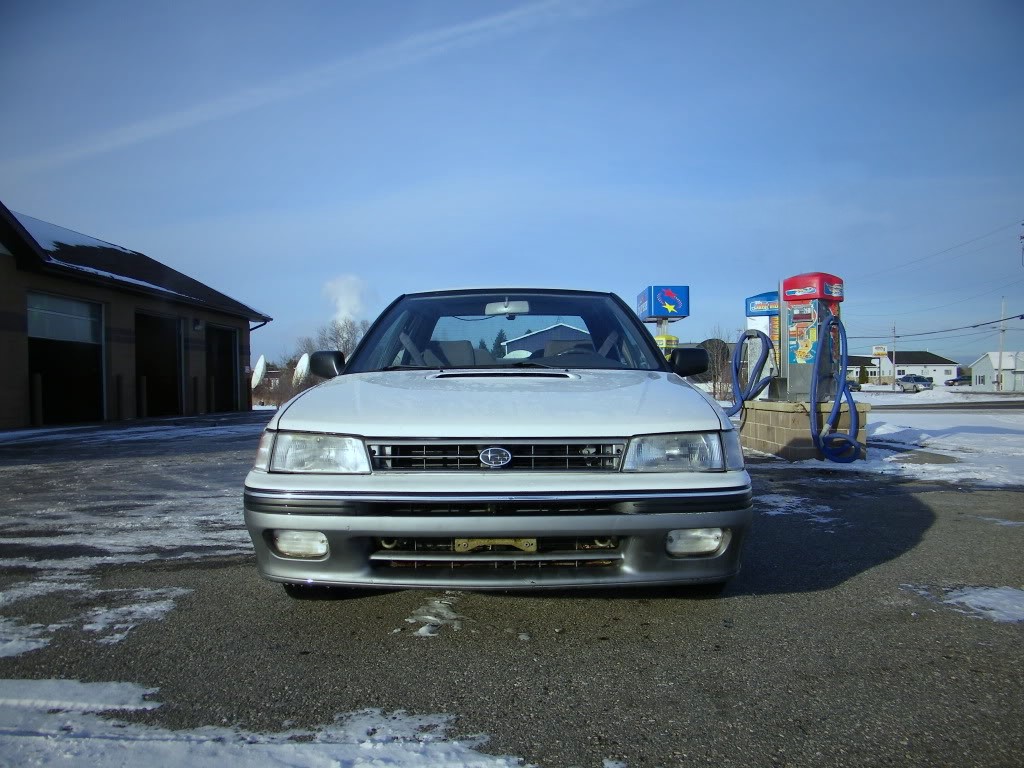 Welcome to the next Flip This Car adventure, a 1991 Subaru Legacy Sport Sedan turbo five-speed. There's just one problem—it's not actually the next adventure. Well, it sort-of is, or rather was, because while I still have the 1994 Buick Roadmaster as of this writing, the Subaru has already been bought and sold. If you're confused, it's okay. I'll explain this whole mini-adventure in a two-part Flip This Car series, starting right now.
If you caught
part six of the Roadmaster saga,
you'll recall me mentioning something about plans and how they don't always go according to, well, plan. I came across this boosted Legacy by surprise while browsing a Subaru forum back in January, and I'll freely admit that I was smitten. Therein lies the problem, as one of my more adamant rules when it comes to cheap used car purchases is to not get all excited over a car until actually seeing and driving it in person. Thing is, I've been looking for a first-generation Legacy turbo for a few years now, ever since picking up an old non-turbo Legacy wagon back in 2008. That was a fairly slow automatic with serious rust issues (as in the rear strut towers actually rotted to the point of failure, leading me to seek out a local welder for some unorthodox but extremely effective reinforcement), but it was all-wheel drive and it had a driving presence about it that I found quite appealing. It also was a pretty capable handler, though I've no doubt that was at least partially due to the massive steel-beam reinforcements on the rear strut towers that basically formed a huge rear tower brace. Long story short, I loved the quirky Legacy and tracking down the little-known performance variant became something of a mission for me.
For those still grasping the notion that Subaru actually sent a turbocharged first-generation Legacy to the U.S. market, here's a bit of background. Built from 1991 through 1994, the factory-boosted Legacy packed a 2.2-liter, 160-horsepower, EJ22T boxer four cylinder that is still a highly prized engine among Subaru enthusiasts today. That's because the mill was easily capable of handling nearly double its horsepower rating without any major changes; simply add boost and a little more fuel and hang on. The turbo cars had standard all-wheel drive, but the 1991 five-speed models further benefited from factory-installed viscous center and rear limited-slip differentials. An automatic transmission was optional, sending most of the power to the front wheels but the five-speed was where the fun was found, distributing power in an even 50/50 split. The manual also utilized a beefier gear box that I'm told was fairly good in its day, if a bit rubbery. I personally have no idea, because the Legacy I purchased was missing a bushing in the linkage that caused the stick to flop all over the place. More on that to come.
There are plenty of other unique differences that made the Legacy turbo quite a special little machine, and because I know how rabid Subie fans are about the details I'll leave them up for discussion in the comments. For those of you still head scratching over this peculiar car, let me offer one more argument in defense of the Legacy and it starts with a single name you should all be familiar with: Colin McRae.
Despite my ownership repertoire that includes the behemoth Roadmaster and numerous other machines of both a sporting and leisurely nature, I'm actually a hardcore rally driver at heart. My first taste of the venue came in 2001 at the SCCA Sno-Drift Pro Rally near my old stomping grounds in Atlanta, Michigan. I actually still recall the sights and sounds of that event; notably a first-generation Legacy tearing around corners, boxer four-banger growling in contrast to the high-pitched squeal of the various Vee Dubs and Hondas that were competing back then. That led me to the World Rally Championship, tracing the history of the sport back through the 1970s with classics like the Lancia Stratos and British Mark II Ford Escorts, through the Audi Quattro era and into the seductively dangerous Group B cars of the early and mid-1980s. The Japanese-dominated Group A cars that followed are among the more interesting rally machines to me, and I especially took a liking to McRae's all-or-nothing driving style that really punctuated his early career driving—you guessed it—a first-generation Subaru Legacy turbo.
So imagine my excitement then, when just a couple weeks prior to the 2011 Sno-Drift Pro Rally ( my ninth Sno-Drift) I happened to find a Legacy turbo just a few hours away, listed as running and driving and offered at a very tempting price. To sweeten the deal, the seller even offered to deliver the car to me
at the rally.
I suddenly had visions of
reenacting McRae's epic performance at the 1992 Manx International Rally.
How could I say no?
So that leads us to the car, the actual 1991 Legacy SS five-speed turbo I purchased to become the new Flip This Car challenge. I knew from the get-go it was a fixer-upper—the seller had been rather clear on the fact that the suspension was original and quite bouncy. He'd also disclosed the external rust issues and a fuel leak from the filler neck, issues that I'd been painfully familiar with on the Legacy wagon I'd mentioned previously. It had an exhaust leak, the automatic shoulder seatbelts occasionally wouldn't move, the spoiler had rusted free of the trunklid on one side, the paint wasn't in the best of shape, there was a tear in the driver seat, and there was also the case of the limp shifter; the result of a bushing that the seller said he'd neglected to replace when he installed the new clutch.
New clutch? Yeah, that was definitely a positive, but the big draw for me was the 110,000 original miles showing on the odometer; a drop in the bucket for a properly maintained EJ22T. And from the owner's description it sounded like the engine had indeed received some attention over the years, though he'd only owned the car for a few months. That should've raised a bit of a red flag for me, but the numerous photos he'd posted online showed the car actually didn't look too bad in the rust department, both outside and underneath. The car was completely stock, and he actually volunteered to patch up the exhaust leak prior to delivery. That is, if I was interested in making the purchase.
All this for his asking price of $1200. $1200? For a Legacy turbo five-speed with only 110,000 miles, a new clutch, and needing only suspension work to be a decent driver? Yes I was interested, and by that I mean I was pretty much in love. And I hadn't even seen it in person.
And that significant violation of my used car purchasing prime directive would prove to be my undoing. That will be explained, along with my all-too-brief driving impressions of this unsung rally machine, in the second and final installment for Flip This Car: 1991 Subaru Legacy Sport Sedan.