Flip This Car: 1994 Buick Roadmaster—The Finale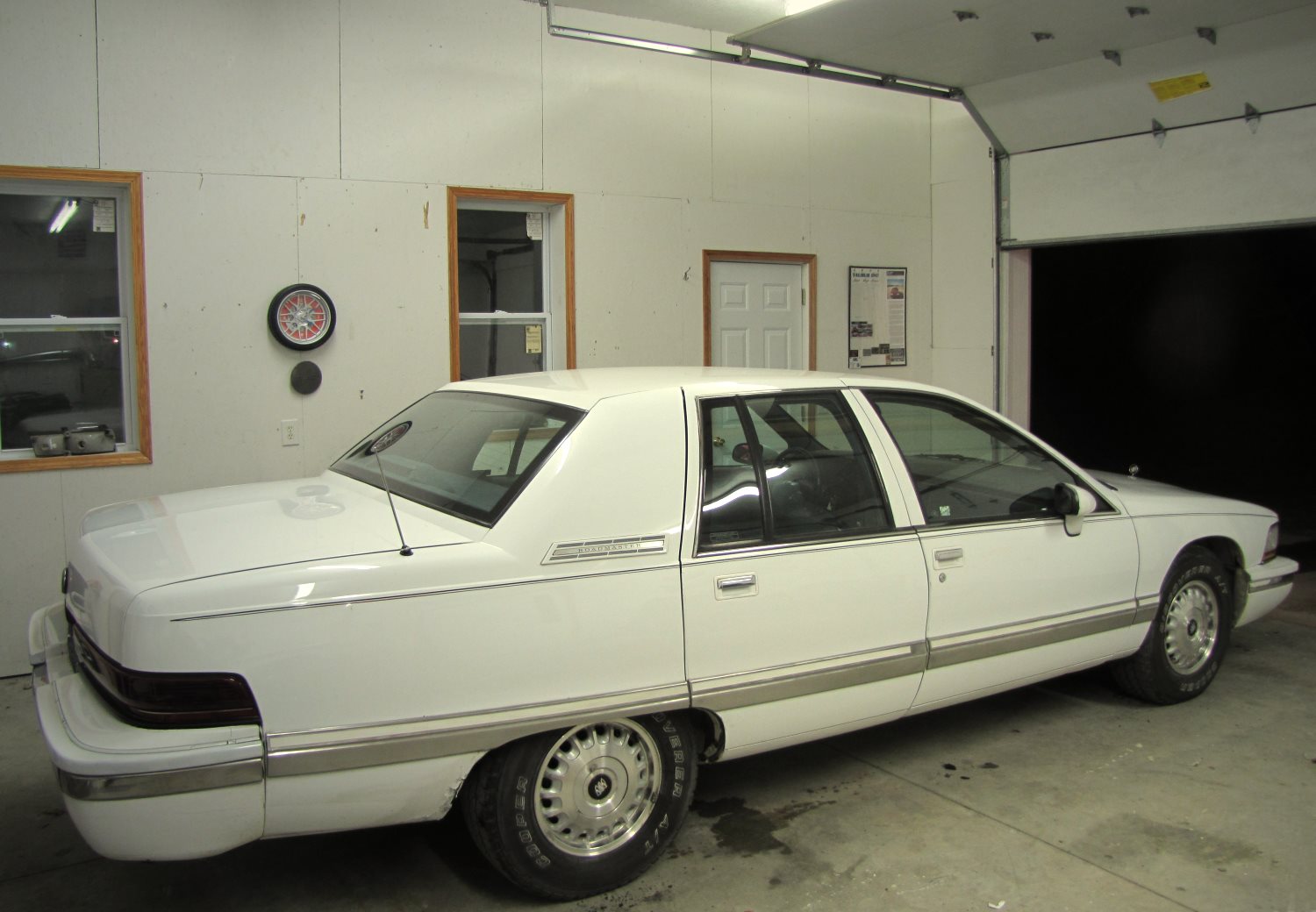 Well friends, it finally happened. I knew the first potential buyer to actually look at the Beast would take it home, and after nearly nine months of sheer selling frustration, that's exactly what happened two days ago. The Roadmaster will now serve a young woman finishing high school in the southwest region of Michigan, sparing her a winter fighting an unruly pickup truck for control in the snow. Father and daughter spied the Buick in a statewide auto sales magazine and called me for details, which I followed up with a bandwidth-busting series of photos through email since they lived more than two hours away. When I got a text message late Saturday afternoon asking if I'd be home later in the evening for a visit I knew the Buick was sold—you don't drive two hours to see a car in the rain at night without serious intentions of taking it home. I was right.
This is the point where I'm supposed to wax poetic about my time with the Beast, but the Roadmaster saga has already stretched way beyond the first
Taurus SHO adventure
, and even further beyond its own FTC shelf life. I was ready for a new ride months ago (alas, if only the
Subaru Legacy Turbo
had worked out better), and I've no doubt all of you were quite bored with tales of how much crapola I could haul, or how many compliments I got from the AARP crowd. So let's skip the fanfare and jump right to the big finish.
The concept behind Flip This Car is to find a cheap vehicle with some measure of driving fun, enjoy it, wrench on it a bit, then try to make some cash on the sale. On the first count, I paid $1800 for a car with 141,900 miles, a transmission that didn't shift right, a non-functional temperature gauge and enough internal/external filth to warrant a BP-sized clean-up project. But the LT1 V-8 had all its 260 horses—that combined with the oversized light truck tires made for an epic SCCA Rallycross adventure I'll never forget. Nor will I forget chauffeuring friends around snow-covered back roads during the 2011 Rally America Sno-Drift (and I suspect my friends won't forget, either), and spanking the college kid in the Grand Am with his unimpressed girlfriend in the passenger seat was pure juvenile fun. Exercising the Buick's sleeper aspect was, after all, the main reason I went for this ride in the first place. It was decidedly a fish out of water that surprised many a person, so on the second count of driving fun, the Roadmaster ranks a gold star.
But the fun wasn't sustainable, and therein lies a key factor in this adventure. More on that in a moment.
Mechanical issues proved to be easy fixes for the third count, satisfying enough of the shade-tree mechanic in me without overwhelming my wrenching abilities. I'd investigated various performance upgrades including exhaust work, performance-tuned PCMs, snazzier wheels with wider rubber, and bolt-on suspension bits to take the waddle out of the whale, but in the end I did none of those. Why? Because ultimately I just wasn't that interested. Loud exhaust may have brought a bit more personality to the car, and a rear sway bar could have tamed the Texas-sized body roll, but the real performance gains would've been minimal, and again, I just wasn't interested. For the same money I spent on the Roadmaster I could've bought one of the numerous 9C1 Chevy Caprice ex-cop cars on the market, already Roadmaster-sized with the LT1 and outfitted with the bits I was looking to add anyway. Why, then, spend the extra cash modding the Roadmaster when I could pick up a turn-key Caprice for the same money? I'm sure there are dedicated GM B-Body enthusiasts out there with a great answer to that question, but I wasn't smitten enough by the Roadmaster to find an answer of my own. And that pretty much sums up my entire 14-month, 12,000-mile odyssey with this car: good, reliable, and comfortable, but like so many things described in such ways, I just never felt the flame.
So then on the fourth count, how did the flip go? This was without question the longest, most difficult flip I've had in 10 years of cheap car challenges. I started with an asking price of $2800 way back in February; it finally sold for $2100 and frankly, I feel fortunate to have recouped that much. I had approximately $2400 into the car so from a strictly financial standpoint I lost $300, which ranks as one of the bigger hits I've taken on a flip (but still not the biggest; that honor goes to a Subaru station wagon from a few years back that had more rust than the Titanic). There is another point to consider, however, in that I also gained 14 months and 12,000 miles of use from this machine. That breaks down to a loss of roughly 75 cents for each day driven, which as far as used car purchases go isn't bad. This wasn't just another used car purchase, however, so in the end I have no choice but to call this flip a failure.
There could be many reasons for this. When fuel prices blew past the $4.00 mark, people fled en massé from V-8 power, and my claim of 25 miles per gallon from the Beast was all but ignored. I'd also say I misjudged the number of enthusiasts backing these cars, the last of the big GM body-on-frame sedans. Outside that community, the Roadmaster's bathtub styling, massive size and muscular engine simply didn't appeal to buyers in the $2500 range, who could opt for machines like Grand Prixs or Intrepids that were newer, smaller, still reasonably comfortable, and better overall on gas.
In the end, it doesn't matter why I had such trouble selling this car. I took care of the Roadmaster and had some fun, and it took care of me through all kinds of situations. I rallycrossed it, I toured upper and lower Michigan with it, I moved a sectional sofa (yes, a sectional sofa) with it, I smoked no small amount of rubber with it, and it never let me down—not once. So yeah, as a flip it was a failure, but you know what? I'm here today telling you about it, smiling as I go through the picture album showcasing the past 14 months.
Yeah, I'm smiling. Ain't that a helluva thing?
1994 Buick Roadmaster final update
Vehicle status: Being piloted by a teenage girl probably listening to Justin Bieber
Miles driven: 11,474
Observed fuel economy: 23.3 mpg
Tire tread depth: 5/32 left front, 4/32 right front, 7/32 rear (rotated at 11,000 miles)
Broken parts since the last article: Driver side inner/outer wheel bearing
Total parts investment to date: $26.81 (driver side inner/outer wheel bearing), $17.05 (engine oil and filter), $517.49 (parts total from part seven) = $561.35
FTC: 1994 Buick Roadmaster articles:
The Finale