Flip This Car: 1994 Buick Roadmaster—Part Two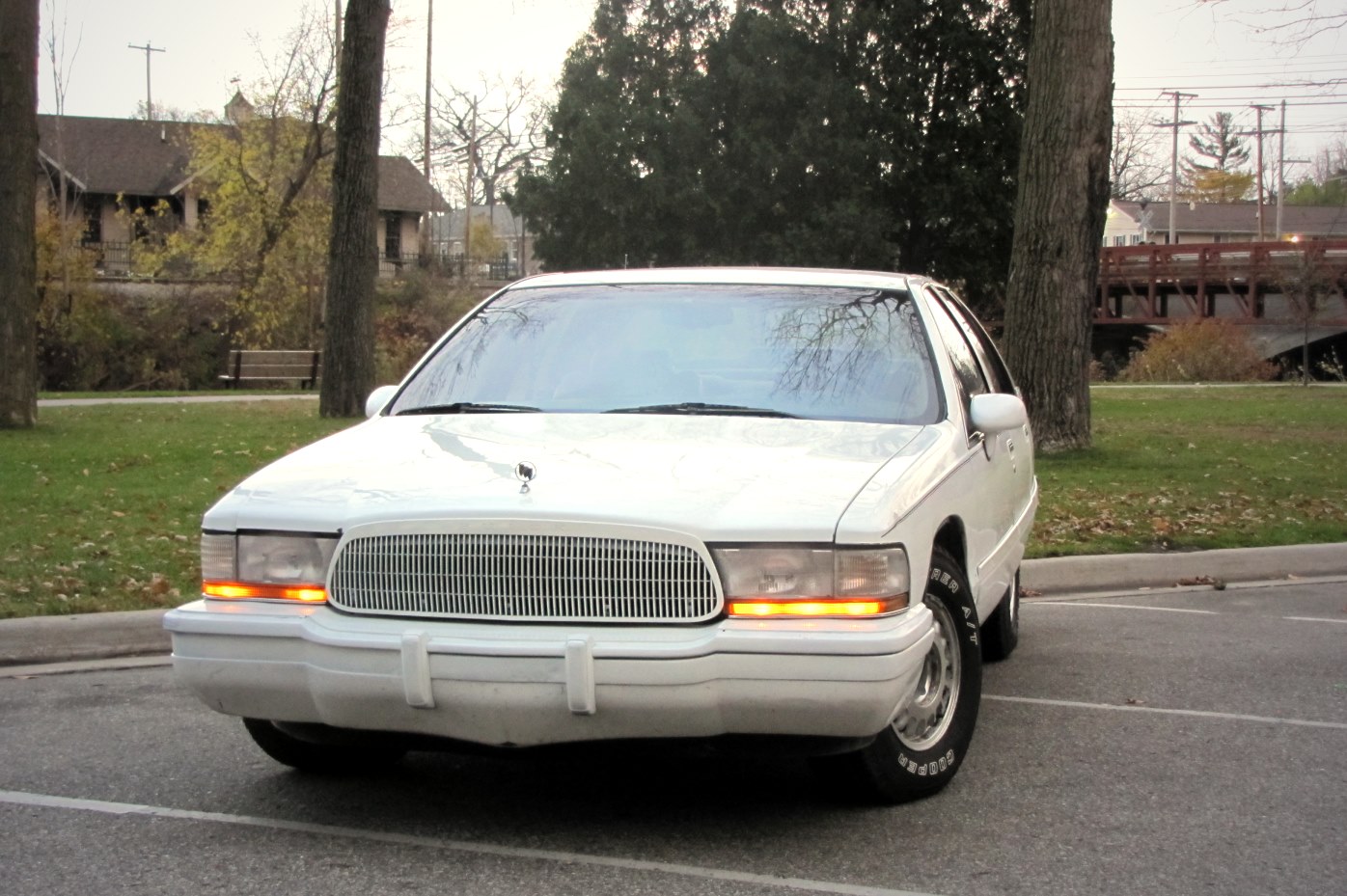 Taming the Beast
Two days ago, I received not my first, but second compliment on this car. And I've only had it for about a month. That's good news, right?
"Boy, you got yourself a bus there, what year is it?"
I looked up from depositing goods in the back seat to find a man that could've been my dad's great grandfather. He was approaching from the direction of a late model Lincoln Town Car, flanked by a woman with hair as silver as his own.
"1994, first year for the cop motor in these cars" I reply, trying to recoup at least a few cool points with others in the parking lot. This is a college town after all, and there's a guy in a black Grand Am GT a few cars over snickering at me.
"They just don't make them like this anymore," he continued. I had one of these new, back when I retired from GM."
"They sure don't," I said, giving up on the whole cool factor thing. This is a Buick Roadmaster after all; no amount of de-chroming is going to erase the fact that this big boat was once coveted by folks who remember the first season of I Love Lucy. I did have an opportunity to recoup a little dignity, however, as I pulled up next to that college kid in the black Grand Am not a quarter mile down the road, stopped at a traffic light. Poor guy even had a girl in the passenger seat, whom I suspect was either goading him into a fun run, or at least playing the "impress-me-with-your-fast-and-furious-driving-skills" card to the fullest. I won't say anything illegal happened, but I suspect he slept alone that night, and I'm pretty certain he won't be snickering at Roadmasters in the future.
That little story actually does a good job of summing up my first month with the Roadmaster. Sometimes, I'm reminded all too clearly just how non-performance oriented the Roadmaster really is. This car is riding on truck tires for crying out loud, and it has enough body roll to be a platform for a Jackass stunt. It doesn't even have a rear sway bar, but when I romp the gas I remember that many 60's muscle cars didn't have sway bars either, and look how much fun they were to drive. That's been my main lesson from this pivotal getting-to-know-you phase of used car ownership—this will never be a nimble corner carver with a fun powerband, despite a host of handling upgrades available from the Impala/9C1 Caprice enthusiast community. No, it's a muscle car hidden inside a bathtub, and to make it into anything other than a straight-line fun machine just doesn't fit the character of this particular Roadmaster.
As for the origins of that character, I was somewhat coy about details in
part one
, so here's the deal. I scored the Beast (so named for both its size and a rather absurd first oil change that literally broke my filter wrench) from a lady in her 50s who owned the car for seven years. It "scared the hell" out of her the first winter she had it so, at least in her care, it didn't see much Michigan salt. That's also where the light truck tires came from, though when I asked why she didn't run snow tires, I got a blank stare that told me she smoked more than Marlboros.
The initial meeting wasn't pretty. The check engine light was on. The change oil light was on. The ABS light was on. The finish was rough with tree sap and surface scratches. The driver rear door looked like it had been sandblasted. Several exterior trim pieces were either damaged or completely missing. One of the A/C vents in the dash was missing. The controls for the passenger power seat were broken. The only real good news was that none of the glass was cracked, and it was virtually rust-free, with the only cancer showing up down low on the rear rockers.
Does this sound like a $2500 car? That was the original asking price.
The test drive revealed a speedometer that was non-functional and a transmission that, once it shifted into third, would stay there unless manually shifted to second—first wouldn't engage at all. Major transmission issues were at the top of my disqualification list, so I'd pretty much written the Roadmaster off before I was at the end of the street.
The engine, however, clearly wasn't lacking in the pony department. The suspension was positively sublime, absorbing the pitted, medieval roads of northern Michigan without even a suggestion of a clunk or rattle. The brakes were firm and noise free. The steering, though overboosted by design, was without slack. It was rock solid, it tracked straight and true, and despite a transmission that wouldn't downshift or the dashboard with more lights than a Christmas tree, it felt like a car with less than half the 142,000 rounds showing on the odometer. It may not have received the best attention, but it was the recipient of at least some significant work through its life.
Still, I returned the Buick without even making an offer. I wasn't interested in a car requiring a major component that I didn't have the pleasure to destroy, and even if I was interested, I had a feeling the owner would've pulled a shotgun with the lowball offer I'd have made for a car needing such work. And yet, later that evening I found myself on the
Impala SS Forum
, searching up trans issues to see if maybe—just maybe—the fix would be something simple like a sensor. Their archives of information pointed me toward the transmission going into limp mode, a condition that could be totally unrelated to the transmission itself. Still not having a great deal of knowledge on B-Body cars, I decided to take the gamble; I called the owner the next morning and threw down $1800, which she accepted without even making a counter offer.
That made me nervous, but when the speedometer came back to life after a backhand to the instrument cluster on the drive home, my motoring sense told me I'd made a good call.
As for the other issues, after learning the nifty procedure for reading computer codes through the automatic climate control, they pretty much became non-issues. The check engine light was the result of an EGR code, which has yet to return in the four weeks since I cleared it. The oil change light simply needed a reset. The ABS light is still lit—I have no ABS codes so that is still a work in progress. The transmission issue was initially a code 84, pointing to a faulty 3-2 control solenoid that was an easy fix in the trans pan. That turned out to be a red herring, as the local GM dealer identified a short in the PCM itself. Rather than plunking down $300 parts and labor for a new factory PCM, a used box sourced from a local boneyard for $75 solved the problem. Patched up and serving daily driver duties, I now have four good forward gears, a muscular V-8 turning the rear wheels, and a big back seat. Call me crazy, but I think this car has some devilish potential.
These last few weeks have also been devoted to making the Beast a bit less ugly, and to that end I think I've been fairly successful. Details on that work, as well as the official road test, will be the basis for FTC part three. By then, I'm hoping the Beast will either have sharper wheels/tires, or a better louder exhaust with a PCM tune. Regardless, I suspect part three will either be deliciously entertaining, or delayed a few weeks while I try to post bail. What can I say? This whole old man sleeper thing is just way too much fun.
1994 Buick Roadmaster
Vehicle status: Loathed by Grand Am GT owners, admired by retired GM workers (and girlfriends of Grand Am GT owners)
Miles driven: 1186
Observed fuel economy (60% highway): 21.5 mpg
Tire tread depth: 8/32 rear, 9/32 front
Broken parts since the last article: None
Total parts investment to date: $49.15 (paint and supplies), $75.00 (PCM), $144.76 (3-2 solenoid replacement and transmission service), = $268.91 total