Flip This Car: 1994 Buick Roadmaster—Part Three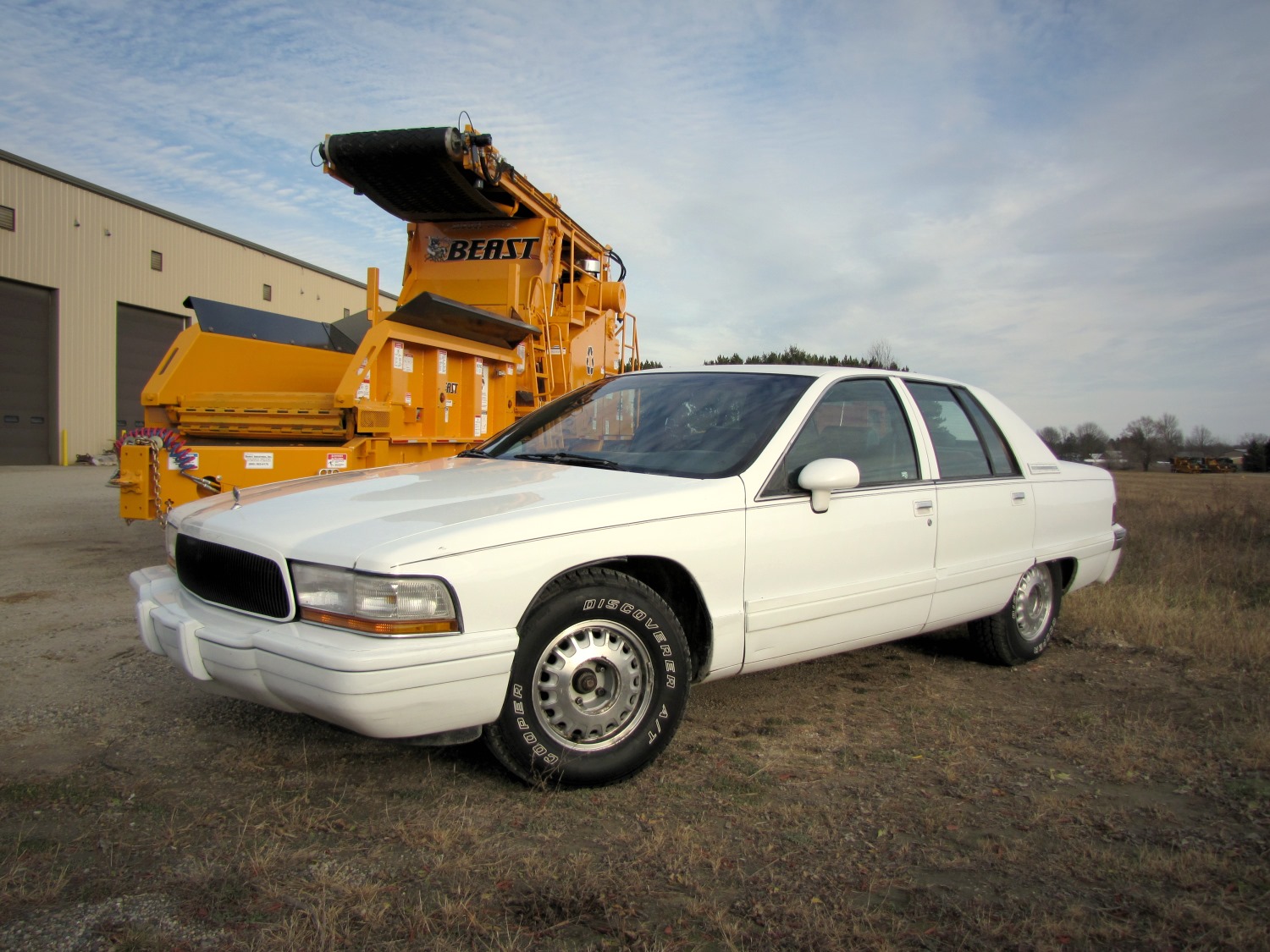 The Road Test
This car has a big back seat. More on that to come.
I've spent the past couple months wrestling with the idea of upgrading the Beast's suspension with bits from the 9C1 Caprice cop car, which for all intents and purposes will bolt right in. I know what you're thinking; back in
part two
I made a big deal about leaving it alone, saying how much fun it could be without a rear sway bar. As my time with the Beast wears on, however, I keep thinking how it could be more fun—
could
being the optimal word in that sentence because this car is completely, utterly, thoroughly numb. Would suspension bits overcome this monumental level of driving isolation, or at least open the lines of communication enough to have a polite conversation about manageable oversteer? My spider sense says no, unless I replace pretty much everything directly and indirectly connected to all four wheels.
In other words, I need to turn this Buick into an Impala SS, which is doable but not exactly cost effective for a Flip This Car challenge. Before doing all that work, I'd simply sell this ride and buy an actual SS, or to keep the sleeper effect, an old Caprice cop car.
Don't get me wrong. I like driving this car, but it's becoming a bit frustrating from an enthusiast standpoint because it delivers positively zero driver feedback. Seriously; you hear auto journalists talk about this all the time but I have to wonder if any of them spent time in pre-import Detroit iron, because they make a Camry feel like a Caterham. This Roadmaster may well have a date stamp from 1994, but it's every bit a holdout from the way the Motor City used to build cars—big and spongy. In fact, floating down the road just today I was suddenly reminded of my dad's old 1960 Cadillac. The floating-on-cloud-nine ride, the steering that can be controlled with a single pinky finger, it's all there. That old Caddy was even white with a blue leather interior, but it got me thinking. Should a vehicle built in the age of the Power Rangers so closely mimic the character of a machine constructed in the shadow of The Lone Ranger? If I had to sum up the Roadmaster in a single sentence, I'd call it the pinnacle of prehistoric American motoring, because that's exactly how it feels. Take that old Cadillac, add fuel injection and an aftermarket CD deck and voilà, one 1994 Buick Roadmaster.
I expected an old school feel from this car, but the Roadmaster is actually old school. For the folks who've never had the chance to drive domestic steel prior to 1978, let me make this live for you. Sit on your legs for a half hour while pounding 10 shots of Johnnie Walker Black on an empty stomach, then stand up, turn your head sideways and try to walk in the general direction of South America. This is what I encountered the first time I intentionally got the Beast a bit squirrelly, and it's not like a $200 pair of track shoes will help. I'm not a contender for the next round of Formula Drift, but neither am I a stranger to opposite lock; let's just say I won't be doing that again outside of a controlled environment, where I can attempt to learn how to speak Beast.
And therein lies my problem with shelling out cash for upgrades. In fact, my apprehension with just how isolated this car is leaves me questioning whether or not I should invest in any fun stuff at all. I've even crossed the noisy exhaust off my list.
At least the car is comfortably numb, which aside from being my favorite Pink Floyd tune also makes for a terrific daily commuter. A couple thorough interior cleanings have removed most of the nicotine stains and smells, and the leather seats have softened quite a bit thanks to daily treatments of leather conditioner. New dash vents and a passenger door switch panel have further revitalized the interior, and a rewired cigarette lighter means I can once again charge my cell phone on the daily 30-mile round trip to the office. The front seats are road trip comfortable, the stereo belts out NPR with authority, and I'm quite impressed by the suppressed level of road and wind noise, both of which are comparable to modern luxury cars. And oh yeah, I repainted the grille black per the advice of just about everyone. It was good advice.
It's also a terrifically capable purveyor of all things requiring space to, ah, stretch out. Okay, I'll be blatant—this is a make-out machine par excellence. With the front seats full aft there's still over a foot of rear-seat legroom to work with; move the seats forward and there's enough space in back to install a hot tub, Tiki bar, and a vintage record player for your Barry White albums. Or, you could move those items to the black hole that is the Roadmaster's trunk, leaving plenty of room in back for candles, video cameras, and the deluxe edition of Drive-In Etiquette for Dummies. At a time when many mid-sized sport utility vehicles struggle to house five smallish people in relative pain, the Beast can honestly accommodate six voluptuous adults in relative comfort. And by that I mean voluptuous adults actually sitting side-by-side in the seats as they were originally intended—if you had something more risqué in mind, call me shame on you.
Now, you might be wondering why I've gone this far without talking about the engine. After all, back in
part one
I made this mill out to be something of a miracle worker, turning a marshmallow into a missile. The 350 cubes of the LT1 definitely inject this car with attitude, and in this particular machine it has been nothing short of flawless. Perhaps it's the quiet, comfortably numbing nature of the Roadmaster, but these days I'm more inclined to just roll effortlessly down the road as opposed to punching the power plant into mischief mode. I do enjoy driving this car, but as the miles pass the experience is less like Steve McQueen in
Bullitt
and more like Steve Martin in
Parenthood
—enjoyable and entertaining, but no longer the wild and crazy guy picking up chicks with Dan Aykroyd. If it sounds like the thrall is starting to go out of this relationship, well, sorry B-Body crowd, but I think that could be the case.
And then I go out and rip enough smoky burnouts for this segment's photo shoot to land on Al Gore's 10 most wanted list. Forget everything I just said—the thrall is back. I'm ordering the exhaust tomorrow.
1994 Buick Roadmaster
Vehicle status: Mastering its Dr. Jekyll and Mr. Hyde impression
Miles driven: 1881
Observed fuel economy (60% highway): 23.9 mpg (Dr. Jekyll)
Tire tread depth: 7/32 left rear, 6/32 right rear, 9/32 front (Mr. Hyde)
Broken parts since the last article: None
Total parts investment to date: $19.15 (coolant temperature sensor), $16.93 (standard coolant, two gallons), $40.00 (dash vents, passenger door switch), $5.29 (oil filter), $14.83 (oil, five quarts) $9.87 (engine rear main stop leak), $268.91 (parts total from part two) = $374.98