Flip This Car: 1994 Buick Roadmaster—Part Six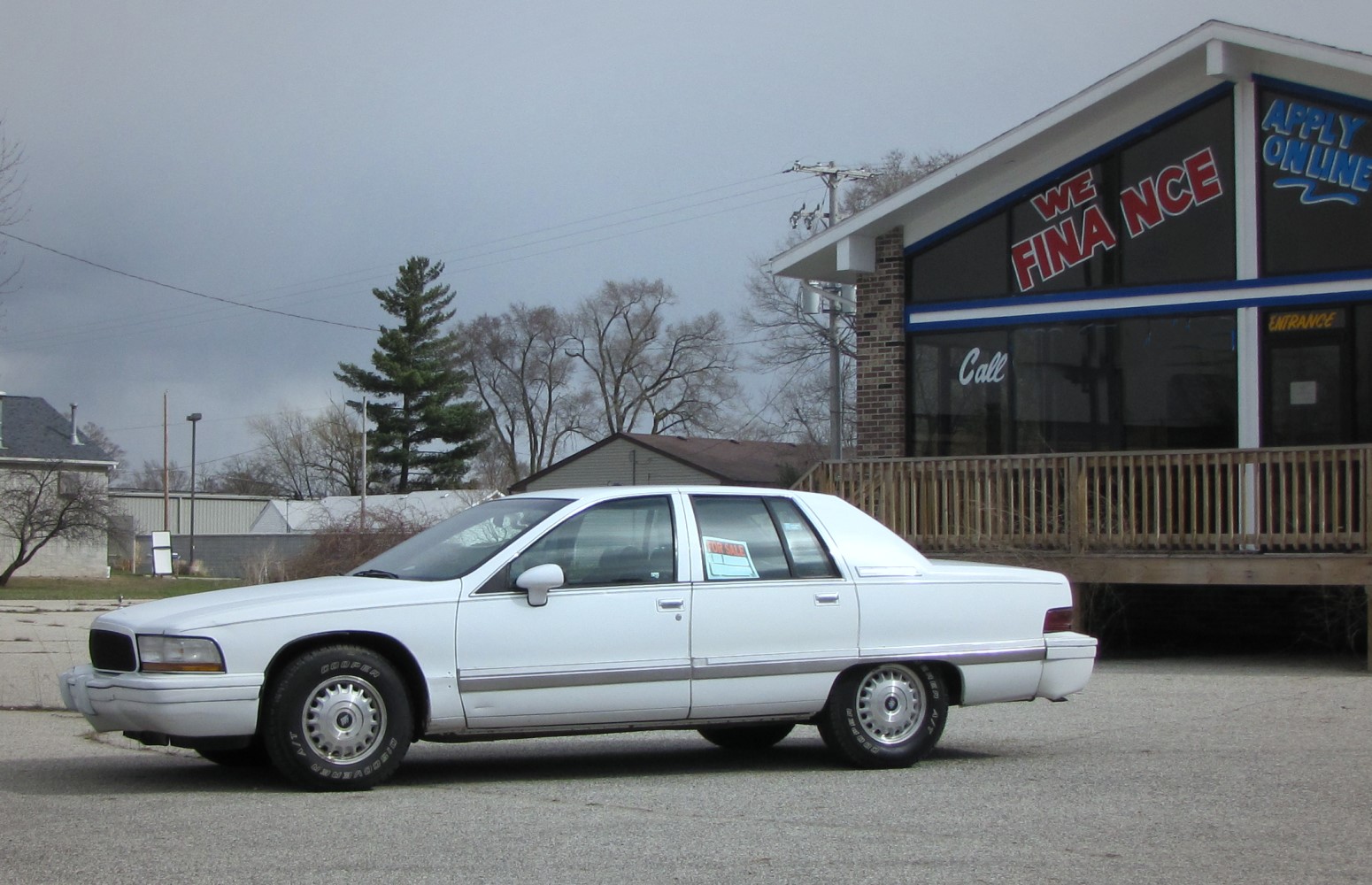 Flippin' ain't easy!
So yeah, part six is coming out a little lot later than planned, but here's a great lesson to all the readers out there thinking about doing some flipping of your own. Sometimes winter weather moves in like a deranged uncle, drinking all your beer, taking up all your space in the garage, and refusing to even head out for an afternoon so you can get your car properly spruced up without fear of frostbite. Sometimes a deer kamikazes into your "other" car that, despite minimal damage, becomes a bit of an insurance disaster when body shops try to turn $300 repairs into $6000 gravy trains—forcing you to do the work yourself. And then sometimes the Middle East undergoes a pro-democracy revolution, throwing oil markets into turmoil and prompting speculators to push fuel prices higher than Charlie Sheen's Vegas-debauchery budget. Such activity never fares well for V-8 machines, even when their fuel economy is on par with many popular six-cylinder sedans.
Point being, sometimes things don't always go according to plan. Which is why I still have the big Buick while its FTC replacement—a 1991 Subaru Legacy Sport Sedan turbo I purchased at the end of January—is already gone. Yeah, we seriously have some catching up to do.
The last big adventure for the Beast was supposed to be none other than the
Sno-Drift
; the opening round of the
Rally America Championship
(or simply RallyCar as it's now known) in Northern Lower Michigan the last weekend of January. No, I wasn't scheduled to compete—the
rallycross adventure from part four
made it abundantly clear that the Beast wasn't cut out to dice it up on a course with cars half its size. Instead, the Roadmaster was tasked with transporting five adults through no small amount of snow and ice on seasonal roads and two-track trails barely wide enough to fit the car, twisting through the dense forests and challenging terrain around Lewiston and Atlanta, Michigan. Google Earth aficionados can look up Fish Lab Rd, 49756 to get an idea of the challenges facing car and passengers; to get an even better taste try scrolling northwest from that location just a bit to get County Road 489 on street view, then picture everything covered in approximately 18 inches of snow.
Now, I should point out that these roads were plowed, but by that I mean some kind of machine at some point (not recently) had removed some (but not all) of the snow, leaving a few inches of power on top of hard pack to make the roads "snowmobile friendly." This was definitely all-wheel drive territory or at least front-wheel drive with some decent tires, and I'd be lying if I said I had complete confidence in the Buick's ability. But the Goonies never would've found One-Eyed Willie's treasure without a bit of adventure, so I bought a tow strap, crammed 300 pounds of ballast in the trunk for weight, did the truffle shuffle then bundled up and went for it.
Amazingly enough, we made it to late afternoon on the first day before getting stuck.
I need to put this statement in context, because the truth is I was positively amazed at just how well this big, rear-drive sedan blitzed through the snow on all-season truck tires. While en route to our first stage of the event I'd been a bit overzealous with speed and understeered off a corner into three feet of plowed roadside snow, stopping just short of a tree. My crew groaned at the possibility of missing the stage due to my adolescent driving urges, but then I put that freakin' white whale into reverse and it just started backing out under its own power. I didn't get too far before it started to spin, but given the depth of the snow surrounding the car I was shocked it even moved at all. Gingerly working the throttle, I coerced the Beast out a little further before breaking track again, at which point a couple passengers jumped out to push. The whole ordeal was over in less than a minute, and just like that we were back on the road. No digging, no tow straps. If I hadn't been there I would've called shenanigans, or at the very least claimed the snow bank had not been that deep. Even though it was a driver fail, I considered the excursion a Roadmaster win.
The real test for the Beast, however, was to come on the last Friday stage. Our route took us to a remote location, on a back road that literally narrowed to barely the width of the car while twisting through some of the steepest terrain in the area. By the time we reached the stage we'd dropped approximately 200 feet from the main road, all of it narrow and snow covered and without a single straightaway to build speed for the return trip. Had the Buick not impressed me with its grip in the snow bank earlier in the day I wouldn't have even considered the decent; even so I was still quite nervous about getting everyone back to the main road, but certain risks are necessary in the quest for the ultimate in rally spectating.
It was well after dark and around zero degrees Fahrenheit by the time the last car cleared the stage. The few other spectators that had made the trek—nearly all on snowmobiles—cleared out before we made it back to the Buick, leaving us to face the dark, steep ascent through the woods without any hope of backup. Nor was there any cell phone reception, so if the Beast ran into trouble our best hope would be a tricky reverse decent to backtrack out on the cleared rally stage, gambling that the hills weren't as steep or the cars hadn't glazed the road to ice. Worst case scenario would be getting the Buick stuck or wedged on the narrow road, requiring at least a one-mile subzero hike to civilization where cell phone coverage was still spotty at best.
I pulled the Beast into second for a soft start since we were actually parked on the hill, hoping to get at least a bit of momentum going before it got really steep. Spinning the wheels would've been disaster at that point, so I ever-so-gently eased on the gas. The second gear start paid off; the Buick gripped the snow with confidence and slowly trudged up the big hill without issue. We had close to 25 miles per hour when we hit the first steep section that also coincided with a turn to the right, and with the tires starting to break track I pulled it back to first and went for it. The sides of the road were fairly high even without piles of snow, and the series of left and right handers twisting up the hill made it all but impossible to see much farther than right off the hood. Had we met a car coming the other direction there would've been little chance to dive out of the way and even less room to make such a maneuver possible, but the Buick wasn't losing any momentum—in fact it was gaining. Even during the steepest of the steep where the road also twisted through a long left we maintained a fairly steady 25-30 miles per hour, backside constantly trying to step out while struggling to corral the LT1's power. Everyone unclenched their haunches when the road finally leveled and widened at the top of the hill, but I was also extraordinarily prideful that my two-wheel drive luxury sedan with the muscle car motor had so thoroughly conquered the climb. It's not often I'm truly surprised by the capability of a vehicle, but experiencing the Beast clawing its way up that steep snowy seasonal road without a set of dedicated snow tires definitely gave me a new respect for these cars. It proved to be a most unlikely form of snow rally transportation, but it took us to the rally's opening festivities in Lewiston, observed the racers in action at two different stages and successfully traversed 50 miles of snow covered roads and trails in between. Even though there was a day to go, I officially declared the Roadmaster victorious in its mission to conquer the elements. I was ready for even greater adventures on Saturday, but we instead ventured out under the tutelage of Josh Walters, who readers may recall as my co-driver in part four's rallycross mission last November, riding in his self-described "22 feet of awesome" Ford F-350 long box crew cab four-by. I suspect my cohorts, while impressed with the Buick, were perhaps a bit unnerved at my sideways-more-than-straight approach to back roads travel in Northern Michigan, especially since I almost nabbed a WRX for a hood ornament on one occasion earlier on Friday. But the Beast had proven its point, and I was fine with handing off the driving duties to Josh.
Of course, it was just a few days later when "Snowpocalypse 2011" struck the Great Lakes and half the country with
feet
of wind-driven snow. In fact, it was the Buick's exceptional performance on the roads around Sno-Drift that prompted me to choose it for my
blizzard adventure
as opposed to the all-wheel drive Subaru Legacy turbo I mentioned above, which I'd actually purchased at the rally. I won't be devoting a whole series to the Subie—for now I'll just say it was a tempting morsel that was a bit too much for me to chew—but I will talk about the saga in a new Flip This Car Extra:1991 Subaru Legacy SS, coming in the next couple weeks.
Now, this is supposed to be the point where I talk about the Buick's sale and wax poetic about my time with it. Since the Beast is still sitting outside with for sale signs in the windows, the natural order of things are a bit jumbled but here's the deal: The series usually ends at part six, but as long as the Buick remains in my hands, I'll keep sharing some daily driver adventures until it's gone. I already have some additional tales to divulge, like road tripping it to Chicago or revamping the exterior trim yet again to rectify peeling paint that made the car look like 1000 shades of ugly, (or uglier, depending on how much you like the oddly-styled B-Body cars in their natural state.)
In the meantime, the Beast goes on. And honestly, if I had to get stuck with a car, this one ain't so bad.
1994 Buick Roadmaster
Vehicle status: Clocking overtime
Miles driven: 5653
Observed fuel economy: 23.2 mpg
Tire tread depth: 6/32 left rear, 6/32 right rear, 8/32 front
Broken parts since the last article: None
Total parts investment to date: $24.99 (Replacement aluminum wheel center cap) $430.07 (parts total from part five) = $455.06