Flip This Car: 1994 Buick Roadmaster—Part Four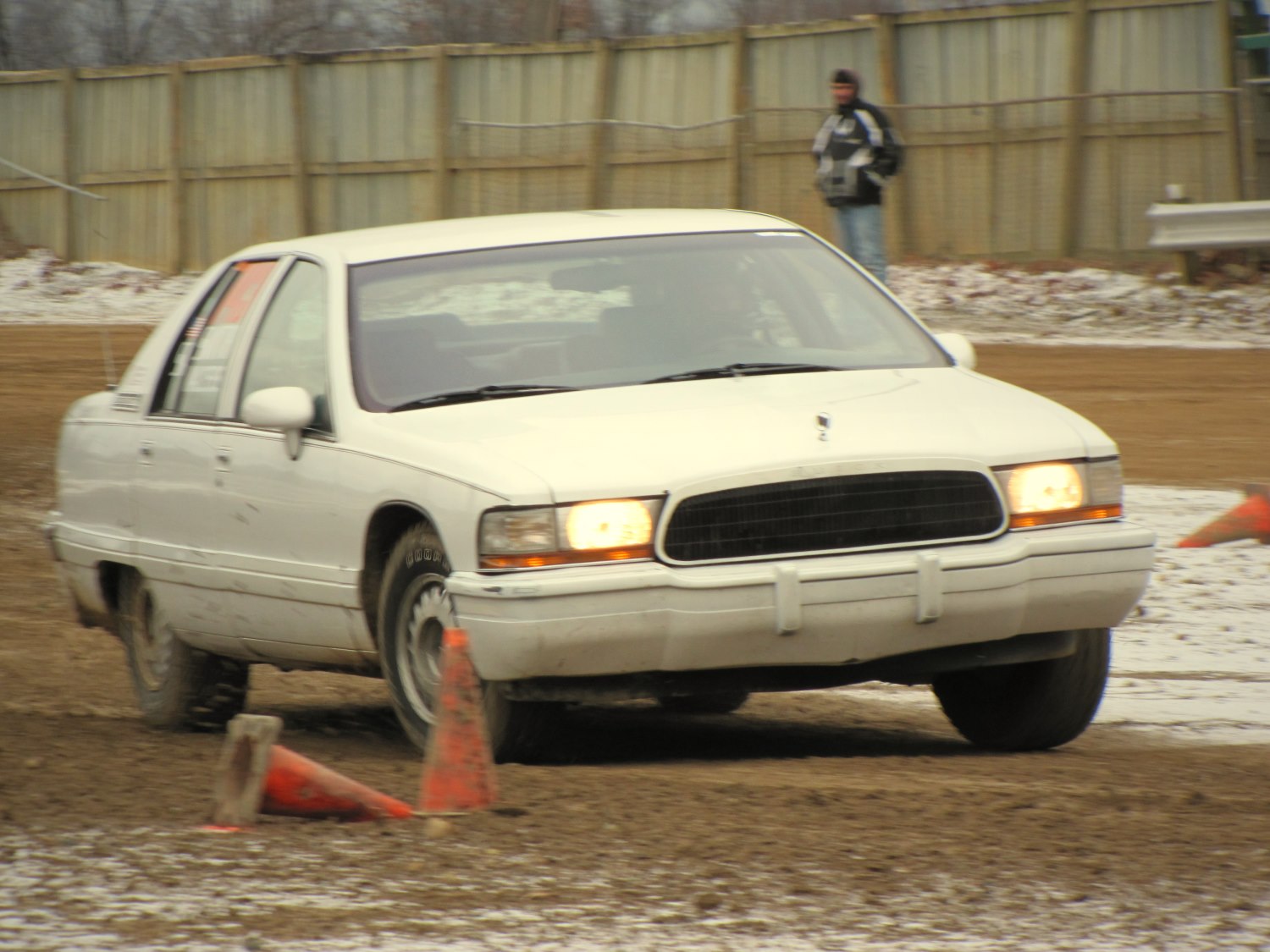 Something strange this way cometh . . . .
Entering the small dirt oval at the Calhoun County Fairgrounds, I was the subject of some attention. Situated among a host of Japanese runabouts and numerous other cars that could fit in the trunk of the Beast, I had no hope of being inconspicuous. In retrospect, signing this car up for a Sports Car Club of America (SCCA) Rallycross event likely wasn't the best use of the Buick's ability, but from the moment I spied this car sitting on gigantic truck tires, I knew it was destined for an off-road adventure. That adventure materialized on Saturday December 4, as the Beast and I made a 200 mile round trip journey to compete in Round 10 of the
Detroit Region SCCA
Rallycross—the season ender—in Marshall, Michigan. If you've already spied the destroyed orange cone in the photo gallery, you've likely deduced that things didn't go so well. In that assessment, you would be correct.
Actually, I need to take a brief sidebar to mention just how professional these kinds of SCCA racing events really are. Rallycross and pavement-based SCCA Autocross events are a great way to get a taste of auto racing without requiring a sizable investment. Aside from the racing surface (pavement for Autocross, dirt for Rallycross) and minor differences in scoring, both venues simply require a car in good condition, a driver, and an entrance fee that's generally around $50. Serious racing modifications or special safety equipment aren't required, save for a Snell SA-rated helmet, and even then the SCCA will loan you a helmet on race day if you don't have one. A comprehensive class structure allows for full-blown race cars and completely stock machines to participate at the same event, and since racers compete against the clock on tight courses where speeds seldom top 40 miles per hour, the odds of even a minor incident are very low.
The odds of hitting orange cones, however—especially if you're piloting a ginormous land yacht sporting orange rally numbers—are quite high. More on that to come.
My prep work for the rally started several weeks before the event. Having autocrossed in the past I knew some of the basic regulations as far as safety was concerned. Email conversations with race officials Bob Martin and Mary Shiloff guided me to a couple minor issues that needed attention before the race (battery tie-down and a freed-up emergency brake), and I also wanted to make sure they weren't going to have a heart attack when I actually showed up to race a Buick Roadmaster. Before, during, and after the event, Bob, Mary, Jerry Shiloff and a host of others all made me feel quite welcome at the race, despite the shellacking I gave the course. Again, more on that to come.
To give the Beast every shot at a podium finish, I rang up a friend of mine by the name of Josh Walters to be the second driver on the car. Among Josh's credentials are a few 24 Hours of Lemons stints, and he used to own a big white boat of his own in the form of a Crown Victoria ex-cop car that he was rather adept at flinging around. Josh also sports a Ken Block-style goatee, which I took as a good omen considering the amount of opposite lock the Beast would be subjected to.
And actually, it's no longer called Beast; this we found out when one of the race officials asked if we were the ones driving Moby Dick. "You know, the white whale," he said, grinning like someone who already knew the outcome of our overconfident ambition. In retrospect, I guess that made me Captain Ahab, which does carry a bit of irony since I was—and still am—obsessed with mastering the Beast's Moby Dick's wayward motions.
The rally was set up in two stages, with each driver taking six passes per stage for a total of 12. The dirt course was perhaps a quarter-mile long, consisting primarily of offset cone "gates" with a long slalom to the finish. The course would be reversed in the afternoon for the second stage, along with a few other changes to make the whole affair a bit less twisty. There were eight vehicle classes with 30 registered drivers, five of which were in my category of stock rear-wheel drive. With Josh and I both listed as drivers on the Roadmaster, the unflappable bathtub would actually face 24 circuits of the course before the day was out, and I'd be lying if I said I wasn't concerned about hurting something on the car. But a commenter in
part three
said I needed to do something drastic, and that meant I'd be giving the old girl everything I could. To that end I had two goals: Master Moby Dick's fondness for power-on oversteer, and don't finish dead last.
Concerned that I might not have enough on-demand throttle-oversteer, I elected to pump up Moby Dick's rear air suspension to about 90 psi—well under the recommended maximum but still enough to give the car a rather aggressive rake angle. It also served to shift the car's center of gravity a bit further to the front, resulting in apocalyptic understeer in all situations not involving the skinny pedal, which in turn delivered equally apocalyptic oversteer when pressed. Worst of all, no matter what the car was doing; no matter what it was driving over; no matter how sideways it got, the steering wheel always, always felt as light and feathery as making a gentle, low speed turn on smooth pavement. Sorry guys and gals, no witty one-liner here. There would be no learning the subtle nuances of the Roadmaster's muted feedback, because this car flat out can't speak. Period.
That didn't stop me from having a blast, however. I opened with a reserved first pass to get a feel for both car and track; the first few gates and long right hander showed me just how tipsy the rear would be under throttle, and the grassy infield switchbacks gave me a great opportunity to practice my Scandinavian Flick. Back on the dirt, I carefully negotiated a tricky series of offset narrow gates, followed by a long slalom on the back stretch to the finish line. My time of 53.99 seconds on that inaugural run was a full six seconds behind the class-leading 2009 Dodge Challenger R/T, but I managed to get the white whale through the course without hitting a single cone. I considered that a moral victory.
And then my Captain Ahab personality took over for lap number two, attempting to put on a Gymkhana exhibition that instead resembled a vicious attack on anything painted orange. My third pass wasn't much better, primarily because I'd become more interested in driving the car sideways instead of driving it fast. Runs four and five had me refocused, leading to my best stage one time of 48.70 seconds. Ahab returned for the last pass, however, bringing another MAX penalty check box to the scorecard. I wasn't quick, but I'll freely admit that I was reveling in the giddy sideways fun. The corner workers who had to clean up my mess weren't so amused; I've no doubts they were happy to see my session end.
"Drive it with your foot," I told Josh enthusiastically as he climbed in for his six laps. "And just hold the car in first gear—it's so tall you won't need anything else."
Josh's Lemons experience and ample seat time in big white cars—not to mention his killer Ken Block goatee—were evident from the word go. I also suspect he didn't heed my advice because he continually ripped times quicker than the ones I'd posted, all while getting an opposite lock education of his own. When all was said and done, Josh finished the first stage comfortably in third place, whereas I was decidedly bringing up the rear.
The second stage eliminated the infield switchbacks and straightened some of the offset gates, making it slightly faster than the morning track. We aired down the suspension between stages in hopes of making the car slightly less tail happy, and it seemed to be working. Josh was posting consistent times in the 41-second range as he powered Moby Dick around the course with a considerable amount of precision. He wasn't without a few pucker moments—the changes through turns two and three had people carrying quite a bit more speed into the back section of the track, but he still finished the second stage in third place, taking out only two cones total.
"It's fast," Josh said as we made the last driver change of the day. "It's pretty slick back by the finish; I couldn't really do much back there."
Fighting the urge to just go powerslide crazy (again), I kicked off with another error-free first pass. The car seemed a bit more composed now that it wasn't mooning the rest of the field, and with the course being a bit wider and a lot quicker, I went for an epic second pass. I honestly don't know how many cones I hit, but I do know I understeered completely off the course through the slick section Josh warned me about. I also sideswiped at least one gate, and I think I brought a wedged cone with me across the finish line. All things considered I suppose it was indeed an epic lap, just not exactly material for the next Formula D qualifying round. The cincher came when I pulled up to the line for my third run and the starter actually told me to take it easy. Not wanting to completely make an ass of myself, I dialed back the opposite lock and tried to salvage the tattered remains of my last-place dignity. At least Josh's strong finish kept him in third place for our category, showing me and the rest of the crowd that the big Buick could indeed be a contender at something other than bingo nights and sneaking people into the drive-in. Bravo Josh.
I didn't leave the day empty handed, however. Helping the organizers pack up some of the equipment (the least I could do for destroying half the cones in their inventory) left me with some encouraging words for participating in future rally events. The Beast (sorry SCCA folks, it will always be the Beast to me) left the day muddy and marred with some orange scuffs that have already been buffed out, but otherwise it performed flawlessly. I never did develop quite the car/driver relationship I was hoping for in a venue like this; the steering on this car is just too silent for such a level of trust, though I am a bit more familiar with the car's reactions simply through trial and error. All in all, I consider my mission at least a partial success, as while I'm not a Beast master, I definitely consider myself a Beast tamer. My condolences to the many orange cones that sacrificed themselves to bring me this insight; you will not be forgotten (especially since I have one as a trophy at the office.)
Did I have a good time? Absolutely. Will I be doing this again? Count on it, just not with this car.
1994 Buick Roadmaster
Vehicle status: Muddy
Miles driven: 2267
Observed fuel economy (60% highway, 40% sideways at a county fairground): 16.9 mpg
Tire tread depth: 7/32 left rear, 6/32 right rear, 9/32 front
Broken parts since the last article: Passenger front inner wheel bearing, front hub dust cap, rear turn signal light
Total parts investment to date: $20.00 (orange/white vinyl for rally), $26.81 (inner/outer passenger side wheel bearings), $4.99 (replacement hub dust cap) $3.49 (rear turn signal bulb), $374.78 (parts total from part three) = $430.07