Flip This Car: 1989 Ford Taurus SHO—Part Four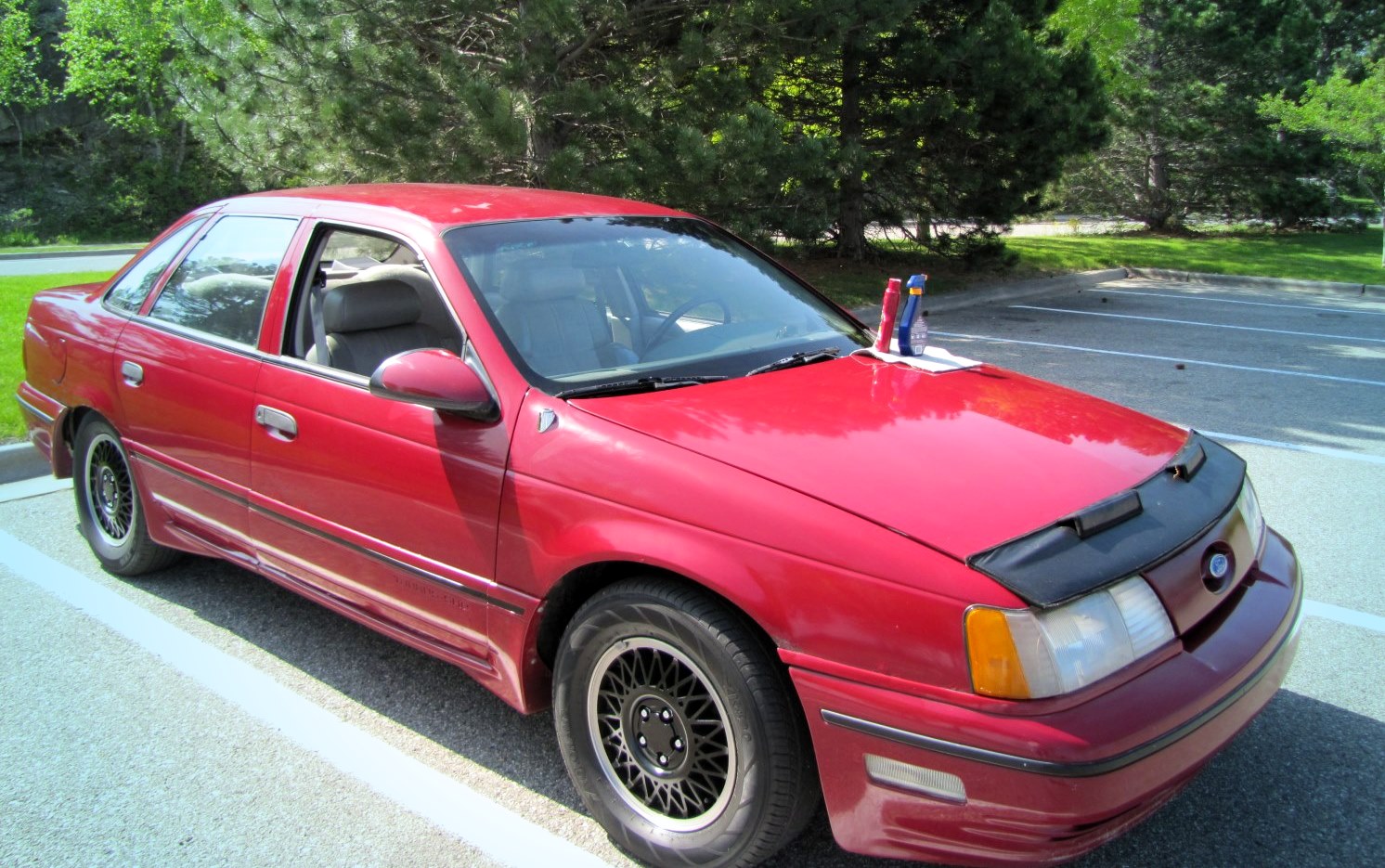 Prepping the SHO for the spotlight
Anyone who has ever sported a car they fancied something special can relate to the weeks and days leading up to a big car-related event. Even if, say, that something special is a slightly rusty, four door Ford Taurus. As it turns out, Conan O'Brien and I aren't the only fans of this sneaky sleeper sedan; a few of you have mentioned the national Taurus SHO convention taking place in the Winding Road suburb of Dearborn, Michigan, and with the electrical fire well and truly tamed on the Old '89, I'm looking forward to accompanying a field of over 100 cars next week in Motown.
Wait a tic—did he just say electrical fire? Yes, it seems my experience with heat isn't limited to residing a few miles from one of the largest northern Michigan forest fires in recent memory. Perhaps a side job as a volunteer fireman isn't such a crazy idea after all. More to come on that.
The mission statement since
part one
of this series was to find a fun-to-drive, inexpensive car, but to also (hopefully) make a profit after a few months of ownership. Attending a car event—especially vehicle-specific venues like this SHO convention—is a great opportunity to serve both ends, so aside from the ongoing tomfoolery that is a car convention, next week will also mark my first steps into the flip portion of this endeavor. I won't say the car is definitely for sale just yet, but I've definitely been working on its curb appeal, so let's just say I already have alternate transportation for the trip back home should someone decide to make an impulse purchase.
With that in mind, the last few weeks with the Old '89 have been less about the driving and more about prep work for the week-long saga. The first step in the preparation was to sample a set of 16-inch rims from a second-generation Taurus SHO. Yeah, we live in a world where bigger is better in the wheels department, but I've never been a fan of big bling, and the Old '89's refinished 15-inchers seem to do this car justice, so back on they went. Both sets will accompany me to Dearborn, however, so Winding Road readers are welcome to stop by the Doubletree Hotel in the shadow of Ford World Headquarters, where you can spy both sets and tell me how nuts I am for sticking with the smaller ones.
The next goal was to make this rusty SHO not so much with the car cancer. Some time ago I sourced out a decent pair of replacement black molding strips to replace the old-and-busted pieces on the passenger side. Those small items made such an improvement that I elected to take a stab at sanding and filling the gaping spot of rust around the fuel door on the passenger rear quarter panel. I'm quite happy to say that the repair was a reasonable success, in the context that a solid panel with paint is preferable to a rusty hole. Actually, I got the fender contour matched pretty darn well, and while there's no mistaking where the patch job was done, once I source out a can of the proper color paint (the readily available Electric Currant Red metallic is just a bit off from the SHO's original color of Currant Red, which is a special order color from a paint shop), identifying the repair will require a reasonably close inspection. As it is, I now proudly proclaim the Old '89 as a good looking 10-footer 20-footer car from a reasonable distance.
I went ahead and tackled the body work because I actually have a fairly comprehensive background in paint restoration, which is my fancy term for those who actually know how to wield a high-rpm polishing wheel and varying degrees of compound. That's also why I attacked the scuffed and faded clearcoat on the roof and deck lid with 400-grit wet sandpaper, followed up with some medium-grit compound and glaze. The result on that wasn't quite as good as I'd hoped—turns out the damaged paint on the trunk was also ridiculously thin, resulting in quite a few burn spots where I was a bit too aggressive on the attack. The roof came out amazing, with years of neglect reduced to some slightly hazy patches amidst a football field of shine. The headlights also got a sand-and-buff treatment, which usually surprises people at just how much a faded piece of plastic can come back to life. These lenses weren't very bad to start with, but now they have the luster of a nearly new set of eyewear. I just may win something after all.
As for the rest of the SHO, well, it now sports a shine that is definitely above average for a 21-year old car, but with slightly different shades of red on the driver side doors and lower trunk edge, let's just say I'm pulling for a light rain during the car show. The interior still has a torn driver seat that I was hoping to repair, but with no matching fabric to be found for a reasonable price, the current combination of tan leather with silver duct-tape may have to suffice. Otherwise the interior isn't too bad, short of a minor gash in the dash cover and a few headliner tears. And then there's the froze-up power lock motor for the passenger door, which means it only opens from the inside. Yeah, perhaps that win isn't in my future, even for the road warrior class.
The Old '89 will have to do more than look good for this gig too, which also includes some track time at Waterford Hills Raceway, potential drag strip passes at a nearby quarter-mile track, about 600 miles of miscellaneous driving, and the SHO's biggest challenge—Detroit area potholes large enough to warp space-time. It performed admirably during the road test from
part three
, but never the less, I spent plenty of time last week under the SHO, checking brakes, suspension components, swapping and topping fluids, and convincing myself that an $800 dollar performance car can actually be quite reliable for such an adventure. With nearly 2500 miles behind the wheel, this 1989 Taurus SHO has been a pillar of awesome—the phantom no-start condition that I mentioned in
part two
was a one-time event, and aside from the initial cam sensor issue, the SHO hasn't missed a beat.
And then it caught on fire.
Okay, that's a bit of an exaggeration, unless you belong to the where there's smoke there's fire camp. In reality, thin wisps of smoke gently drifted up from the steering column, first from the area around the hazard switch, then from the turn signal stalk on the side. This predictably happened in the middle of a 75-mile trip, and anyone who's experienced such a minor-yet-potentially catastrophic issue as unidentified smoke can relate to the moments following the discovery. Sometimes a teeny bit of smoke is actually worse than full-blown combustion; at least then there aren't any questions as to what the hell is happening.
I got lucky—after a minute or so of rest with all the accessories off, the smoke disappeared and I continued home without issue. I discovered the culprit a couple days later; a failing ignition switch positioned at the base of the steering column was getting extremely hot when the stereo, air conditioner, and blower fan were all cranked up, as they'd been on my trip. The harness was undamaged, but the extra heat in the wires caused some minor melting on some of the plastic casing. So insignificant was the damage that only a new switch was required. Tack another $30 to the Flip This Car tally, and deduct another year or so from my life. Have I mentioned how much I hate electrical problems?
That brings us to the eve of the convention, or class reunion if you will. Some cars will no doubt age better than others, but all things considered, I think the Old '89 will have earned a place along side its brethren. I'll be posting updates during the convention in the new
Flip This Car forum at www.windingroad.com/forums;
in the meantime there are already a few topics up for discussion and feedback. Will this week be the end of my time with the Taurus SHO, either through a sale or catastrophic failure? Either way, look for Flip This Car: 1989 Taurus SHO-Part Five coming in a few weeks.
1989 Ford Taurus SHO
Vehicle status: Looking hot, sometimes literally
Miles driven: 2380
Observed fuel economy (80 percent highway): 25.8 mpg
Tire tread depth: 7/32 rear, 6/32 front
Broken parts since the last article: Ignition switch ($31.78)
Total parts investment to date: $179.15