Factory Five '33 Ford Hot Rod: Project Car or Something More?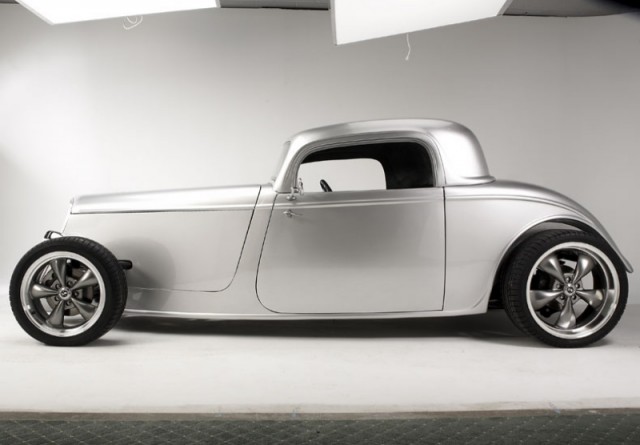 I recently had the opportunity to spend a few hours with Dave Smith, CEO of Factory Five Racing at Factory Five's headquarters in Wareham, Massachusetts. While the original intent was to drive Factory Five's most recent offering, the '33 Ford Hot Rod, events conspired to prevent that drive (as they often do with small companies). In a way, that worked out well, because Smith and I had more time to tour FFR's facility and talk about the car business.

You probably know Factory Five from its "Cobra" offering, the Mk3 Roadster. Factory Five supplies the chassis, key suspension bits, body, interior and a lot of necessary small hardware ("over 3000 parts"). You supply the drivetrain (one of several Ford V-8 engines and transmissions can be used), wheels and paint. Factory Five ships you its parts tailored to your drivetrain (springs, shocks and bushings differ for different engine weights and locations). You supply about 200 hours worth of labor. The Factory Five parts cost $19K, the rest runs around $6K, though you can spend more, so for approximately $25k you have a classic supercar.
Factory Five has extended this approach to three other cars: a Daytona Coupe, a car called the GTM which bears a passing resemblance to the Ford GT40, and now the '33 Ford Hot Rod. The cost and complexity of the kits vary, but Smith estimates that a Hot Rod with all new parts can be built for $30k.
What I think many of us in the Winding Road office find interesting about the Hot Rod is that it seems to present an alternative that doesn't otherwise exist in the market. In that regard, I think it is "more different" than FFR's other offerings. With the exception of Morgan, there simply aren't new cars available with pre-war styling coupled with (some) modern technology. The Hot Rod promises interesting design and an up to date driving experience (maybe even a superior driving experience given the chassis design and weight). And all this is affordable if you're willing to do some work.
The other thing that is interesting about the Hot Rod is that it isn't really a kit. I'd say it is more of a custom vehicle architecture. As I mentioned in my last Under The Hood column, there is an opportunity for carmakers to think more about designing their cars as open systems, where modification at a high quality standard is made easy and parts suppliers are invited to support this. Scion has done some of this, and Honda in effect offers it on some cars, as do others. With warranties, and high volume, and safety to worry about this will probably never be the strength of the majors. But with new companies it could be a basis for a new level of personalization.
The Hot Rod is clearly aimed at the most custom end of this market, in part because FFR has always served the project car guy more than the kit builder or the guy who just wants a great car. I don't see any reason why FFR couldn't build a more organized ecosystem to support these efforts, except for the conservatism that naturally comes from successfully serving a market for a fairly long time.
We think the Factory Five Hot Rod, and other cars somewhat like it (the Caterham 7 that we did several years ago comes to mind; click here to read), are interesting because they offer attractive choices that aren't available from BMW, Ford, Toyota, Honda, Infiniti et al. That said, we want to know what you think.