CarTronics: Toyota's Entune Infotainment System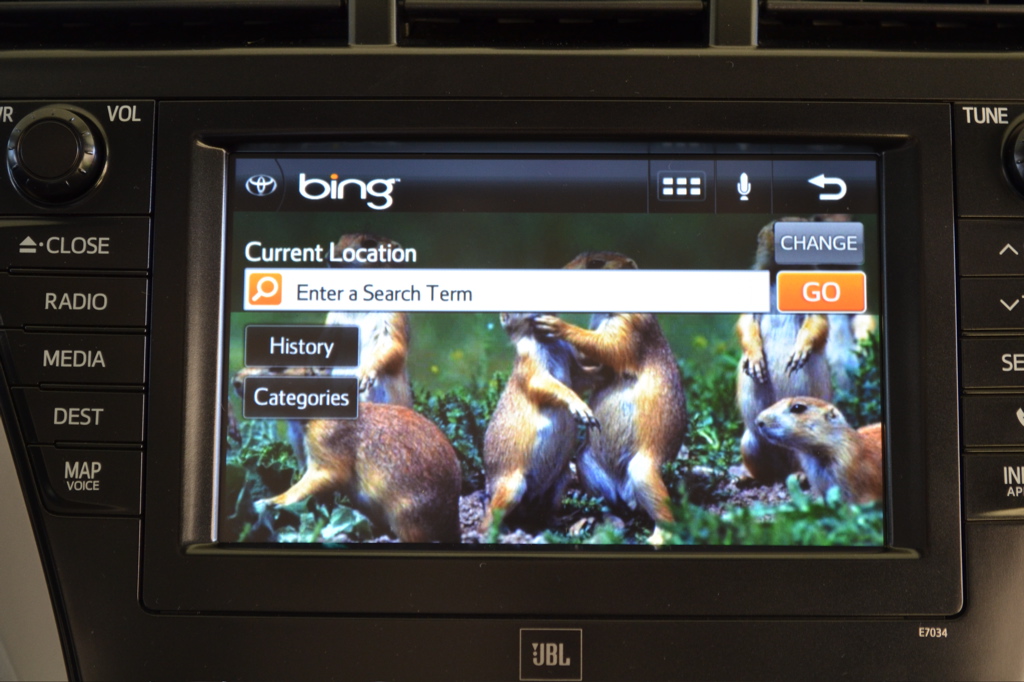 When Ford's Microsoft-powered Sync technology debuted on 2008-model-year vehicles, it ushered in a new generation of automotive infotainment systems. With MyFord Touch, the Sync software has been given even more functionality, thanks to the combination of touch-screen controls and the aforementioned voice recognition. The problem is, Sync was already a complicated system to begin with, with too many menus and sub-menus to navigate through, not to mention a slightly recalcitrant voice-recognition system. Adding the touchscreen functionality of MyFord Touch has simply steepened the already steep learning curve.
Enter Entune, Toyota's answer to Sync. If you've read
Editor-In-Chief Seyth Miersma's piece on the Toyota Prius V
, you've undoubtedly read a bit about Entune. If not, here's a brief synopsis: Entune is a software system that is similar to MyFord Touch, in that it integrates a touch-screen display and voice recognition to handle certain infotainment functions. The difference is, Entune is a far easier system to learn and live with.
Entune is available on the mid-range Prius V Three, and the top-level Prius V Five. Regardless of trim level, you get the same functions and apps that we discuss below. The benefit of getting the V Five is that you can interact with Entune via a beautiful seven-inch touchscreen. V Three buyers have to make due with a lower-resoultion 6.1-inch screen. Unfortunately, we weren't able to sample the lower spec display. The graphics on the top-end unit, though, were crisp and responded well to touch inputs. Notably, this system lacked the jerkiness that we've noticed with Ford Sync and MyFord Touch.
The process of starting Entune is an easy one. Simply connect your phone (Android, iOS, or other smartphone) to the vehicle via the standard Bluetooth connection. Once connected, Entune is at your disposal. After establishing the initial Bluetooth connection (a task that never seems to be the same, regardless of make and model), drivers and passengers can access the Apps folder, which houses the various applications that are available with Entune. Our tester came with a few apps that Toyota expects to be popular, including Pandora internet radio, the Bing search engine, IHeartRadio, MovieTickets.com, and OpenTable.
Pandora functions much as it does on your phone or computer. Pick an artist or genre, and the system designs a radio station around it. The stations sounded clear, and we never had to wait for the system to buffer. Bing also worked quite well, although we did find our selves waiting a bit too long for a list of search items to pop up. The voice recognition seemed to behave just fine though. We can see Bing becoming a popular method of choosing points of interest, as the system allows drivers to plug information about a Bing search result directly into the navigation system.
We didn't tinker too much with IHeartRadio, but the app certainly seemed intriguing. The internet-based radio app has access to over 750 stations nationwide, allowing you to, for example, drive from LA to New York while listening to a Miami radio station. OpenTable is a clever app that allows users to browse through local restaurants via price, cuisine, or availability. It also allows users to book reservations from the comfort of their car. MovieTickets.com is a fairly straightforward app, allowing users to read find show times and purchase movie tickets.
Toyota has created something very special here. It's taken the traditional ease of use from a smartphone, and seamlessly melded it with the interface of an advanced automobile. There aren't layers of menus to navigate, or thousands of voice commands to learn. In short, Entune works because it allows even a layman to hop in the driver's seat, and get the most out the system.