By a Racer, For Racers: Finding Target Brands for Sponsorship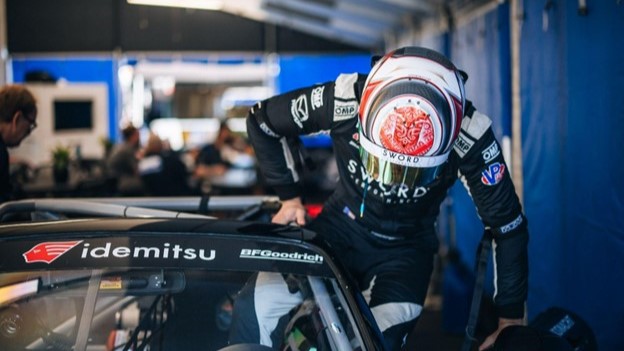 For young racers looking to make the step into racing professionally, a singular topic is always at the forefront: sponsorship.  Current Idemitsu Mazda MX-5 Cup challenger Aidan Fassnacht dives deep into the prospect of finding funding to secure a racing seat; the first of a four part series – By a Racer, For Racers.
Understanding and Finding Sponsorships
As a former club racer in SCCA and NASA in both Spec Miata and Spec MX-5 Challenge, I've seen firsthand how much professional level talent there is on the track. There are few places in professional racing that have sixty-plus car fields where anyone in the top twenty is capable of winning like in club racing. As the next generation of motorsports talent with professional ambitions have made SCCA and NASA their homes to hone their skills in the cockpit, what many do not understand is that on-track performance is only part of the battle of making it to the next level. Winning a SCCA Runoffs or NASA Championships race is a great show of promise, but will it result in McDonalds sending you an email about how it wants to put you in the 24 Hours of Daytona? I would go out on a limb and say probably not.
Motorsports is unlike any other professional sport in that high performance doesn't necessarily translate to moving up the "ladder." This is because there is a completely different factor that aspiring professional racers must navigate: money. "Cash is king" is a principle of motorsports that rings true from the top levels all the way down to club racing. If you don't have money, you don't go racing, period. Racing is inherently expensive, as teams in the majority of professional series (and even several teams in the GTD class of the IMSA WeatherTech Sportscar Championship) charge drivers upwards of hundreds of thousands of dollars to run a season, in which they are responsible for paying for crash damage and, depending on the contract, consumables such as tires, fuel, brakes, and rotors. While teams in other professional sports are able to pay for player's salaries through aggregating and monetizing mass audiences – media rights, ticket sales, team merchandise, and sponsor investment – motorsports series and teams have a completely different business model. Thus, very few professional drivers have contracts where a team is paying for them to race and those few seats are often at the top levels of motorsports. So, unless you have a couple hundred thousand dollars sitting in the bank, how can one go about sustaining a professional career For many, the answer is finding and maintaining sponsorships, but that is no easy undertaking.
I have had the privilege of making many connections with drivers and industry veterans in all disciplines of motorsports for mentorship as I have made the step from club racing into the Idemitsu Mazda MX-5 Cup presented by BFGoodrich Tires, all of whom helped me secure sponsorship with Sword Performance, the premiere performance hydration beverage company, for the 2022 season. But two years ago I, like many other aspiring professionals, was stuck with no idea on how to start looking for sponsorship. In the first installment of this miniseries on motorsports sponsorship, I'll be sharing how to make the first and most misunderstood step: finding target brands for sponsoring your professional career.
Network
Networking is, in my opinion, the most valuable activity any aspiring professional can do for funding. Even beyond motorsports, success and opportunities often come as a result of who you know. Your network of colleagues, friends, and family is the first place I begin to find potential sponsors. Remember that your network is far wider than you think. In my case, my father, who is also a professional race car driver, has a colleague heavily involved in a venture capital fund that is affiliated with Sword Performance, who was able to introduce me to the team at Sword and facilitate our deal for the 2022 season. That connection is twice removed from my connection with my dad, and yet it yielded the most important relationship I've had in my career thus far. While one person in your direct network may not be able to provide sponsorship, they may direct you to others in their network that could provide opportunities. Do not leave any stone unturned. Your network is your lifeline. Still, understand that finding sponsorships in motorsports is an incredibly difficult undertaking. Most opportunities will come up as dead ends, but nothing is a failure. With each brand or contact pursued, you will be better equipped to find and approach the next.
Another benefit of utilizing your network is that people are far more willing to sponsor someone of positive character, which is something that a potential sponsor couldn't verify through "cold calling". If the potential sponsor can personally or have a trusted colleague vouch for your character, that is a massive win. Generally, people want to help those they know personally and are fond of on their journeys to find success. Having that personal connection with a brand or person greatly increases your chances of converting that opportunity into a sponsorship. If not, they may be willing to investigate their own network for opportunities on your behalf, which is something that would be more unlikely to happen without that personal connection.
When I look back to examine my strategy from two years ago to now, I almost laugh. I was DM'ing large brands on Instagram asking for sponsorship which, unsurprisingly, did not yield positive results. While I'm not saying this strategy couldn't work, it has been a low-conversion strategy in my experience. So, as I learned from my failure and those around me, my strategy and understanding of sponsorships have become more refined. While networking has been my MVP of strategy options for finding sponsorship, one must understand that there is a wealth of approaches for finding target brands that should all be a part of any aspiring professional's tool set.
Forming Genuine Connections to a Brand
Genuine connection is an excellent way to sum up my overall strategy for finding target brands for sponsorship. Understand that while your network is crucial, there are more ways to find this connection than just who you know. One of my favorite brainstorming activities is to think of the brands I use in my daily life, from the socks I wear to the headphones I use when listening to my pre-race playlist. Without realizing it, I have already become a brand ambassador for these products I rave about to my friends, family, and colleagues. That is a genuine connection to a brand and its product, and most brands are looking for people who genuinely love its products to push the brand to their own network. Consumers and brands can smell out ingenuine brand ambassadorship from a mile away. You being a genuine ambassador of the product instead of a mouthpiece for the marketing team is a huge plus to anyone making marketing budgeting decisions at a company.
When researching target sponsor brands, an extremely valuable research strategy is to take an in depth look at their websites. Many brands have mission statements in an "about us" section, and some may even have a list of people, whether athletes or influencers, they already sponsor. If you and a brand share a similar philosophy, there is a genuine connection. If a brand is sponsoring athletes, this is a great sign that they may be interested in sponsoring your motorsports career. But don't be discouraged if you can't find any brand ambassadors similar to yourself. You may have an opportunity for the brand to diversify their marketing portfolio and expand into a new market. In my case, the motorsports industry was a new space for Sword Performance and I have been fortunate enough to help expand Sword's outreach into a new market and get their products in front of new faces (Shameless Plug: visit https://drinksword.com/ and use code RACE20 at checkout to try their clean and clear hydration products and support my career as well). Keep in mind that all of this information will also be crucial for when it becomes time to approach a brand.
After finding these target brands, the next and more challenging step is to find the person within the brand that you should contact referring to sponsorship opportunities. If you can access your network to find that contact, that is the first option; however, if that doesn't work you still have a wealth of information available to you on the internet. Platforms like LinkedIn are an incredibly valuable resource when it comes to finding contacts within brands as well as an opportunity to expand your own network in the process. If you haven't yet created a LinkedIn profile, I strongly advise you to do so.
Next Steps
Know that while these tools are the most valuable in my experience, I completely recognize that there are other ways to find potential sponsorships. If something works for you that I haven't discussed or had success with, it is by no means not a great strategy for you. At the end of the day, there is no right answer when it comes to sponsorship in motorsports and nobody's strategy is the same. However, I do believe that these tactics I've shared will be the most valuable tools in your tool box. Once you have an understanding of how motorsports sponsorship works, identified target brands to pursue through your networking and brainstorming, as well as done appropriate research about them, it is time to approach the proper contacts within those brands.
But what should you say? How do you pitch yourself? In the next installment of the mini-series, I will discuss how to establish and pitch different returns on investments individualized to each opportunity's needs. So stay tuned to Winding Road Magazine for that release. Until then, take the first step and use the strategies I have laid out to get networking and brainstorming to find target sponsorship brands.
About Aidan Fassnacht
A second-generation professional racecar driver, 19-year-old Aidan Fassnacht is conducting the 2022 Idemitsu Mazda MX-5 Cup for McCumbee McAleer Racing (MMR) in the No. 15 Sword Performance Mazda MX-5 Cup. Fassnacht, a student at Boston College, raced a Spec Miata in Regional and National Sports Car Club of America events for two seasons before taking on the Spec MX-5 Challenge in 2021, earning a slot in the prestigious Mazda Shootout before signing with MMR for his 2022 rookie campaign.