Book Review: You Suck At Racing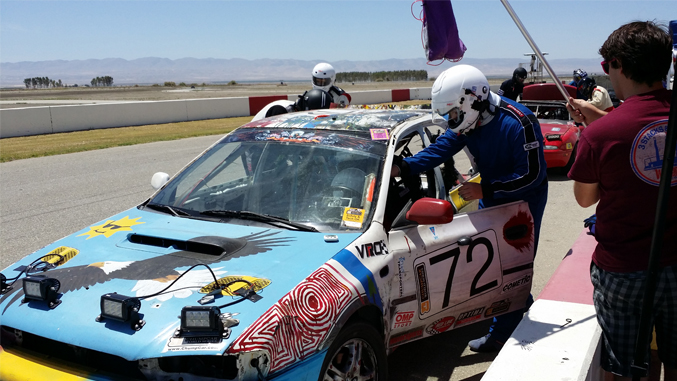 A customer recently walked into our Austin store and said "I'm doing a track day next week and I want to have the concepts in my head. What book do you recommend?" Our standard answer to that question is Ultimate Speed Secrets by WRR contributor Ross Bentley. It is a handbook for road racing technique that you can keep for life and yet it presents the basics quite clearly.
Still, no resource is perfect and ever mindful that different people have different learning styles, we recently read You Suck At Racing: A Crash Course For The Novice Driver by Ian Korf. Korf has aimed his book at what he believes is a different audience that most of the books on the market. He is aiming at the pure amateur, whereas many books assume the drive wants to progress toward a professional career (to some degree). Korf also has in mind the situation now presented by Chump and LeMons, where you form a racing team, invite your friends and several people show up having never driven a race car. Perhaps it would be nice to give them something to read in the days before the race, so that they have some idea what they are supposed to do.
Despite the slightly different target audience, You Suck At Racing presents most of the important parts of the standard road racing curriculum. That's probably a good thing in that novices will want to be able to converse with fellow drivers and some ideas, like apex, threshold braking, trail braking, line, track out and turn shape are at a minimum necessary common vocabulary.
So, why get this book? We thought that Korf's explanations we pretty clear and he covers roughly the right material (although there is plenty that is superfluous for the absolute novice, though helpful later). Still, Ultimate Speed Secrets and others are also clear and cover the same material. The obvious difference is that Korf's book is very short, mostly because the explanations are right-sized and the structure of the book is that of a dictionary (A is for Apex, B is for Braking, etc.) so he dispenses with lots of narrative connective fluff. As a result, You Suck At Racing can be read quickly. That idea is amplified if you or your team buddies realize that you can whittle the book down to chapters A, B, C, F, J, and N if you are in a hurry (e.g. doing a cram course before a race weekend). That's maybe 30 Kindle pages or 20 book pages, which is pretty short and sweet.
The other advantage of You Suck At Racing is that the Kindle version is $2.99 (free if you have Kindle Unlimited). A paperback version is $9.99. That's cheaper than most alternatives, and may be attractive if your teammates don't really believe the title and are a little recalcitrant about their need to learn.
For more information on getting started in road racing, visit our Guide To Road Racing page.