Blog: What Makes Vettel So Fast?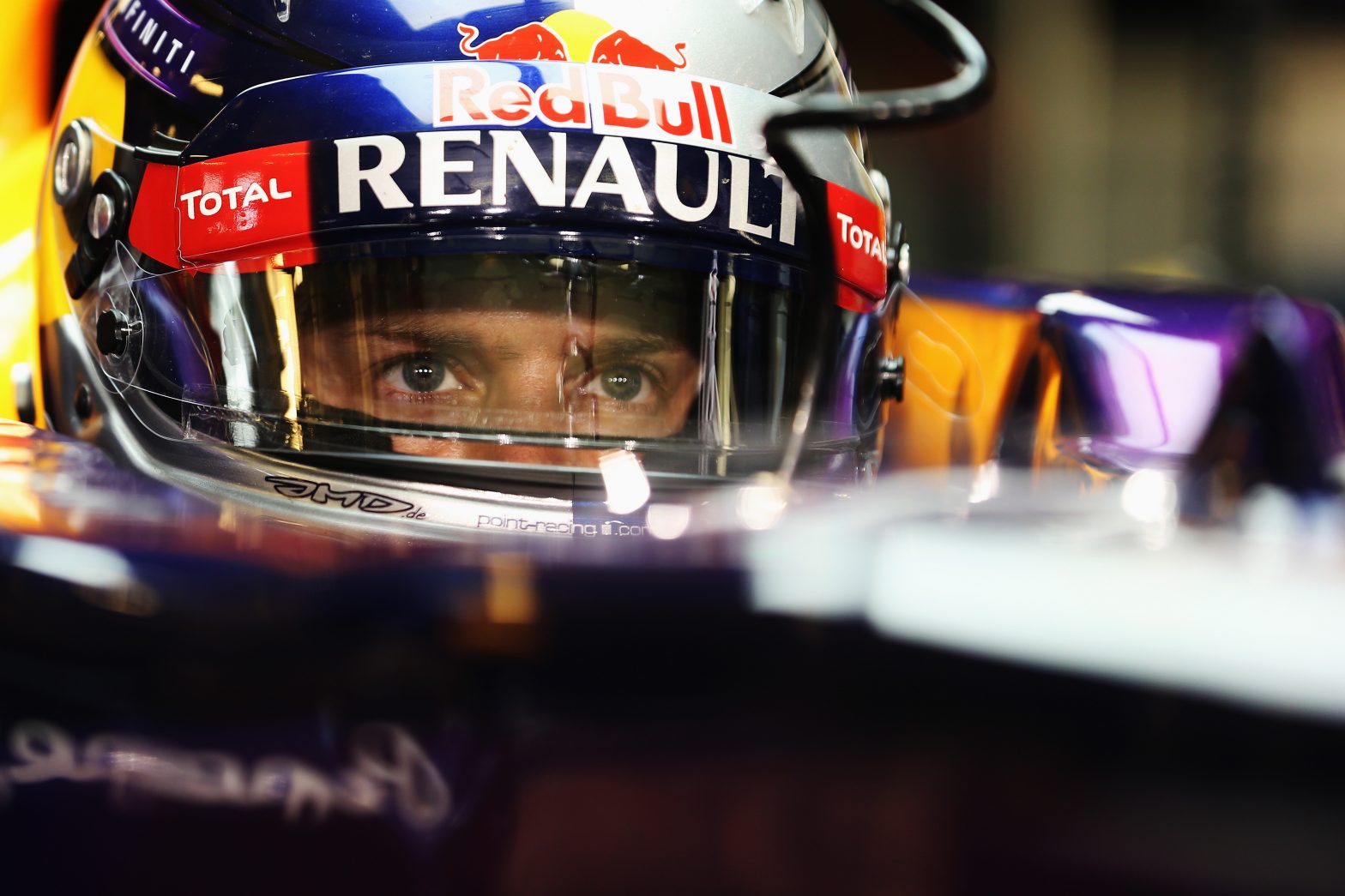 If Sebastian Vettel cares whether he's considered one of the all-time greats of Formula One, he needs to drive, and win, for another team. One of the things that established Michael Schumacher as a great, and perhaps the greatest, is that he won for two different teams. Even more importantly, Schumacher made these teams winners. Before he joined Benetton and then Ferrari, neither team was World Championship-winning caliber.
Vettel's reputation is tied to the Red Bull car's superiority, and much of the credit goes to technical director, Adrian Newey. Would Sebastian Vettel have won four World Championships had he been driving for another team, without Adrian Newey? We don't know.
We do know that there's no doubt about Vettel's speed. He's currently one of, if not the, fastest driver in F1. And whether he was driving the Red Bull or any other car on the grid, there's no denying that fact.
So…what makes Vettel so fast?
In the past couple of months, I've heard dozens of theories about this. Some of them are solely focused on his car. But some dig into his driving technique, trying to analyze what he specifically does that makes him faster than everyone else.
Obviously, any form of racing, and especially F1, is all about teamwork. The "teamwork" between car and driver is difficult to understand because only one of those two can respond when you ask it questions (even Kimi Raikkonen answers when asked!).
We know that some cars work better for some drivers than they do for others. And vice versa: some drivers work better with a car that handles a certain way than another driver does.
There's no doubt that Vettel's Red Bull works well for him, and likely better than for his teammate, Mark Webber.
Let's look at that for a moment. Webber was at Red Bull before Vettel joined the team. But over time, it's obvious that the team has rallied around Vettel, and it's generally accepted that he gets the most attention. And many have said that the Red Bull technical team, led by Adrian Newey, likely builds the cars to suit Vettel's driving. I'd even suggest that one of Newey's greatest talents is building cars that best take advantage of his driver's style.
One could claim that having a car developed to best suit a particular driver's style is unfair, and many would respond by saying that fairness has no place in F1 – it's all about doing what it takes to win. I could argue, though, that getting the team to build a car that suits his style is a smart move on Vettel's part, and kudos to him for motivating a team of people to give him what he needs to win. It's not like Vettel is bribing the team with cash to give him an edge (well, not directly, anyway, as I'm sure team members receive bonuses when Vettel racks up another World Championship).
Former Jordan, Stewart, and Jaguar F1 technical director, Gary Anderson, shared his thoughts on why the Red Bull may have a technical advantage in an
interesting article for the BBC
. Anderson claims that Red Bull uses a flexible "tea tray," the flat (well, it's supposed to be flat) plate under the front of the chassis that provides a significant portion of aerodynamic downforce. Based on his observations of some thermal video, he believes Newey has developed a method whereby the tea tray flexes upward, allowing them to run the car lower to the ground.
Does the Red Bull seem to have an advantage over other cars this season (and in the past few seasons)? For sure. Does that take anything away from what Vettel does in the car? Not in my mind. The best cars are rarely developed in a vacuum. They're developed with a driver who provides great feedback to the engineers, even if this flexible tea tray approach seems like it was developed in the engineering office, wind tunnel and shop (or maybe Newey's head).
Peter Windsor and Rob Wilson, two people I have immense respect for, talked about Vettel's speed in a fascinating
blog post and video
. Windsor came across a photo of Vettel and another of Webber in the exact same spot at the Indian GP circuit. Interestingly, while Webber is
looking through the right-hander
that he's driving in at the instant the photo was taken, Vettel's head is
turned to the left
. It appears he's already finished looking through the right-hander, and is now looking ahead to the next left-hand turn. The conclusion that Windsor and Wilson come to is that Vettel looks further ahead than Webber—and perhaps other F1 drivers.
Another article
, this time by James Allen, claims that Vettel's speed is a result of his ability to time the way he applies the throttle, resulting in the blown exhaust gases creating increased downforce under the car, and managing wheelspin better. Of course, anyone who reads this opinion must wonder how he does that, and how he learned to do it! My take is that he's more adaptable.
Which brings me to my theory about Vettel's speed.
Sebastian Vettel senses what the car needs slightly sooner than other drivers (specifically, Webber, since he's the only one who can be compared on equal terms), and then adapts his driving to it. But how?
Could it be that Vettel's relatively younger age is an advantage? I think so. All drivers build mental programming for how they drive. That's what a driver's style is—a preferred technique. Fernando Alonso has a different driving style from Vettel, as evidenced by his extremely quick (some would say almost violent) steering movements. The key is that Vettel is not set in his ways. He's still developing some of his programming.
If you look back through F1 history, it's rare (but not unheard of) that any one driver has had as consistently a strong car—perhaps even an advantage over others—at such a young age, while he was still developing his style, while he was still so flexible with his driving technique. Most young F1 drivers are in developing teams (Emerson Fittipaldi is an example of the opposite, like Vettel—a young driver with the best car when driving for Lotus and McLaren). So, while their driving style is developing, they're driving cars that are not as superior as the Red Bull currently is. By the time they find themselves in the best cars, their driving styles have progressed to the point where they're more set in their ways. And, if the car suits their style, great—they're off to winning a World Championship. If their style does not suit the car as well, they will not win.
Jenson Button is a good example of this. When he came into F1, at about the same age, experience level, and demonstration of speed that Vettel has been at over the past four years, he drove for teams with cars that were not superior, and perhaps even a step below the best. By the time his style had become more set in concrete, he was in competitive cars. And the one season that he had a strong car which suited his style, he won the World Championship.
Vettel's situation may be one of those rare combinations of everything converging at the right time: a talented driver whose style is still flexible enough to learn and adapt to changing tire designs/construction and aerodynamic rules; a superior car; and a technical director who has a knack for adapting his cars to suit his driver.
And one more thing: Vettel's current confidence level is something we've not consistently seen since Schumacher's dominant years, and Ayrton Senna's before that. While it's hard to imagine any F1 driver not having incredibly strong belief in themselves, you might be surprised just how fragile their confidence can be—especially when you realize that even one percent doubt can have a huge difference at the pointy end of the grid.
So what makes Vettel so fast?
·

His ability to inspire and motivate the team to build a car to best suit him.
·

His car, and specifically, Adrian Newey's ability to tune the car to suit him.
·

His ability to sense what the car needs and adapt his style to suit it.
·

His youth and adaptability—and not being set in his ways.
·

His confidence level.
Will this convergence of talent, adaptability, youth, confidence and technical superiority come along again in the future? Who knows? But it seems likely. Many would welcome a new combination next year to make F1 more interesting; they don't want another season of Vettel/Red Bull domination. Perhaps the major changes in technical rules for the 2014 season will be just what's needed to shake things up.
But I predict that Vettel will continue to learn and adapt more quickly than others, and his domination will continue. And perhaps Vettel's style will continue to be one of adapting. Which will be bad news for his competitors—whatever he team he might be driving for in the future.
Ross Bentley is a race driver, coach, and author, with an incredible knowledge of motorsport and racecraft, and the skills and passion to effectively share his knowledge with others We've long been impressed with him, and are happy to be able to publish some of his writing here on Winding Road.