Blog: Vacation With The 2012 Hyundai Veloster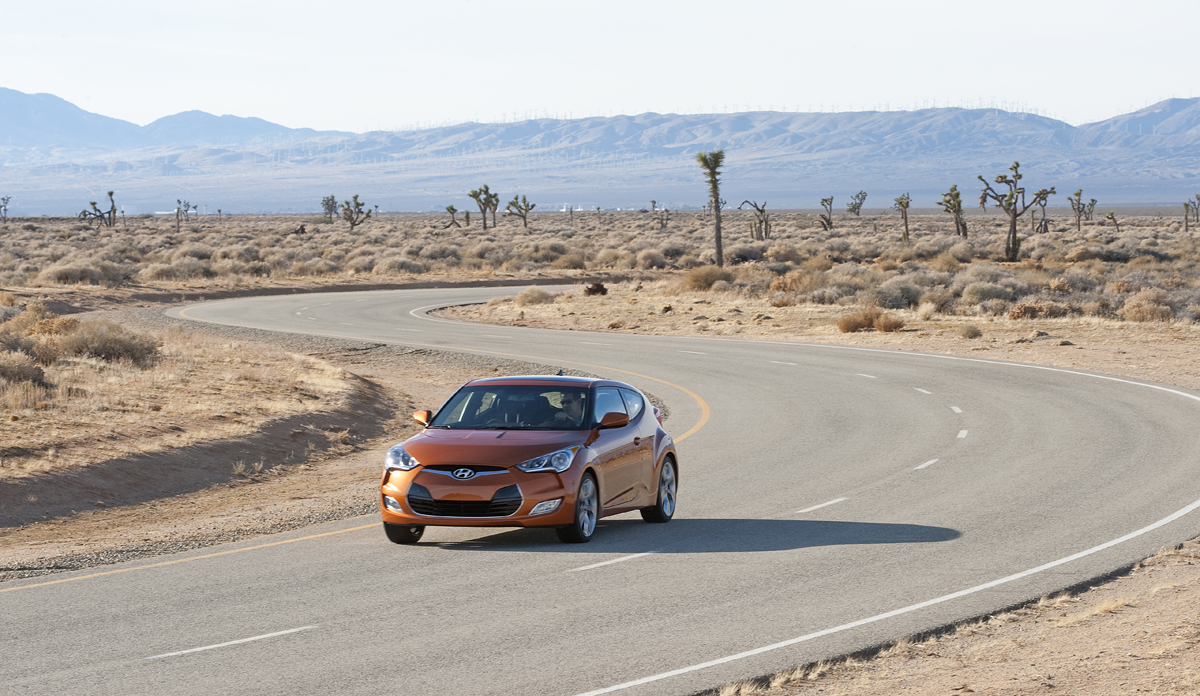 My wife, Catheryn, and I recently spent the week in Arizona visiting some family. Our car for the week: a Vitamin C (read: orange—and it got a lot of looks from passersby) Hyundai Veloster. I was happy to finally get a chance to spend some time with the car, as I had missed out on any decent driving when we had it at our Michigan office. When I picked up the vehicle, I was instantly impressed.
Our manual-transmission-equipped Veloster had the Style Package, a $2000 option including a panoramic sunroof, leatherette seats and door inserts, piano black accents, and a Dimension premium audio system. It also included the Tech Package, which included navigation, backup camera, push-button start, and a really slick set of black eighteen-inch alloy wheels with body-color inserts. That's another $2K. Our first impressions upon getting the keys, loading up the trunk, and getting in and firing up the Veloster: this is a really nice setup (essentially the ideal
Winding Road-spec
). Curious, I check the Monroney, and find that this model, as tested, rang up to a mere $21,300. It was hard to believe.
The sticker also showed the Veloster's remarkable fuel economy rating of 28 miles per gallon in the city, and 40 on the highway. For a trip that was going to include a lot of time on the road, travelling between Buckeye, Scottsdale, various other parts of the metro-Phoenix area, and even Sedona, fuel economy was going to be key. From where we were staying, even the nearest gas station was about 10 miles away, so every dinner, every relative we visited, every errand we had to run, was going to consist of a substantial amount of driving.
It was a great car for our series of daytrips. There was always plenty of room for hiking gear, snacks, and a change of clothes, and we had no space problems when we brought a third person for an overnight trip to Sedona. The only comfort complaints I heard were from people getting in and out of the rear seat. Once they were in there, it was fine, they all claimed. It was just difficult to duck low enough not to hit one's head when sitting down.
Not having to worry about running low on gas was great, and we were able to enjoy features like the BlueLink system, and streaming Bluetooth audio from our iPhones. The navigation was very handy when trying to get around. It had a touchscreen, so entering and editing destinations was easy. The graphics were good, too, with the roads and directions easy to follow. A couple times, on some of the newly developed areas, the Veloster's nav system didn't recognize the roads we were on, and was essentially useless for many miles along Highway 303 beyond Surprise. Once we got back onto known roads, though, the system just picked up where it left off.
On the highway, the Veloster felt comfortably stable. Cat, who is prone to motion sickness, didn't complain, even on some of the curvier parts of the road. Getting up to speed, though, was a bit of a workout. The Veloster definitely felt like it would have benefitted from a turbocharger to help breathing. In higher RPMs, the engine sounded kind of harsh, and I was often tempted to shift before I had to, just because it sounded so labored. Once up to speed, though, it was happy to cruise along efficiently, and I even used the cruise control when my leg started feeling stiff.
At lower speeds, the Veloster felt more at home. I found some curvy roads, which it happily traced with speed and smoothness. The six-speed manual transmission was fun to use, and made it easier to coax a little more power from the engine. At one point, I got the car all to myself, and had a bit of fun flinging the car around in a not-yet-developed development, with no other drivers or pedestrians to worry about, and the bolstered seats of the Style Package keeping me locked in place. That was when I saw what the Veloster was really made for.
So my vacation with the Veloster was a pleasant one, and I came away totally impressed with the versatility and overall value of the car. Its only main drawback—power—isn't a particularly crucial or grievous one, but it does have me looking forward to the
Veloster Turbo
.
And as for the current car receiving our
Greenformance Award
, I couldn't agree more. This thing sips fuel, and is great to aim down a nice winding road.