BaT Find: BMW 3.5 CSL Batmobile Tribute Race Car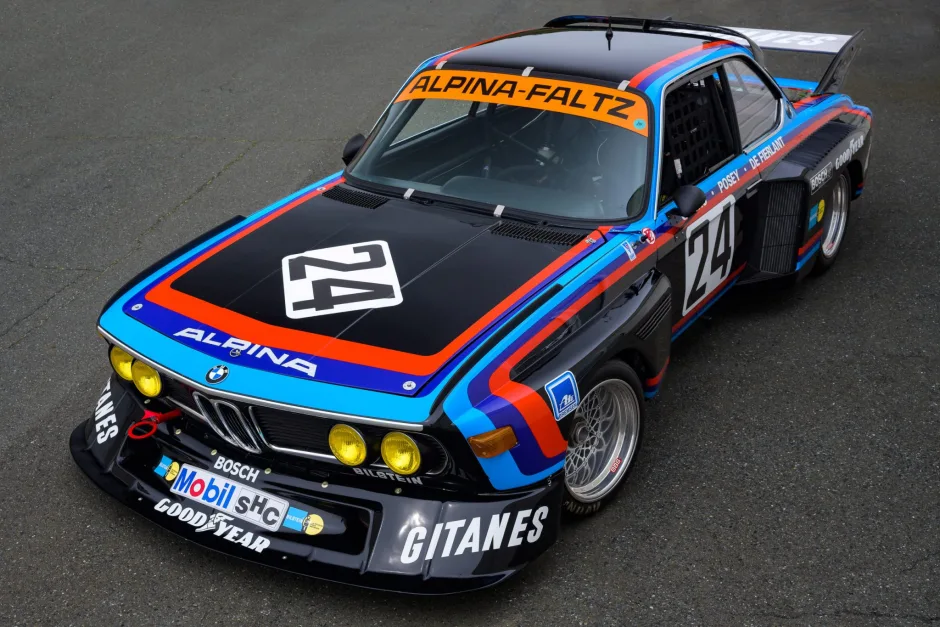 When it comes to legendary race cars, few can rival the BMW 3.5 CSL, affectionately known as the "Batmobile." This sleek and aggressive machine left an indelible mark on motorsport history. Now, enthusiasts have the opportunity to own a remarkable homage (not this one!) to this iconic racer. A BMW E9 coupe, chassis number 2275994, styled after the 3.5 CSL Batmobile, is currently up for auction on Bring a Trailer.
This particular BMW E9 coupe has an intriguing backstory. It was originally a BMW Motorsport body-in-white, purchased by Rug Cunningham, a race car driver and owner of Cunningham BMW in El Cajon, California. Cunningham acquired the car from Vasek Polak of Hermosa Beach. After several changes in ownership, the current seller obtained it from Cunningham's widow in 2007. The subsequent years saw a meticulous race car build that was finally completed in 2017.
Exuding an aura of power and mystique, this 3.5 CSL Batmobile tribute is finished in an alluring black color adorned with BMW Motorsport stripes and Alpina livery. Its aggressive stance is complemented by a host of performance-enhancing modifications. Under the hood lies a formidable 3.6-liter M49/3 inline-six engine, boasting a modified S38 cylinder head, Kugelfischer mechanical fuel injection, and MSD ignition. This powerplant is mated to a five-speed manual transmission with a dogleg first gear, ensuring a thrilling driving experience.
The performance upgrades continue with a triple-disc clutch, ATL fuel cell, and BMW Motorsport exhaust system. The braking system has been upgraded with four-wheel disc brakes featuring floating rotors, offering enhanced stopping power. The car rides on striking 16″ BBS center-lock wheels, shod with Avon racing slicks, completing the aggressive aesthetic.
The exterior design pays homage to the famous #42 car that competed in the 1976 24 Hours of Le Mans, driven by Harald Grohs, Sam Posey, and Baron Hughes de Fierlandt. The livery features the distinctive red, purple, and blue BMW Motorsport stripes, reminiscent of its iconic predecessor. Additional Alpina livery can be seen on the front end, tail, and windscreen, adding a touch of authenticity to the tribute.
Inside the cockpit, the focus is on both safety and performance. The driver is secured by an OMP Racing seat and Schroth Racing harness, surrounded by a roll cage fabricated by Roger Hamlin of Sonoma, California. The car is equipped with a fire-suppression system, electrical cutoff switch, Coolshirt system, and an Allstar Performance window net, ensuring a controlled and secure environment for the driver.
The instrument cluster showcases a VDO 10k-rpm tachometer and combination gauges, while vital information such as voltage and transmission and differential fluid temperatures are displayed in the center of the dashboard. Although the car does not have an odometer, the seller reports driving it for approximately 25 minutes at Sonoma Raceway in 2017. The total mileage remains unknown.
The heart of this exceptional tribute is the 3.6-liter BMW M49/3 engine, painstakingly built by Bill Watson at Road Rockets of Sonoma, California. It boasts JE pistons, Total Seal rings, Pauter titanium connecting rods, and a modified S38 cylinder head. The engine bay features a strut tower bar for added rigidity and stability. Additional enhancements include Kugelfischer mechanical fuel injection, a BMW Motorsport-AC Schnitzer slide-throttle setup, MSD ignition, and a dry-sump lubrication system with a 12-quart trunk-mounted tank.
Power is transmitted to the rear wheels through a Getrag close-ratio five-speed manual transmission, featuring a dogleg first gear and an oil cooler. The drivetrain is completed with a 5.5″ triple-disc clutch, custom flywheel, and a trunk-mounted ATL fuel cell. The distinctive growl of the engine is channeled through a BMW Motorsport dual three-into-one exhaust system, announcing its presence on the track.