An Interview With Spec MX-5 SimRacing Challenge Driver Thomas Bressi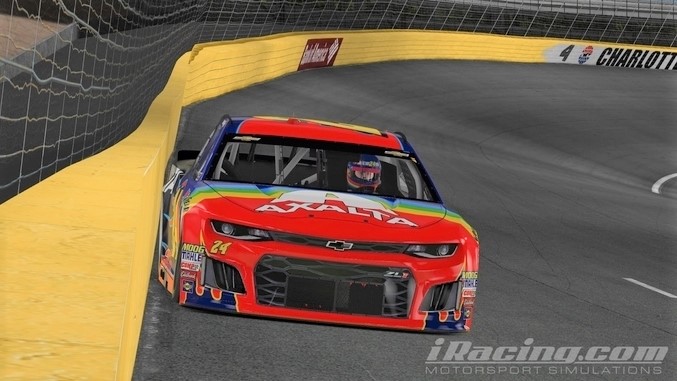 Thomas Bressi has been racing sims for a few years and has raced it all: from NASCAR to the 24 Hours of Daytona. Having crafted skills in hustling 3,500 stock cars around road courses, a friend suggested he try our series, and here he is! His interest in racing started at a young age, where all it took was a legendary race car's shiny livery; just like a good number of us.
What's your name and where are your from?
Thomas Bressi, and I'm from Malvern, Pennsylvania
What line of work are you in?
I am currently in college majoring in Criminal Justice with the intention of going into law enforcement.
How old are you?
I'm 21 years old.
What was your motivation for participating in the Spec MX-5 SimRacing Challenge?
For the last year or so, I have mainly participated in NASCAR leagues on iRacing. The league I participated in last year (which is no longer operating) had SYM TV covering our races for the season. The league I currently race in is covered by SYM TV as well, which I partly chose because I think Kyle and Finian do such a great job on their broadcasts. I wanted to continue to be in these broadcasts.
Kyle (SYMtv) and I talk frequently, usually about things that aren't racing related, but he mentioned this series to me just before sign-ups opened last year, and suggested I enter. I seem to have developed road racing skills, specifically in 3,500lb stock cars, and Kyle suggested I run in the Spec MX-5 SimRacing Challenge to show what I could do racing around the guys who do this all the time.
Do you have any previous non-virtual motorsports history?
Unfortunately, no. I wish more than anything in the world that I could make a living out of racing professionally, but I simply do not have the means to go about it on my own. Racing isn't extremely popular in my part of Pennsylvania (I used to get bullied a lot in school for being a fan of people who just turn left), and I've never had the financial ability to race on my own. Part of the reason I wanted to participate in this series was because of the grand prize options. I saw them as opportunities, I would not normally have, to showcase my talents on a real track in a real car if I was fortunate enough to win.
Do you feel virtual motorsports is becoming a valid starting point for participation in actual motorsports?
Absolutely. Anyone who says it isn't, is fooling themselves. I see people on Twitter who are dirt racers or late model drivers who have been in the racing world for years on end and give people a bunch of lip for thinking sim racing is pointless, stupid, and just a bunch of losers in their parent's basements. Maybe they're just hard headed, but times change, and I don't think sim racing is going away. Even outside of iRacing, there are plenty of sims or sim-cades that anybody can buy without breaking the bank that can teach a person how to race, proving you don't need some massive $30,000 simulator your team's manufacturer owns to test your skills (although they are super cool and I would love to own one).
Even if the game you play isn't the most realistic or the AI you race isn't the smartest, they provide a great opportunity to develop racecraft and the skills that any real race car driver possesses. iRacing is the pinnacle of sim racing and they do it better than anyone else, which is why real drivers use the service.
William Byron, who is a great example of someone who made the jump from sim racing to real racing, won the pole for the Daytona 500 this February and was on iRacing running A-Fixed races at Daytona that night using a paint scheme I made for a friend. I was in a practice with Jordan Taylor a few years ago while a friend and I were testing for the 6 Hours of The Glen. There have been other pro drivers I have raced against prior to competing in this series, but my point is that people like that wouldn't waste their time on iRacing if it wasn't at least a little beneficial.
Are you a 'gamer' or do you mostly only sim-race?
I play a ton of different games. I think because of my love of sim racing I tend to play more realistic games. Arma III is a fun mil-sim game that has so many mods that you can break your computer, and there are plenty of survival games that I really enjoy playing. I even play Grand Theft Auto V in the exact opposite way it was meant to be played by pretending to be a cop with real police cars, and all kinds of scripts to create unique and involved calls to respond to and handle.
This is actually the reason I am currently studying criminal justice to enter the law enforcement field. I saw some people on YouTube probably around 7 or 8 years ago and thought playing as a cop looked fun, so I got involved in the roleplay community and after spending so many years doing that and enjoying it so much, I thought it was something I could do if racing didn't work out. I play other racing games as well. I play Forza Horizon 4 sometimes to sort of relax and have fun with cars again instead of having to focus on being serious about racing and that has been enjoyable.
Do you consider sim-racing a game?
No, but I don't know if it can sit on the same level as real racing. I see sim racing as a tool more than anything else. As I said before, sim racing allows a person to develop the skills needed in a real car without actually being in a real car, but there are so many little nuances and asterisks with sim racing that I just can't put it on the same level as the real thing. Nobody can turn off the ability to feel what the front tires are doing through the steering wheel like you can in a sim, but people do it because it can make you faster. You can't run max camber on an oval without absolutely demolishing the tires in 5 seconds in real life, but people do it in sims because it can make you faster. Sometimes real physics and other elements do not perfectly translate to the virtual world, but you can get pretty close, which is why I don't see sim racing as a game.
How long have you been sim-racing?
If you count every NASCAR console games I've played until now, I've been sim-racing since I was 4 years old. If you count iRacing because the NASCAR console games have hardly ever been realistic, about 3.5 years. I have been league racing for about 7 years, though.
Are you very active in sim-racing?
I would say so. I think I am less active than I was when I first got on iRacing because I don't enjoy racing in random races throughout the day with random people who don't always know how to control their cars or race cleanly, so now I mostly just race league races on Tuesday nights and the NASCAR iRacing Series on Thursday nights. I like doing that because you have more of a chance to race against people you know or have gotten used to previously.
On Thursdays, my two friends and I do NiS together, but only one of us actually drives and the others two spot and crew chief. We change drivers depending on the track, but it is a cool experience to sort of see the racing from every aspect. From the driver's seat, to the spotter's stand, to the top of the pit box smashing calculator buttons figuring out what the best pit stop strategy is, it is all extremely enjoyable.
I also try to do the iRacing special events such as the 24 Hours of Daytona and 6 Hours of The Glen when my friends and I have time. I love those races as well because of the opportunity to have a long race, and if something goes wrong, you can really work together as a team to prevail and get a good result. The first time my friend and I ran the 6 Hours of The Glen, I had serious connection issues right when I got in the car halfway into the race, and we ended up losing a lap. We had been running 3rd or 4th up until that point, and after that issue, we adjusted our strategy and despite our competitors having issues, I charged from 9th to 3rd in the final 90 minutes of the race. We ended up on the podium which we were extremely happy about! You just don't get to do things like that in regular races that run every hour during the day.
Do you run in many leagues?
No. I don't understand how some people manage to run in 5 different leagues at once. I don't mind running multiple series within the same league, but I cannot fathom how people can run 1 league on Monday, another Tuesday, another Wednesday, take Thursday off, race Friday, Race twice on Saturday, and then watch a real race on Sunday.
I knew people who did that when I raced on PS3 several years ago, and I never understood how they kept their sanity. I keep to one league at a time for the most part, so I race on Tuesday nights on SYM TV and I love it.
What's your favorite car or series to compete in?
Honestly it depends on the day and mood I am in. Usually I like the NASCAR Cup cars, but I haven't enjoyed this 2019 aero and horsepower package very much. I like it on the short tracks and road courses because you still have 700hp and can drive the car through the corner with your right foot if you need to, but otherwise I have had mixed feelings on it. The Corvette DP is a blast to drive as well. I used to race in F1 leagues a good bit on console, so maybe that lightweight, high downforce enjoyment stemmed from that. GTE cars are a blast too, but I don't race them a ton.
If somehow, some way, the Corvette C7.R makes its way to iRacing, I will probably never get out of GTE racing. I don't care what anyone says about it not happening, I am keeping my fingers crossed that one day, my favorite race car in the world will end up on iRacing. I have had a good bit of fun with the Porsche 919 as well. Though I don't really race it, I love jumping into a test by myself, cranking up my pre-race playlist on Spotify, and just blasting around the Nordschleife in that beast. That will recalibrate your mind like nothing else can.
How much time would you say you put into sim-racing?
Perhaps not as much as I should. I try to show up for all of the test sessions if I can for a league or race, but I don't really do much outside of that. I have been told I am extremely consistent which is great, but nobody races to be consistent. I can get top 5's and top 10's all day in most cases, but the wins don't seem to come as often as they once did.
In a Formula 1 league several years ago, I won 1 race shy of half of the races in the season and only finished off the podium once with equal car performance and no setups. I even won 5 races in a row that year on my way to winning the championship. On the flip side, I won a Cup league title a few seasons ago on iRacing and out of 22 races, I won 1 time and only won the title because I had 15 top 5's and 21 top 10's. Again, consistency is nice, but I miss winning.
I think that even shows in the Spec MX-5 SimRacing Challenge. I have been consistent for the most part (unless I get caught in someone else's mess), but I haven't won. I haven't even come close, so maybe I should put some more focus into it moving forward.
How do you rate your chances of winning the driver development test at the end of the season?
At this point in time, not great. It has proved quite difficult for me to find the pace the guys winning every week. I know they race these cars a ton and I race a massive brick on wheels of a stock car regularly, but I still show up and hope to be as competitive as I can be.
Laguna Seca was rough, but otherwise things have been mostly alright. As I said before, the grand prize options sitting in front of us are unlike anything most of us have had presented to us. This is possibly the only opportunity I have to show people who matter what I can do with a race car, so I hope the rest of the season goes better and I can find some more speed.
Anything else of interest you'd like to share?
The only thing I could think to add is why I am a fan of racing. As I mentioned earlier, I played my first NASCAR console game when I was 4 years old. My birthday is a month after Christmas and right before I turned 4, my mom got my older sister and I a PlayStation 2 for Christmas. It was mostly for my sister, but it's a bit tricky to tell one kid they can use the PS2 and the other one that they can't, so I got to use it a bit. We went to the store the following day to pick a game and as I wandered around the store, I saw this game with a blue car with red flames and a bright yellow 24 on it titled "NASCAR Thunder 2002". I didn't have a clue what NASCAR was or who Jeff Gordon was, but the car looked awesome, so I chose that. I got home and went through every single car in the game, but nothing was as cool as that 24 car, so I raced it endlessly.
Several months go by and I still had no idea what this game was really about and as I was sitting on the couch one day with my mom watching TV, this blue and red 24 car appears on screen as she is going through the channels. I suddenly realized this game I had been playing for months was a real thing. I saw an advertisement for the race the following week, so I watched the race the following week. Then there was another advertisement for the race after that, so I watched that one too. After a while, I figured out what NASCAR really was. I also figured out who Jeff Gordon was and that he was one of the greatest drivers ever, so eventually he became the guy I pulled for. So as silly as it may seem, my love for racing stemmed from a simple paint scheme that the late Sam Bass created almost 20 years ago and was driven to victory lane over and over by one of the greatest drivers in motorsports.