A Few Seats Open For 2019 Spec MX-5 Challenge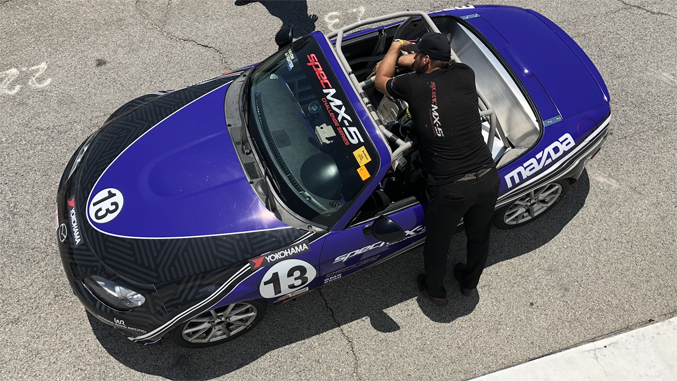 You can still get in on the 2019 Spec MX-5 East Series. Applications will be accepted through March 22 (the East Series opens at Summit Point on April 5-7). Applications for the West Series will be open through April 12 (the West Series opens at CoTA on May 4-5).
Only Two Seats Left
Each of the East Series and the West Series has two seats available in series-owned cars. In 2019, drivers who own SCCA T4 cars can also run them for the full season, so there is additional room beyond what was offered in 2018. The application is available here.
Big Prizes
Transporters are being detailed, cars are being prepped, tires are on order and trophies are being built. With $150,000 on the line at the national championship, the excitement is building. $80k will be awarded to the championship winner at Road Atlanta, with $40k going to P2 and $20k to P3.
The Series will run major tracks during 2019 including Road America, Watkins Glen, Sonoma Raceway, Mid-Ohio, Circuit of The Americas, Sebring, and Laguna Seca. The Series offers full arrive & drive services, including race car rental, but also allows independent drivers to service and run their cars. A detailed breakdown of entry options is available on the Series website.
Single Event Entries Welcome
Drivers who own T4 cars are also welcome to run individual two-race events, but they will not be championship eligible. Drivers must run the full regular season in order to qualify for the championship. See the full FAQ page for the series here.
To enter an individual event, contact [email protected] for West Series events or specmx5@atlspeedwerks for East Series events.
Whether you run the full season or a few races, the competition should be intense: