A Few Quick Questions With TCR Driver Mason Filippi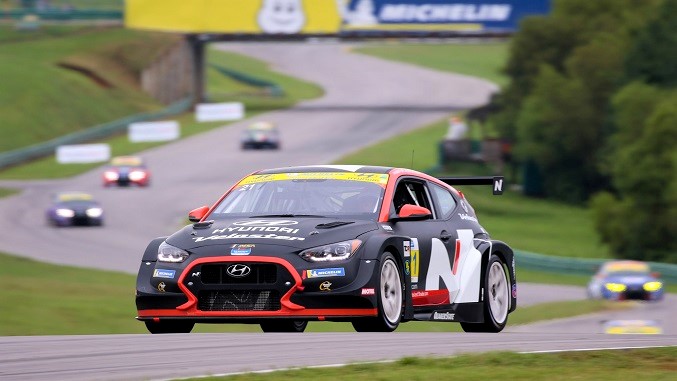 Photo: Bryan Herta Autosport Facebook Page
We recently sat down via email with Mason Filippi, who drove the #21 Hyundai Veloster N in TCR with Bryan Herta Autosport in this season's IMSA Michelin Pilot Challenge Series. Tying 2nd place in the TCR Driver Championship with teammate Harry Gottsacker, and being a part of the top 2 on the podium for the Team Championship, he had a heck of a season! Here's what he had to say about the season and car he piloted:
1. Congratulations on tying 2nd place for the MPC TCR Driver Championship, Mason! What would you say helped you achieve such a position, and were there any things to overcome throughout the season?
We had a great team and a great car. Both cars were extremely consistent and worked together well! Bryan Herta Autosport and the Hyundai Veloster TCR is a great combination, and I was able to learn a lot from my teammates and the engineers. I learned so much this season, and am looking forward to carrying that knowledge throughout my career!
2. Any particular moments standout from throughout the season?
Each race was its own battle, a couple of my favorites were Road America and VIR. Both were our best finishes this year, and had eventful weather. One of my favorite aspects of endurance racing are the changes in weather and the unpredictability of the race. Road America was our first IMSA win, and at VIR we finished second after a crazy last lap 5 car battle.
3. Your background is pretty heavy RWD, how was it to change it up a tad and start racing FWD in TCR?
TCR is an amazing platform and the Hyundai Veloster N is now my favorite TCR car to drive. They have so much grip I think when people get behind the wheel of a TCR they can really see the potential of a front wheel drive car, just like the Veloster N in street trim, really.
4. Speaking of street trim, What are your thought on the Veloster N as not only a race car, but also on the road?
I love the Veloster in both street and race trim! It is a well-balanced fun to drive street car that you can comfortably drive around on the street, and then have a competent car for the track! The Veloster TCR race car is my overall favorite car to drive on track at the moment; so much fun and even-better balanced. I hope to see the class grow further, with more Veloster TCRs out there next season!
5. What are your plans for the rest of the year and 2020 (if you're at liberty to share)?
I have a great season in store that I will be happy discuss more after the official announcement!
Thanks the scoop, Mason! We wish you the best of luck in 2020!