25 Hours of Thunderhill Memories: The "Wrong" Cars Go Fast and Win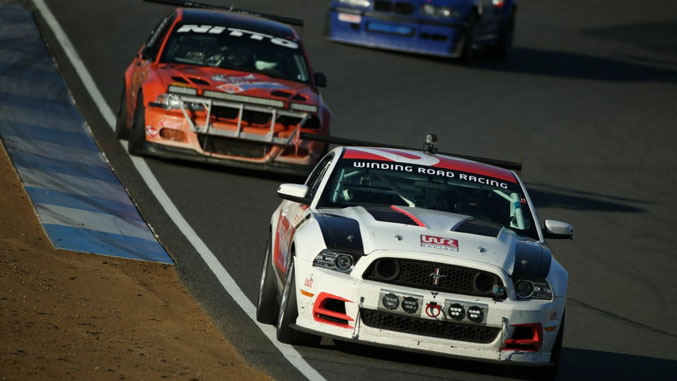 We reserve a warm spot in our hearts for the underdog. Maybe it's an American thing or maybe it's our love of surprise or maybe we're just reverse iconoclasts. In any event, the 25 Hours of Thunderhill provides plenty of encouragement to underdog-lovers everywhere.
One way in which Thunderhill rewards us is that the "wrong" cars frequently win. Of course, in endurance racing the "right" cars are thought to have a tendency to be fast, but fragile. They go out fast, but break. Oh well, they were better for a while. Nothing surprising there.
What we observe, however, is that the "wrong" cars are often also fast. So if you are not only a fan of the underdog, but you also enjoy learning (a.k.a. having your pet theories overturned), then Thunderhill is a fascinating classroom.
Audi TT RS – photo courtesy of nasa25hour.com
One example of this is the 2013 overall winner of the 25 Hours, the Rotek Audi TT RS. This Audi TT is a five cylinder, front-wheel drive car, albeit very extensively prepared.
GMG Audi R8-LMS
Now, if you're honest, imagine ranking these cars in order of pace before the race:
Audi R8-LMS
Audi TT RS
Porsche GT3 RS Cup Car
Radical SR3
Superlight SLC
Superlight SLC Powered by LS Series V-8 – photo courtesy of nasa25hour.com
At Thunderhill, the Superlight and the R8 were a few tenths faster than the TT, which in turn had a few tenths on the GT3. The class-winning Radical had a fast lap 4 sec. slower than the TT.
Radical SR3 – photo courtesy of nasa25hour.com
Effectively, the best examples of all these cars did about the same fast lap (given that the second place ESR Radical ran similar times to the ES cars above). Sure, there could be driver differences or traffic differences (though in 600+ laps, you're bound to have more than a handful of clean ones). But, really, the evidence is that some "wrong" cars are fast. This year at Thunderhill, the "wrong" car was fast, while also being more reliable and efficient.
Another example comes from our very own Boss 302S. This is a car we picked, in part, for its underdog factor. We got a lot of support from readers, but more than a few expressed sentiments consistent with the poetic retort "The Slow Car That Couldn't" in response to our hopeful documentary title "The Big Engine That Could".
Photo courtesy of Head-On Photography
Of course, you now know that we won our class, competing against five BMWs (M3s and 335is). And, with that in mind, you might logically assume that our Ford Racing V-8 saved the day in the face of the difficult, antediluvian handling of the Mustang.
That isn't really the case though. Not only did our drivers universally praise the Mustang's handling, we think the facts back them up. We certainly give credit where credit is due, and the Boss V-8 and the reliability of the car were very helpful. But E0 (the class we ran in) is basically a weight:power limited class, so the Boss ran against cars that have similar oomph (~9 lb/hp). The Boss is also heavier than the competing BMWs, which is not an aid to handling, all other things being equal. So is it possible that the "unsophisticated" Boss 302 chassis works pretty well? So it would seem, given that the Mustang was quite fast. While the top BMW had 1.7 seconds on the Boss, we in turn were faster than all the other BMWs by anything from one to five seconds per lap. If we had essentially the same power:weight ratio, and did better than average lap times, reason dictates that our braking and cornering capabilities had to be in the same league too.
There are reasons for these mis-estimations about which cars will actually be fast, of course. Having read thousands of comments and talked to hundreds of readers, the problem goes something like this:
. race car pace is estimated by estimated street car pace
. street car pace is estimated principally by power
. street car pace is secondarily estimated by suspension and drivetrain "sophistication" (proxies: brand, price, country of origin)
. vehicle dynamics are complex and relatively poorly understood by most non-engineers (vide: DeltaWing)
To see the problems with this, consider that power is a bad proxy for track pace. As one example, we were at a BMW M event at Circuit of the Americas, where we saw pro drivers do lap times in a 550 hp car that were equal to the laps times of… a 140 hp Spec Miata.
Then take a look at Milliken and Milliken's Race Car Vehicle Dynamics. After one spin through those pages, most of us quickly realize that we know closer to nothing than to everything about how race car traction really works on a theoretical level.
Of course, as humans, we'll probably never be comfortable with agnosticism. We'll have and cherish our opinions, and there is a certain charm to that tendency. But, we think the bookies in Vegas could make some money if they had most us of pick fast lap times from a list of cars entered in a race like the 25 Hours.