230 Cars: The Story of the Palmen Barn Find Collection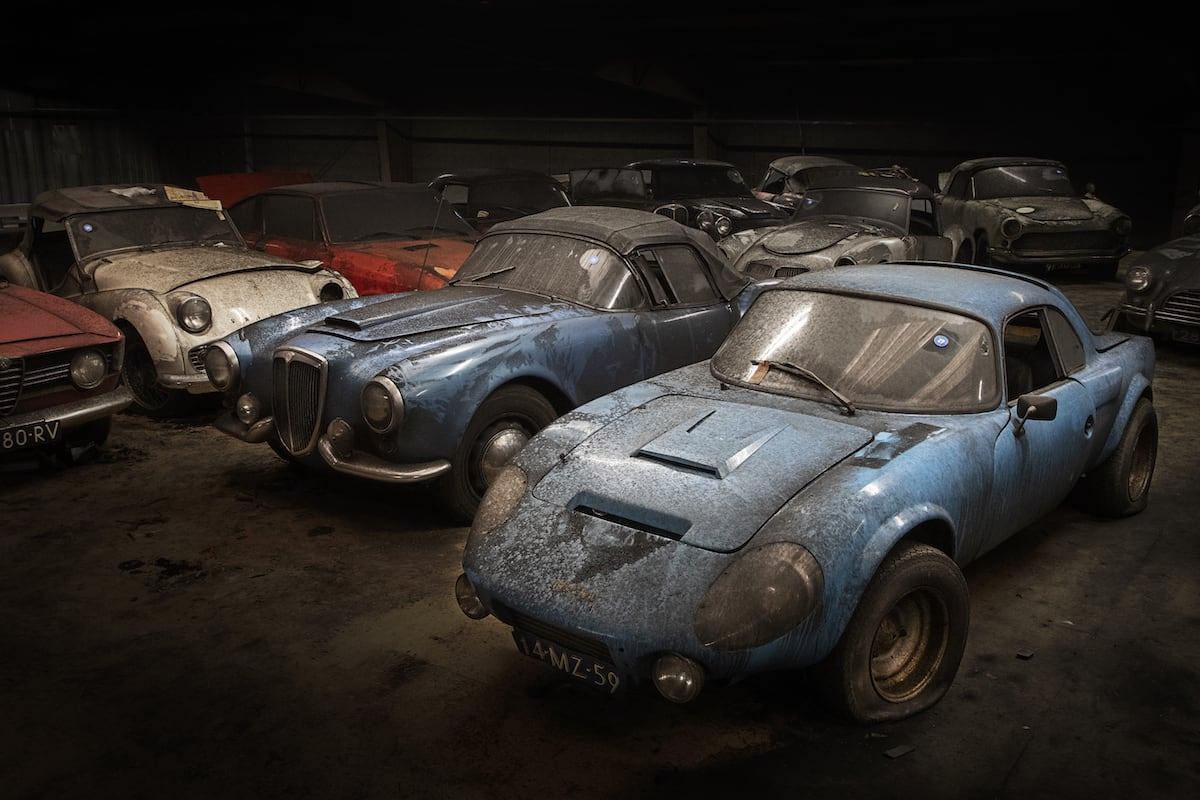 Everyone loves a good barn find story, and there is a truly unique one in Holland.  The Palmen Barn Find Collection is a story that car enthusiasts dream of. It all started approximately 40 years ago when Mr. Palmen bought his first car, a yellow Lancia B20. From then on, his love for cars grew, and he started collecting rare and special cars professionally. The collection grew in size and variety over the years, showcasing Mr. Palmen's refined taste and extensive knowledge of cars.
The collection is located in Dordrecht, where the cars from the characteristic church and the second building are now housed, so that the entire collection is now under one roof. Gallery Aaldering will sell the collection through a major international online auction: "This barnfind collection is truly a unique opportunity for car enthusiasts and collectors around the world to expand their collection," said Nico & Nick Aaldering, of Gallery Aaldering. "We are very pleased to be able to auction these cars through Classic Car Auctions and look forward to seeing how much interest there is in this wonderful collection."
The Palmen Barn Find Collection includes an eclectic mix of cars that are in an unrestored and original condition. Mr. Palmen kept the cars the way they were when they entered his warehouses, and he almost never sold anything once it was added to his collection. He rarely showed the collection to anyone, making it one of the best-kept secret car collections in Europe. The cars were stored in a church and two dry but dusty warehouses, and Mr. Palmen regularly started them to keep the engines from seizing.
Italian cars like Alfa Romeo, Lancia, Maserati, and Ferrari are prominently featured in the collection, reflecting Mr. Palmen's love for them. French Facel Vega's, German BMWs, Mercedes, and NSUs, British Jaguars, Aston Martins, and Rolls-Royces, and American classics like Chevrolets, Cadillacs, and Fords also feature in the collection. Additionally, the collection includes Tatra, Monica, Moretti, Matra, Alvis, Imperia, and Villard cars.
The Palmen Barn Find Collection is truly a once-in-a-lifetime opportunity to see a collection of this caliber and condition. There are more than 230 cars brought together in the main warehouse, representing the culmination of Mr. Palmen's lifelong passion for cars.
However, due to the age of Mr. Palmen and various circumstances, the collection will now be sold. While it is sad to see the collection being disbanded, car enthusiasts around the world are excited about the possibility of owning one of these rare and special cars.