1999 Petit Le Mans: Three Of The Heavy Hitters 20 Years Ago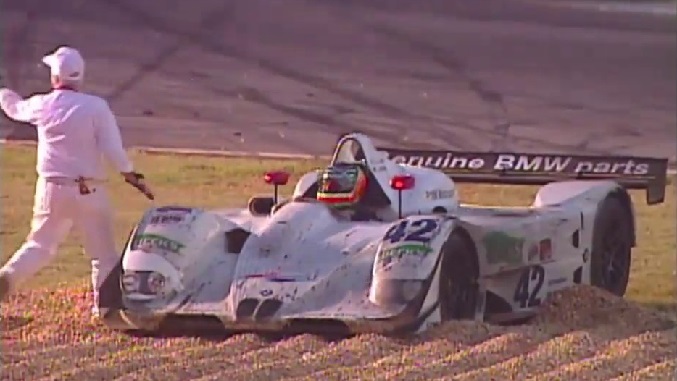 The Petit Le Mans comes back to Road Atlanta, its beautiful North Georgia home for 21 years, for another ten hours of endurance racing action on October 12th. On September 18th, 1999, the field looked quite a bit different than it will this year, with some pretty awe-inspiring and historic cars battling up and down the course's winding hills and into its hard braking zones. Check out three of the the race's heavy hitters that graced its tarmac 20 years ago when it was a part of the ALMS season schedule:
Photo: John Brooks/Road Atlanta
#005 Champion Racing Porsche 911 GT1 Evo – driven by Allan McNish, Ralf Kelleners, and Bob Wollek. Due to Mercedes' immense success in FIA GT1 in 1998, Porsche decided not to continue its effort in this class into 1999. GT1 was cancelled, but Champion Racing campaigned this chassis in ALMS that year. However, rather than running anywhere in GT it was classed as an LMP car, and subsequently lacked the power and agility of chassis that lurked the waters of the prototype field, such as…
Pictured: #43s teammate
#43 Beck's/Genuine BMW Parts BMW Motorsport V12 LMR – driven by Steve Soper, Bill Auberlen, and Joachim Winkelhock. Sigh, back in the day when BMW grilles were modest. Powered by a 5.9-liter V-12 cranking out north of 550 horsepower and featuring extensive, barely-legal aerodynamic engineering, BMW had a good amount of success with their brand-new, WilliamsF1-built LMRs all over the globe in 1999.
Up until the Petit Le Mans, their trophy case was a bit crowded, earning wins at Le Mans (the bigger one), Sebring, Silverstone, and Charlotte. Racing through the North Georgia pines in mid-September of that year, they were having a great race with their #42 and #43, staying in the top 5 and even setting the fastest race lap. Though, after leading for a long while, the #43 encountered a bit of bad luck in the final 5 laps, and was overtaken by…
#01 Visteon Panoz Motor Sports LMP-1 Roadster S – driven by David Brabham, Eric Bernard, and Andy Wallace. Affectionately known by fans as "Batmobile," and powered by an in-house Élan Motorsport Technologies 6.0-liter V-8, Panoz achieved pole with a blistering 1:10.873. They ran a flawless race and after a grueling 10 hours earned the overall win.
Though, not without a little bit of bad luck experienced by the #43 BMW above. With 5 laps to go, the #43 BMW spun at the end of the back straight, and plowed into the gravel trap heading into T10A. It was a heck of a spin and luckily the little Bavarian prototype did not smack any nearby walls. The Panoz car, a mere 39 seconds behind, swallowed up the gap and the rest is history. Panoz went on to win the 1999 LMP teams championship, just 2 points ahead of BMW.
There have been an immense amount of memorable Petit Le Mans moments over the years, we can't wait to see how history will soon write itself for 2019. We're proud to announce that we're now neighbors to Road Atlanta; who knows, maybe one of the premium products on our shelves will help mold the weekend's events.