10 Questions Raised by the 2014 Subaru BRZ Limited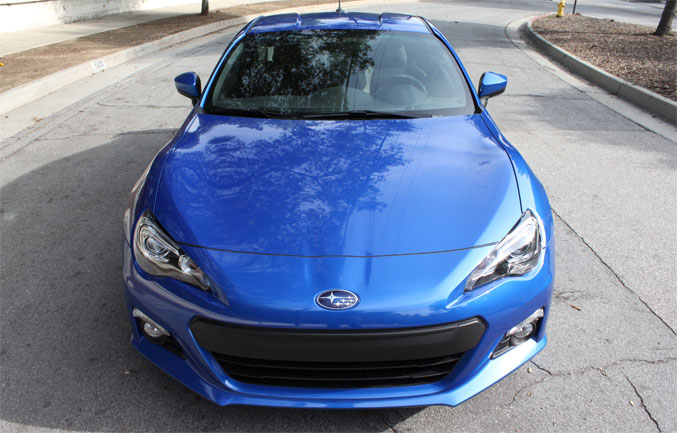 Recently we spent a week with Subaru's diminutive rear drive coupe and we came away with a bit of insight regarding the facts and fiction surrounding the much-lauded Toyobaru.
1. – Will I fit in it?
Almost certainly. Your author's "6'3 frame had no trouble finding a comfortable seating position with plenty of legroom. Your back seat passengers might tell a different story, though:
When wearing a helmet, some taller drivers may find headroom to be a bit limited, but you always have the option of swapping in a low profile
racing seat
and gaining both headroom and safety if you attend track events regularly.
2. Does it work as a daily driver?
Some consider small sporty cars like the BRZ to be an impractical venture. We actually found the BRZ to be surprisingly easy to use on a daily basis. With its small footprint and excellent outward visibility, it's effortless to park almost anywhere. And as a joint engineering venture between Toyota and Subaru, it's a pretty safe bet the BRZ will also be as reliable as the march of time over the course of ownership too.
To look at it, you'd probably expect it to be difficult to bring home a decent haul from the grocery store in the BRZ, but in actuality, the not only is trunk space surprisingly ample, with the rear seats down you can actually fit a
full-sized road bike
in the back.
Additionally, with its low center of gravity and emphasis on handling, you might expect it to be a chore to avoid beating up the front facia going over steep driveways, dips in the road and other road anomalies, as is often the case with modern cars that emphasize cornering ability.
While it lacks the slammed stance that's all the rage with the tuner set, it means the BRZ actually quite forgiving in the aforementioned situations, with a short front overhang and ride height that's tuned to maintain excellent cornering ability while still allowing you to dispatch even the worst speed bumps with minimal pucker-factor.
3. Is the steering as good as they say it is?
Simply put – yes, yes it is. The steering is direct, has excellent feel, and to our tastes, it has the ideal amount of weight to it. It makes us wonder why some sports cars costing two or three times what the BRZ and FR-S cost seem unable to replicate it. Automakers, are you listening? Save the numb, over-boosted steering for the luxury models.
4. Is this the right car for young enthusiasts?
Aside from the Mazda MX-5 (and the BRZ's twin, the Scion FR-S), we'd be hard pressed to name a car better suited to new enthusiasts. With a light clutch and a well sorted shifter, the manual equipped BRZ makes for a great introduction to the world of standard transmissions.
You're not dealing with excessive amounts of horsepower and torque, so it's tougher to get into real trouble in a BRZ. And despite its small size, the BRZ receives
high marks
from the IIHS.
The aftermarket has also embraced the BRZ and FR-S with open arms, so those looking to tune on the BRZ will have no trouble finding everything from coilover suspension packages and engine bolt-ons to body kits and interior dress-up bits.
5. Does this car need a turbo?
The 2014 Subaru BRZ's 2.0-liter, naturally aspirated four cylinder boxer motor makes 200 horsepower and 151 lb-ft of torque. Even weighing in at only 2800 pounds or so, we can't help but agree that this car would be significantly more engaging with a bit more oomph – the lack of low-end torque, specifically, is our biggest gripe in that regard.
The general consensus seems to be that throwing a turbo into the mix, like that found on the 2.0-liter motor in the
2015 Subaru WRX
, would solve everything. But the linearity of the BRZ's power delivery is one of its biggest assets – we're not so sure that bringing a turbo into the mix is the best way to approach the issue in a car that emphasizes its handling prowess above all. In an ideal world, we'd prefer to stay naturally aspirated, but finding the 50 lb-ft that the BRZ could use from the boxer motor without resorting to boost would be quite an involved and costly endeavor, to say nothing of its impact on reliability and road manners.
Supercharging, on the other hand, not only specifically addresses the low end torque problem, it also helps maintain the even power delivery of a naturally aspirated motor, making it more usable in road racing applications and less of a handful when called upon to behave like an everyday commuter car. Companies like
Litchfield
have seen massive gains going this route, while also maintaining the drivability of a stock BRZ.
6. How is the ride quality?
Considering how flat the BRZ is during hard cornering, its compliance over bumps and unruly road surfaces is commendable. Vertical motion is kept to a minimum even over the most hateful of potholes at speed and car feels planted and confident even when presented with mid-corner bumps during spirited driving sessions.
As tempting as it might be to tinker with the suspension to give the BRZ a bit more of an aggressive look via a lowered ride height, we're not sure we could justify altering factory setup that performs this well under so many different circumstances.
7. How's the technology?
The 2014 Subaru BRZ Limited comes standard with a touchscreen stereo head unit that includes Bluetooth audio for handsfree phone use and wireless music streaming, as well as navigation functions, XM Radio, and a USB interface.
As nice as that all sounds, the entire presentation and execution of those features leaves a lot to be desired. Aside from its decidedly aftermarket aesthetic vibe, the screen itself suffers from serious glare issues, making simple tasks like skipping tracks a chore out on the road – especially since there are no steering wheel controls and the on-screen buttons rarely registered our inputs on the first pass.
8. Automatic or manual?
Considering the BRZ's limited power output and its sporting aspirations, this one where we really couldn't recommend the automatic under almost any circumstance – it simply doesn't make a whole lot of sense considering this car's design. A massive amount of the car's engaging characteristics are tied to that old school, row-your-own feeling of banging through the gears, and because the 2.0-liter makes its power up high in the rev band, the automatic feels especially lazy (and slow) in comparison to the six-speed manual car:
Six speed automatic:
Six speed manual:
9. FR-S or BRZ?
While the Subaru BRZ and the Scion FR-S are nearly identical vehicles, there are a few tweaks each manufacture has made to their own version of the Toyobaru that are worth considering.
Most notably, the FR-S uses a slightly different suspension setup with stiffer rear springs that make the FR-S a bit more oversteer friendly, whereas the BRZ has a more "mature" suspension tuning that tends to be more neutral, and would probably translate to slightly faster lap times, or slightly less fun, depending on where your priorities are.
Visually the cars are very similar, with slight tweaks to the front fascia being the only immediately noticeable differences externally, and the story is much the same with the interior as well.
Ultimately, these cars are so similar that a choice between one or the other for many cross-shoppers might come down to something as simple as dealer inventories and their willingness to bargain on a vehicle equipped the way you want it.
10. Are you getting a good value at $28390, as tested?
This is where things get a bit tricky. When the FR-S/BRZ was announced, many envisioned a purist's sports car that could be had for not much more than a Corolla S. With the Subaru BRZ Limited's price coming within spitting distance of $30,000, we're talking about a completely different competitive set, some of which carry with them quite a bit more to offer in the way of power, creature comforts, and usability.
A V6-equipped Ford Mustang, for instance, can be had for well under the BRZ's bottom line, and brings with it an extra 100hp and usable back seats. In fact, with the redesigned 2015 Mustang on the way, we wouldn't be surprised to find a few '14 Mustang GTs in the BRZ Limited's price range sitting on dealer lots, which offers more than double the horsepower and heaps of performance for the money. The Mazda Miata, the FR-S and BRZ's closest competitor, can also be had for thousands less than the BRZ Limited – though it too can be optioned to nearly $30k. At the end of the day, we wouldn't consider the BRZ a standout value in budget performance cars, but it is still an excellent option in the segment, and its small size, light weight and excellent handling may check all the boxes needed to justify its choice over the competition in many enthusiasts' minds.