WRR TV: Using Traffic To Your Advantage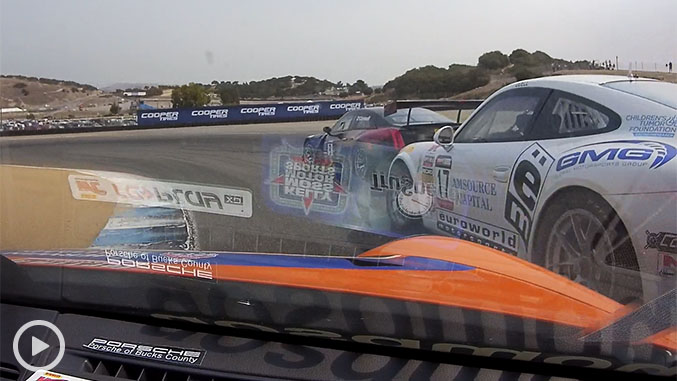 Ride along onboard with Colin Thompson No. 11 Kelly-Moss Motorsport Porsche of Bucks County/Penn Valley Constructors/Sherwin Williams Automotive Finishes/Austin Hatcher Foundation Porsche 911 GT3 Cup as he races for the GT Cup title in this multi-class race at Mazda Raceway Laguna Seca on September 13th, 2015.
Alec Udell in the No. 17 GMG Amsource Capital/Panther Pipeline Porsche 911 GT3 Cup got the jump to lead the first lap on Thompson (watch for his rather forceful pass), but Colin would respond back on lap 20, skilfully using faster GT traffic to his advantage to get around Udell for the GT Cup lead, and going on to take his 13th victory of the season.
Reported damage to Udell's car dropped the Texan back to third, and allowed Sloan Urry to take second at the finish, 8.2 seconds behind Thompson.
"The start was great for me but Sloan (Urry) and Alec (Udell) did a good job under braking," commented Thompson. "They were able to get by me two turns later. It made it tough and Alec was fast. We then got a nice gap and we pretty much plateaued with our times at that point. With a little luck and some traffic, I was able to get back by him. Then I saved the car for the win."