Worth A Tow: Targa Newfoundland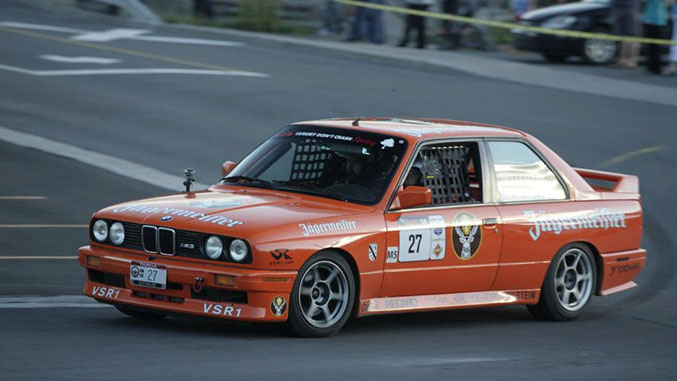 Here's an event that just about has it all. The recipe: take one part Nurburgring Nordschliefe, mix with some autocross, add in one part One Lap Of America, cover with a cup of vintage cars and garnish with a sprig of spec racing. If that sounds interesting, read on as we break down the details below.
What Is It?
The Targa Newfoundland is a tarmac stage rally in Newfoundland, Canada that is run each September. By "tarmac" rally we mean a rally that happens on paved public roads. Newfoundland, a craggy and mountainous island in the north Atlantic, has low enough population density and government officials sufficiently interested in tourism to close down some of its roads once a year. Participants are the beneficiaries, who get to drive on specific sections of those sinuous roads as fast as they want to (up to 200 kph), using both sides of the road and ignoring traffic signals. There is no oncoming traffic and spectators are kept a safe distance away.
By rally, we mean a race that is run in stages against the clock. A stage involves a single run by each car on a specific, marked section of road. Stages range in length from 5 km to about 30 km. Some stages are run on highways that cut through hilly or mountainous areas with little population. Other stages are run on small village streets lined with picturesque homes. Some stages mix the two.
How Does It Work?
Targa Newfoundland takes place over 6 days (in 2015 the event is from September 13-18), which includes a practice day. During the competition phase, you run about 40 stages, covering about 500 km total, which means about 8 stages per day. You also run about 1000 km of transits between stages on public roads with normal traffic and traffic laws (if you bring a race car, which we recommend, the Newfoundland government gives you a license to drive it on the transits legally).
In Targa Division, during each stage you and your co-driver run individually (one car at a time) against the clock. Based on the classification of your car, you have a target time for each stage. The goal is to beat that target time. If you do, you accrue zero penalty seconds. If you run slower than the target time, you accrue penalty time for each second you exceed the goal. Almost every car accrues some penalty time, so the winner in class is the team with the lowest penalty time.
You also have a Trophy time for each stage, which is longer than the target time. Your other goal is to always beat the Trophy time. If you complete all the stages and all of them are below Trophy time, you earn your Targa Trophy Plate. That seems easy, until you get penalized 5 minutes for a rules infraction or you flip you car on a particularly tricky turn.
You do not do any reconnaissance on the stages. That is, somewhat like autocross, you are running each stage for the first time when you run it competitively. You will have a co-driver and he or she will have stage notes (supplied by the Targa organizers) that tell you which way the road goes and how sharp the turns are. You need a rally computer with a calibrated odometer to enable your co-driver to read the stage notes, since the stage notes are marked by distance from the start. Besides a rally computer, you need an intercom system so that driver and co-driver can communicate.
What Car Should I Run?
Your car can be any race-prepared car (see below for options to drive street cars) with a roll cage, fire system and other safety items that club racers will be familiar with. There are many classes bundled into three basic groups: Classic (1997 or earlier), Modern (1998 or later, and hybrid) and Open (preparation level exceeds the rules for Classic or Modern classes).
If you accept the idea of running for a class win (theoretically, there is no overall win), then you will come to understand that you can run just about any reliable race car. That is, you can leave your Porsche 919 or Ferrari FS15-T at home. Ideally, you want a car with good agility and visibility. It is also nice to have decent trunk room for safety triangles, snacks and helmets. We would suggest a car with a reasonable torque band, because you are going to find yourself in the wrong gear far more often than you would on a road course. You don't need anything fancy, though fancy is welcomed. Honestly, a Spec Miata would make a pretty good Targa car. You can also rent a car from the organizers if you don't want to take the time for prep and tow.
You might want to raise the ride height or soften the suspension on some race cars a bit, because you will be running on back roads with bumps and patches. It is likely to rain at some point, so windows are handy and a defroster is a must. And there are various distinctive Targa rules about tires and other items. But if you own a club racing car, you are close to ready right now.
Who Can Compete?
You need to have a competition license from a recognized sanctioning body. SCCA, NASA, PCA, BMWCCA or FIA licenses will do the trick. There is generally a school right before the tech day that gives you and your co-driver a chance to practice calling out and following the stage notes.
One thing no one will tell you, but which you may want to think about, is that you can have driver and co-driver switch duties during the event. Almost all the teams have a dedicated driver and navigator. This is probably the most competitive way to do things as navigation is surprisingly hard. On the other hand, if you and a friend are both racers, you will both want to get behind the wheel and switching roles is a great way to do this. It will also help the driver appreciate how easy it is to make mistakes while sitting in the right seat. You want to be friends when you return.
Targa Newfoundland can also be run in the precision-oriented Time-Speed-Distance format of the Grand Touring Division, or non-competitively in the Fast Tour Division. These latter two groups allow the use of cars not prepared for road racing competition (roll cage, fire system etc). If you like track days, the Fast Tour Division could be your cup of tea.
We celebrate finishing Targa with new friends Andrew Comrie-Picard and Frank Taleghani
How Much Does It Cost?
The entry fee for Targa Newfoundland 2015 is $6495. You will have to get there, of course (we recommend looking it up on a map; Newfoundland is not exactly next to Maine). And you will have to arrange hotels and meals. The organizers have packages for the week of competition, which simplifies things greatly. Depending on how you go at it, the total cost for Targa is probably $12,000 to $15,000 for two people. That's $7500 per person. If you think of it as 20 races per person, that's about $400 per race. Regardless of how you assess the cost, if you go we're pretty sure you'll make some friends and you'll look back on Targa Newfoundland as one the most memorable events of your life.