The Case For GT2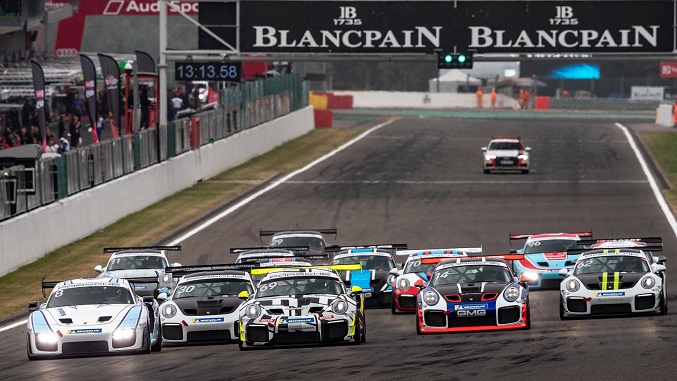 Martin Klepper is a Motorsports Retail Specialist at our SoCal store in Santa Ana, CA. With a background in karting and endurance racing, and an immense interest in all things international sportscar racing, he was especially inclined to dig a bit deeper into the development of GT2.
Step away from the glitzy factory racing programs and energy-drink-backed young drivers trying to make a name for themselves, and you're left with gentleman or amateur drivers. Drivers who still work day jobs outside the racing world in order to finance their racing endeavors. These folks have always been the backbone of sports car racing. Often, they are the ones delivering the funding to keep the lights on at the shop and haulers in the paddock. So, the announcement of a new, amateur-driver-focused class is excellent news!
GT3 has overgrown its original intention. Every year the cars are increasing in speed, cost, and physical prowess needed to propel them to victory. With each new car, a factory program comes included by default, and the chances of an amateur driver achieving victory diminishes. The type of gentleman driver you need to be in order to be successful in GT3 is fleeting; there are very few John Potters in this world.
GT2 is now the place for these amateur drivers to thrive.
The original concept for GT2 was to produce what was in essence GT4+; an increase in horsepower and retaining a low downforce package. Amateur drivers are able to make use of more power better than an increase in aero. Problems arose when pushing the GT4 technical specification too close to what would be GT2 territory, therefore the decision was made to forgo GT4+, and instead create a dedicated class.
GT2 will have roughly twice the horsepower of GT4 with only a minor increase in the car's downforce. GT2 was settled upon as the name, as the car that most fit the design parameters was the Porsche 911 GT2 RS Club Sport. This also happens to be the first car announced for the class. Audi was the next manufacturer to announced they'd be joining in with their R8 LMS GT2. The next cars to debut are expected to be aggressive versions of cars like the McLaren 720S and Lamborghini Huracan, among other potential high-horsepower machines expected to debut in 2020.
The class is designed to run in a sprint format only and is expected to become a common sight at local club races and SRO-sanctioned events. No plans exist at this time to include GT2 in any endurance races, yet.
Sportscar365.com interviewed Head of Lamborghini Motorsports Giorgio Sanna about his thoughts on the class.
"Today, the gap between GT4 and GT3, in my opinion, is too high"
A sentiment echoed by Aston Martin Sporting Director David King in an interview with Sportscar365.
"The concept of GT2 is a really good one. There's definitely something missing between GT4 and GT3 now"
He went on to add, "I'd like to think we would have something next year [2020], not necessarily to debut, but to announce in the next six to nine months."
Renowned sports car driver Justin Bell was one of the drivers to get a chance to race the new GT2 class Porsche at a special class launch race at the Spa 24 hours. North American Racecar interviewed Justin about the experience in the car and his thoughts on the class going forward.
Justin was asked about what he thought the response would be like here in the US for the GT2 class:
"I think they are going to be a hit! And I'm glad to have one of the first two available. I am in love with this car from all aspects: the look, to the sound, to the speed, and I know the fans will love it. It's absolutely as perfect as a race car can get."
He was asked how the GT2 car and GT4 car compare:
"Well you really can not compare them too much except maybe the handling and feel is fairly similar, which is kinda crazy considering the GT-2 has twice the horsepower! Being there in not much more downforce in the GT2 compared to the GT4, it will be easier, I believe. For drivers then trying to jump from GT3 from GT4."
Justin was next asked to look into his crystal ball and foresee how the new class will affect the GT3 and GT4 market in the US.
"I honestly believe it will affect GT4 a little more then GT3 depending on what manufacturers release GT2 cars and I think GT2 has the ability to really be big. There are only five weekends in 2020, so you'll probably see a few more guys doing both GT2 and GT4."
There are plenty of rumors floating around about who will be the third manufacturer to join the class in 2020: Ferrari, Lamborghini, and McLaren are all thought to have begun developing cars for the class. An announcement of who that third make will be is expected at the Blancpain GT Series Endurance Cup race at Barcelona on September 28-29. Audi and Porsche are scheduled to have GT2 cars running in the Blancpain Sport Club races in Spain.
GT2 racing will be coming to Blancpain GT America as its own class in 2020. It will also be a standalone class in Blancpain Asia and in the British GT Championship. The cars will become a separate class in Blancpain Sports Club in Europe. The class is poised to make a strong start in 2020, and has a bright future ahead; we're excited to see what happens!