The Best Spec Series: Spec MX-5 Challenge Offers Innovations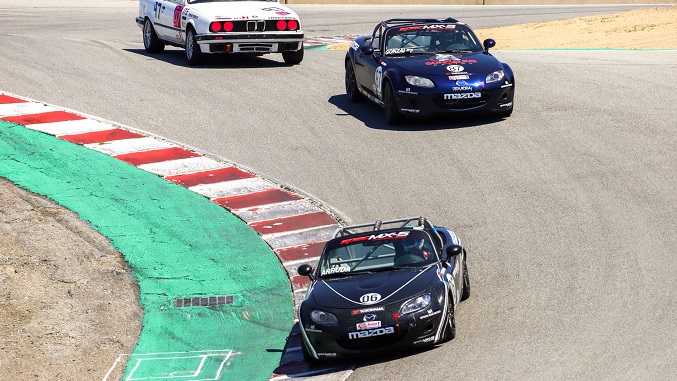 We've been gearing up for the 2020 Spec MX-5 Season. After a lot of development and planning over the past few seasons, and some major announcements over the past few months, it's going to be an awesome year. Here's an overview of why Spec MX-5 is one of the best series, because it offers some innovations for 2020 that make it different from pretty much every other amateur series.
Industry Partnership Has Bred a Faster, Affordable Car to Race in Volume
A lot of careful planning, time, and development has gone into passing the torch on to the NC MX-5 Miata as becoming the most-raced chassis in club racing. The V2 car that will grace grids across the country features a spec Roush cylinder head and ECU flash for more power, Penske racing shocks and Eibach springs for higher cornering Gs, Pagid brakes for excellent braking performance, Toyo tires for excellent grip, and more. These high-quality parts, combined with Mazda's legacy for building reliability sports cars, help guarantee solid Spec MX-5 fields across the US. With a reliable, well-built spec car, drivers will be able to focus more on skill and development rather than chasing mechanicals.
Check out the required parts list from Mazda Motorsports below, as well our Spec MX-5 store for pricing on appropriate safety equipment to accompany builds. Some comprehensive info about the build can be found here.
Driver Development Focused
The big difference from club racing is the way Spec MX-5 Challenge is organized for driver development. Spec MX-5 Challenge focuses on substantial fields (10 cars or more), running a tightly specified car (to make the driver the key variable), with talented drivers who are not yet experienced pros.
The 2020 schedule is a ladder up towards the year-end championship: each rung being an individual regional series, invitational, and national series, which will allow emerging talents in grids across the country learn from one another, and then all compete together at the end of the year. The cars generally have data and video systems to support data sharing and analysis; we encourage participants to take full advantage of this and lend a hand to one another. Drivers can count on us for providing assistance as well.
Fat Stacks Up For Grabs: $100,000
"Together with our partners Mazda Motorsports, Toyo Tires and PAGID Racing, we are excited to bring the Spec MX-5 Challenge Championship to Circuit of The Americas in 2020," said Tom Martin, Director of Spec MX-5 Challenge. "In past years, Spec MX-5 drivers have loved the experience at Circuit of The Americas. With the new 2020 Spec MX-5 car, and an estimated $100,000 up for grabs on the Championship weekend, we anticipate a large field and excellent racing," he added.
The 2020 Spec MX-5 Challenge Championship is the culmination of an innovative competition format designed to maximize the talent at the Championship. The Championship will bring together successful drivers from four competitions run during 2020: The Spec MX-5 Challenge East Regional Series, The Spec MX-5 Challenge West Regional Series, The Spec MX-5 Challenge Invitationals and The Spec MX-5 Challenge National Series. Each of these marquee competitions offers points which will be carried over by drivers into the Championship weekend where additional points can be earned. The winners will be the drivers with the highest point totals. The top driver is guaranteed $50,000 with additional prizes for P2, P3, Masters and Emerging Talent.
Check out the 2020 schedule here, as well as below:
There are certainly other contenders for the Best Spec Series title, such as good ol' Spec Miata, Spec E30, Spec Racer Ford, and B-Spec (and others!). Each has its own benefits and many share a lot of the same. Spec MX-5 also shares these benefits, but considering everything discussed above, as well as it's ability to be a shoe-in for NASA ST5 and SCCA E-Prepared, it's certainly worth looking into for 2020.
To learn more about Spec MX-5 Challenge, read our FAQ.