Racecar Profile: Wolf GB08 F1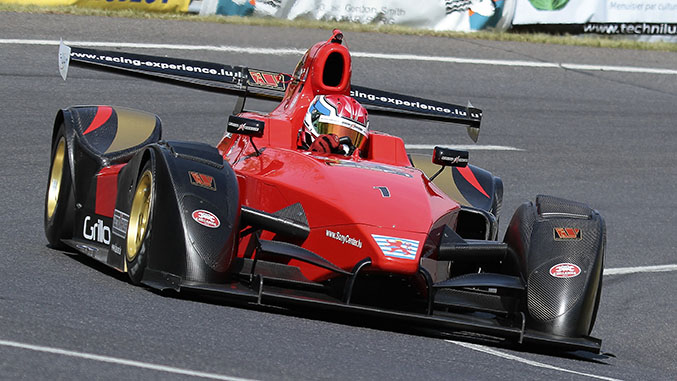 Wolf Racing's latest model is a single seat version of the GB08 that's been specially built to meet the real F1 testing criteria driven by the safety requirements for the European Hillclimb series.



Each F1 chassis is individually tested by the same inspectors that evaluate the actual chassis used in Formula One. The Wolf GB08 F1 is the "maximum expression of technology of Wolf Racing Cars", and has been homologated in accordance with Formula 1 2005 standards.
Weighing in at 60 kg lighter than the
dual seat GB08
, the F1 is available with a supercharged Hayabusa engine rated at 550HP or the Wolf Power V8 mill pegged at 500HP. Each option has its own virtues – the Hayabusa is about 20 kg lighter, while the V8 motor delivers a bit more torque.
In terms of aero, the F1 makes over 2300 lbs of downforce at speed (more than twice the weight of the car) versus the 2000 lbs generated with the dual seat GB08, and the F1 also creates less drag than the two seater.
"This is a car that's as fast as an LMP2 car for a fraction of the price", says Dean Turnbaugh of
Wolf Racing Cars
and
Motorsports Southwest
. "You can't go this fast with this level of safety at this cost point with anything else. You just can't." Dean added that the new model should take the already stellar performance of previous Wolf race cars to the new level:
"The GB08 is capable of 2:04 at CoTA with a stock Mugen Honda K20. The V8 two seater should be capable of 1:55. The F1 should be close to a 1:50 using the deltas of secs per km that they found testing each model against the others with the same driver in Europe."
The FIA car is currently being raced in SCCA P1 class. Here's an overview of the technical specifications of the new model:
TECHNICAL SPECS

Type:

Single Seater approved FIA Formula 1 2005

Chassis:

carbon

Crashbox:

Carbon , Front and Rear

Rear wing:

carbon fibre

Engine:

Wolf Power 1.7 Supercharged – 550 Hp

Elettronics:

Life

Data acquisition:

Life Technologies

Gear:

Wolf con paddle shift

Front suspensions:

pushrod

Rear suspensions:

pushrod

Absorbers:

Oram 3 way adjustable

Brakes:

Brembo

Fuel tank:

ATL

Rims:

OZ

Weight:

480kg

OTHER VERSIONS

Type:

3.0 V8 – Wolf Power – 500 hp

Weight:

550kg
Prices start at around $175,000. Find out more on the
Wolf website
. And to illustrate just how fast these cars are, here's an onboard clip of Conrad Grunewald in the Motorsports Southwest Wolf GB08 during last year's US Prototype Championship at Sebring International Raceway:
Source/Contact
Dean Turnbaugh – Motorsports Southwest
(512) 261-1462