Racecar Profile: Palatov D4PPS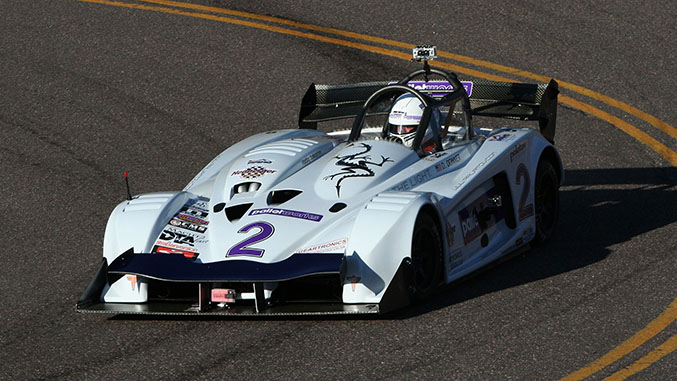 Derived from the Palatov D1 sports racer, the D4PPS is a single-seat racecar designed specifically for hill climb competition. The D4 PPS, or Pikes Peak Special, also includes additional rollcage components as well as other reinforcements in order to comply with the unique regulations of the Pikes Peak hill climb.
Riding on the same modular platform used with other Palatov race cars, the D4PPS features an aircraft-grade, TIG-welded tubular 4130 chromoly steel frame, along with a body, floor, and "pilot pod" constructed from carbon fiber which work in tandem to provide a very high level of safety for the driver.
The D4PPS uses a proprietary AWD system and can be had with a variety of different engines ranging from a 250hp, naturally aspirated 4 cylinder unit, to a 500+ horsepower turbocharged V8, all with power routed through a Hewland five-speed sequential gearbox with Geartronics electronic paddle shifters. The D4PPS also features a PPS-specific aero kit that provides more than 400lbs of downforce at 100mph. This combination, along with a curb weight of approximately 1100lbs (or less, depending on configuration), allows the D4PPS to offer an extremely high level of performance when considering both its price and low running costs.
Piloted by David Donner at the 2012 Pikes Peak International Hill Climb competition, the D4PPS secured the win in the Unlimited class, posting a time of 10:04.652, which placed him in 5th overall, and just 18 seconds shy of a new overall record.
Palatov Motorsport also offers custom-built D4PPS configurations, designed to a customer's precise specifications with factory engineering, fabrication and development support. Let's take a closer look at some of the specifications and additional details:
Specifications
Dimensions

Length: 113.00 inches

Width: 68.0 inches

Height: 40.00 inches (top of roll bar)

Wheelbase: 80.00 inches

Price

$65,000 (rolling chassis), $120,000-$175,000 depending on specification

Weight

950-1100lbs (depending on customer specification)

Engine(s)

Hartley H2 4-cylinder, normally aspirated, 250hp

Hartley H2 4-cylinder, turbocharged, 400hp

Hartley H1 V8, normally aspirated, 430hp

Hartley H1 V8, turbo, 500hp

Transmission

Hewland five-speed sequential

Drivetrain

Custom AWD system with chain drive and limited slip differentials

Chassis

TIG welded tubular 4130 chromoly steel frame, carbon fiber body, floor, and passenger compartment

Suspension

Double-wishbone arms, custom aluminum uprights, pushrod operated Ohlins adjustable dampers

Brakes

Wilwood 10.25" vented brakes with 4 piston calipers

Wheels/Tires

13×8 inch alloys with Hoosier 20×8-13 racing slicks

Safety

PPIHC-compliant rollcage, front/rear/side crush zones, composite "Pilot Pod" driver cell
Options
Floating rotor brake upgrade
Advanced datalogger
Cockpit-adjustable brake bias
Carbon bodywork upgrade
Customer-specified paint
Paint protection film kit
Additional custom specifications by request
Services Offered by Manufacturer
Trackside and development support
Custom engineering and fabrication
Eligible Classes
Pikes Peak International Hill Climb: Unlimited Class
SCCA: ASR class (with additional modification)
NASA: Super Unlimited (with additional modification)
Timing/Availability
Immediate for inventory vehicles, 4-6 months on custom specification orders
Source/Contact
Palatov Motorsport LLC
2124 SE 9th Ave
Portland, OR 97214
Phone: 503-709-6500